Home Team
Kubasaki trio has been unbeatable thus far
---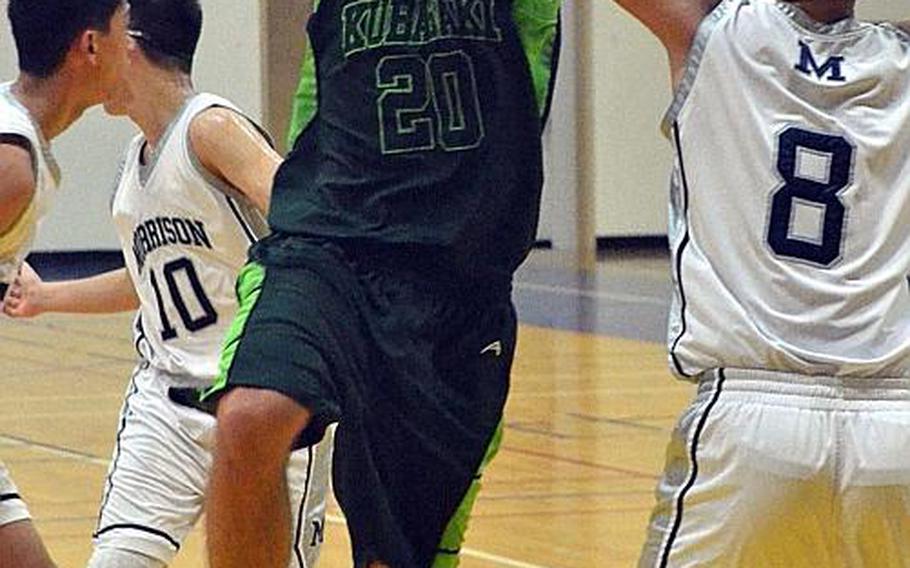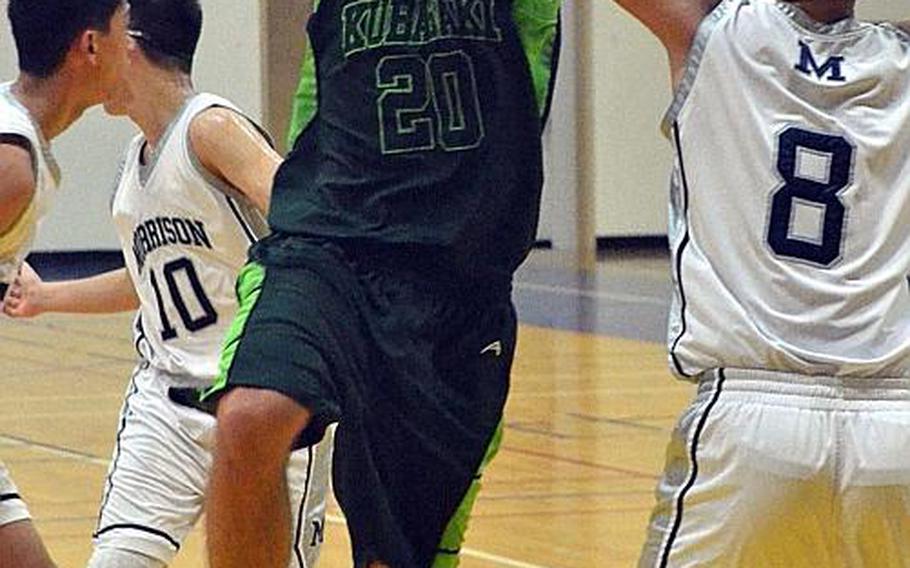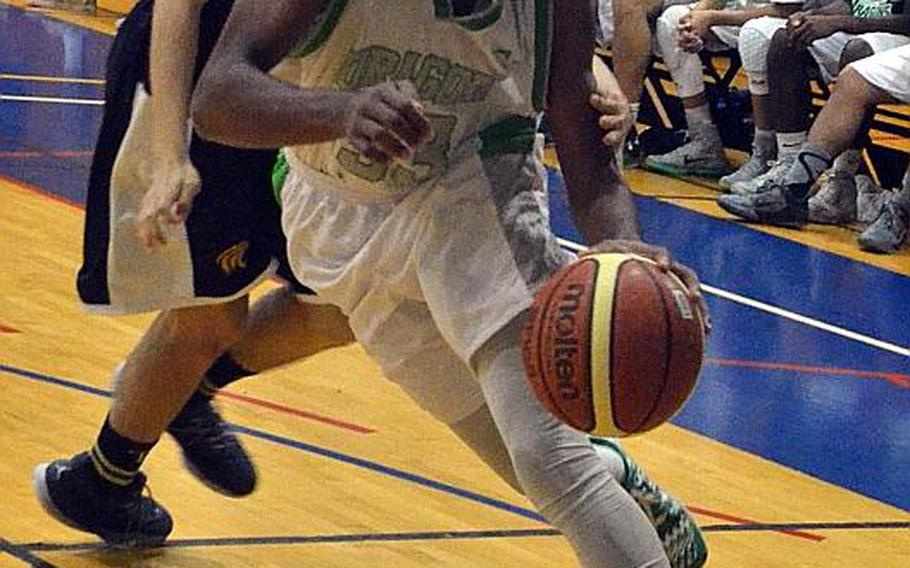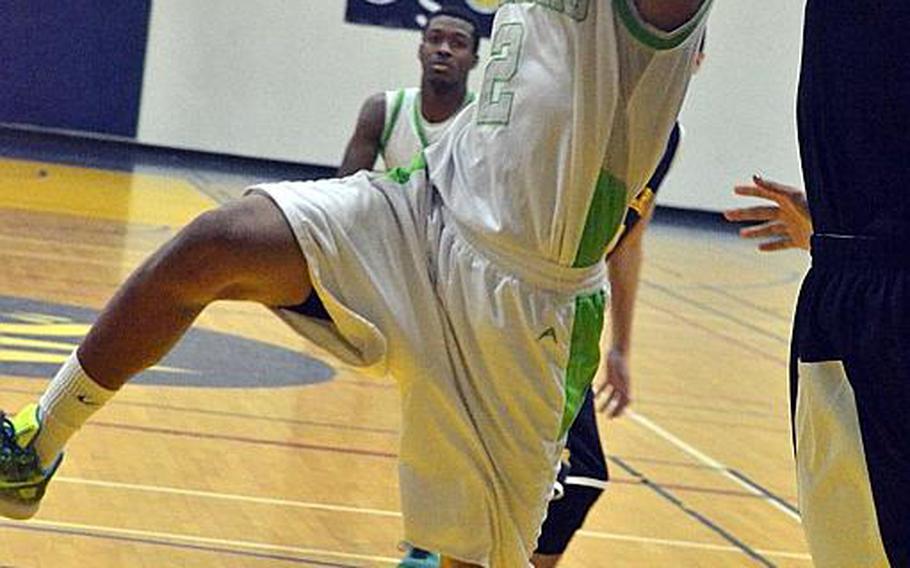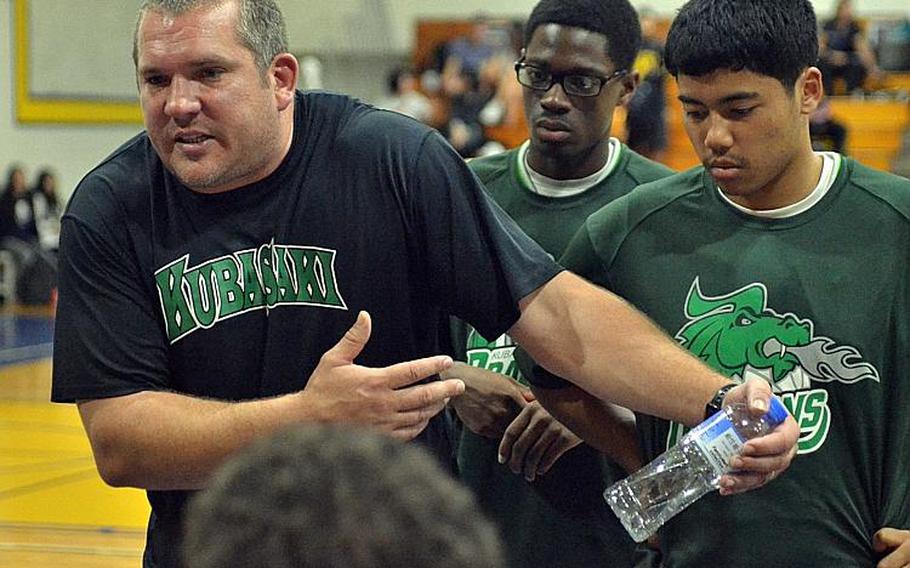 TAIPEI, Taiwan – Jon Fick has coached teams to four Far East Division I boys basketball titles, but the Kubasaki coach says he has never had a trio of players as versatile and dominating as he does this season.
Point guard Jacob Green, small forward Skylor Stevens and center Matt Ashley, all seniors, each bring a different ingredient of game to the table for the Dragons, 11-0 this season – Kubasaki's best start under Fick since he assumed the helm in 2006-07.
Green is the team's ball distributor and disruptor, as quick to make that bullet pass on the run as to force a turnover and make an opponent wonder where the ball went.
Stevens can spread the floor with a three-point shot from a corner or force his way down low and finish a tough close-in shot against a bigger opponent.
Ashley can be relentless going to the basket for a tomahawk dunk or a rebound. He can step back for middle-distance shot or sometimes a three-pointer of his own.
"What each individual brings to the team and to each game is unique," Fick said.
They do, however, have common traits.
"They're all really good defenders and they can guard most anybody on the floor; that's what makes them so tough," Fick said. "They're big-time competitors. And collectively, their leadership is second to none. With all those things combined, they're a tough combination."
They're a key reason why the Dragons have already clinched their season series against Okinawa rival Kadena, having won all three games against the Panthers by at least eight points. They've won their games against smaller but more fleet Japanese counterparts by 17 or more points.
The Dragons' last three victories came in what Fick called a "grind," the Taipei American School Basketball Exchange against two international schools and a Chinese team, all by nine points or more.
Ashley has averaged 22.9 points and 9.8 rebounds per game and has been "our best shooter," Fick said. "That's tough. He's 6-4, 6-5, but he's the best pure shooter on the team."
As good as Stevens is from the outside – he averages 19.6 points and most of those from behind the arc – "where we've seen the most improvement in him is positioning down low," Fick said. "He really knows how to find the right spot, use his body well and he can finish down there, too."
Then there's Green, a dervish of a guard who averages 8 assists and 7.5 steals per game. But it's his "leadership, control of the team and his command of what's happening on the floor" that make him so valuable, Fick said.
"How he controls the tempo and takes charge of the team are his greatest attributes," he said. "But then, people forget, he's super fast with the ball and … he can also score. He can score 20. But do we need him to score 20? Normally, no."
None of the three, they each say, worries about what's on the stat sheet.
"If we get a team win, that's fine," Green said. "It doesn't matter who's leading the scorers or anything."
Opponents have certainly taken note.
"Size, quickness, outside shooting; they're a force," coach Gerald Johnson of Kadena said. "It's hard to deal with all three if they all get it going together."
If one of the three has an off night or gets in foul trouble, the other two can rise to the occasion, Stevens said. "It's not just one of us," he said. "We rely on the whole team effort."
Such an effort does involve sacrifice, Fick said. "There's going to have to be some ego check. You might not get as many threes as you normally want or you might not get as many points or minutes because of this team. There has to be some sort of sacrifice. We've talked about that."
The Dragons have the Okinawa-American Friendship tournament upcoming this weekend along with another road trip, to Tokyo Jan. 29-30 for games against American School In Japan, St. Mary's and Yokota.
Fick said he's hopeful that his threesome can continue roll along, maintaining momentum through the final games of the season.
"We have work to do. Just go one game at a time," Fick said.
---
---
---
---