Far East football semifinals
Kubasaki tops Seoul to reach championship
---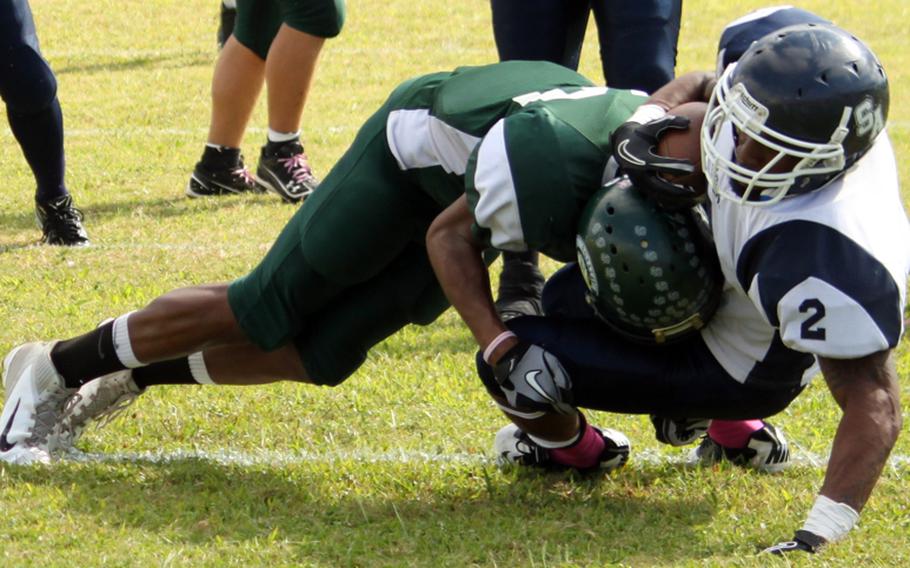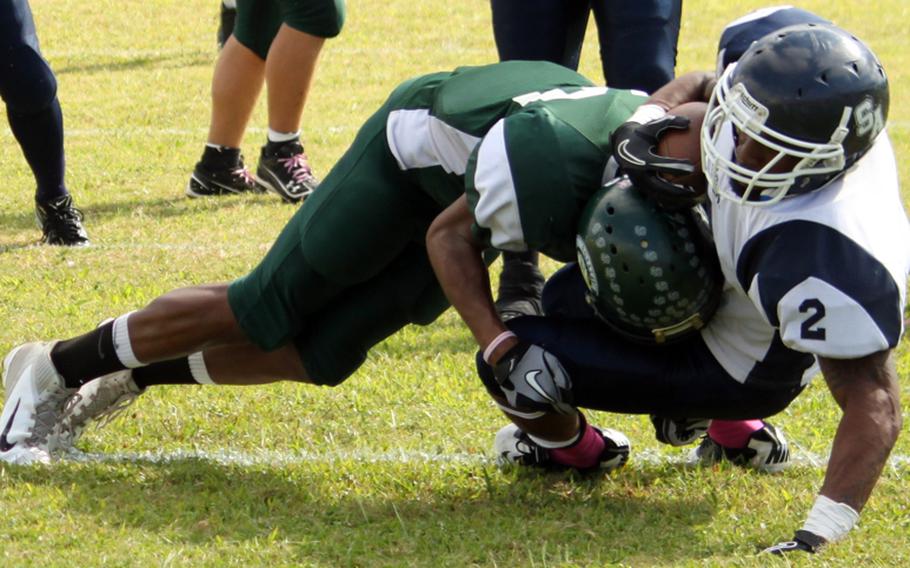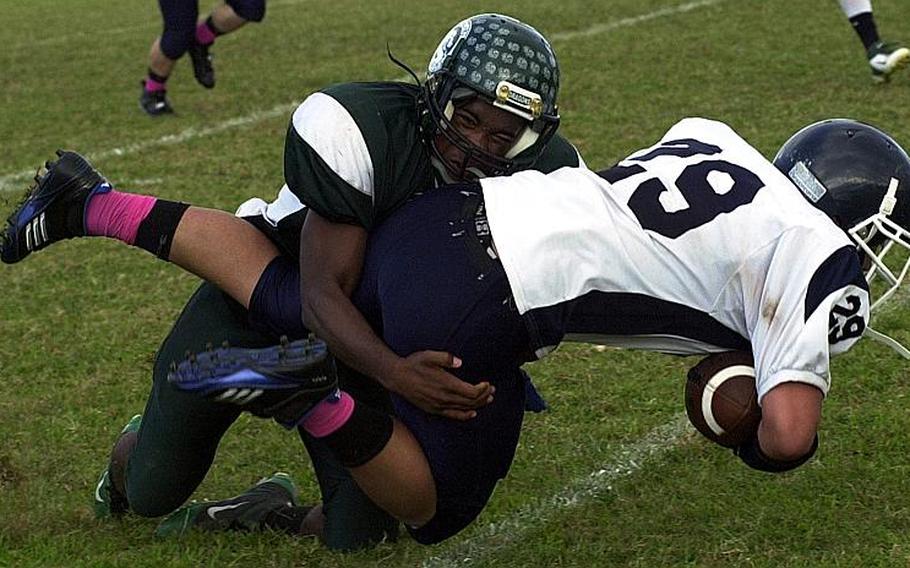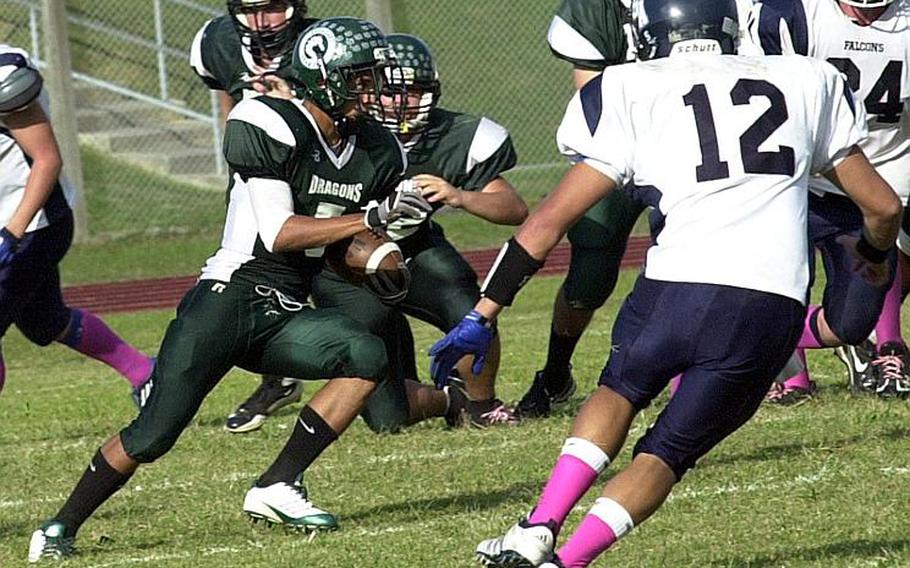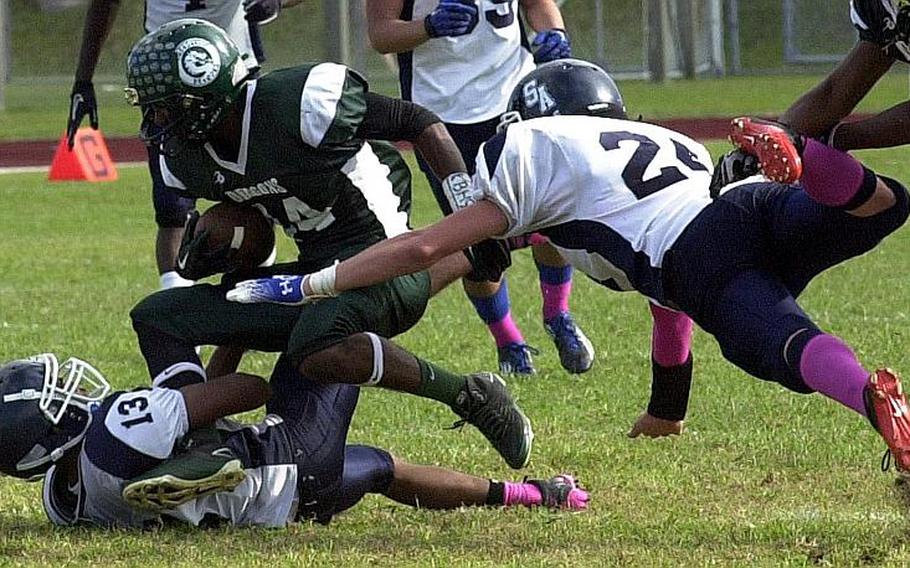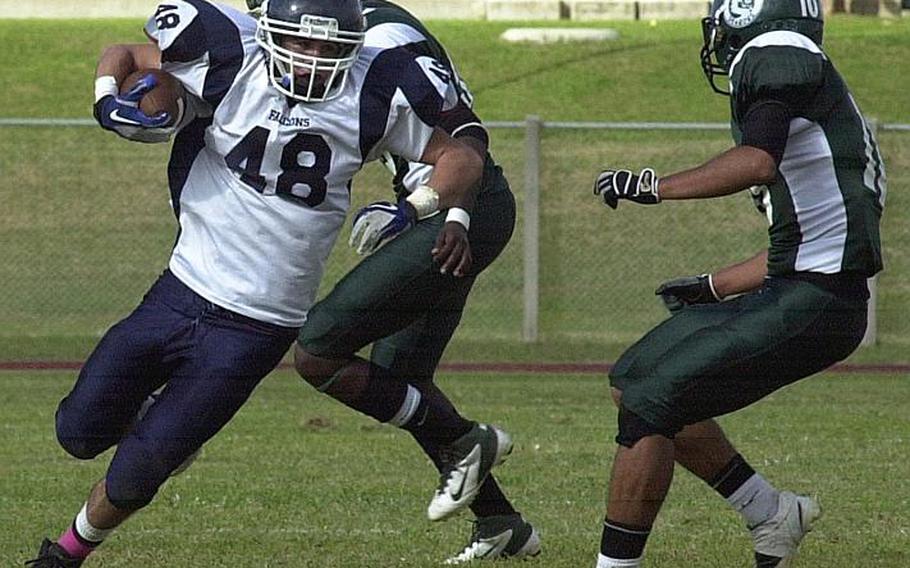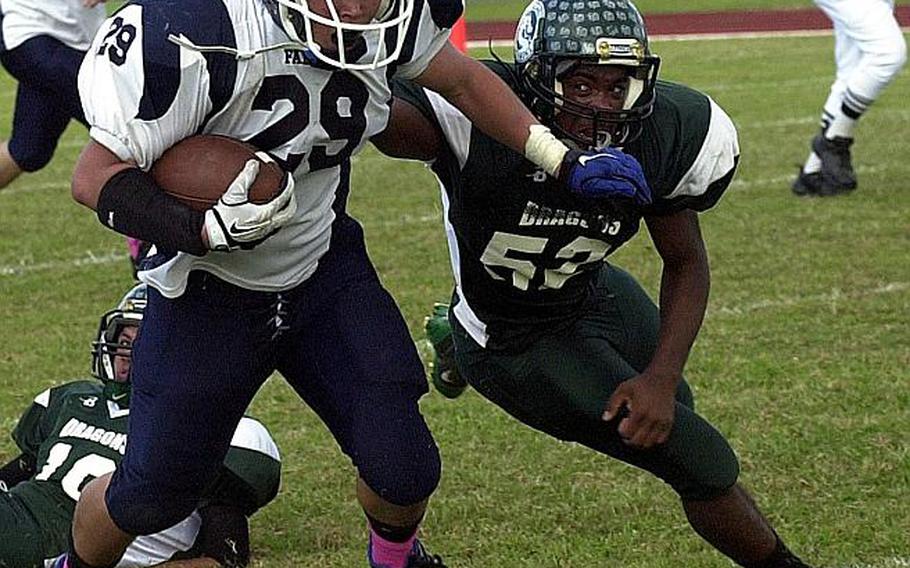 CAMP FOSTER, Okinawa – With running back Jarrett Mitchell hobbled by a bad ankle, quarterback Cristian Rivera and wideout Brandon Crawford took matters into their hands – and powered Kubasaki to its first Far East Division I football title-game berth in six years.
Rivera threw two touchdown passes, one to Crawford, whose 43-yard end-around run set up Rivera's late rushing TD as the Dragons rallied from an early deficit to beat Seoul American, 22-7, in Saturday's D-I semifinal at Kubasaki's Mike Petty Stadium.
"It feels great," coach Fred Bales said of going back to the D-I title game his Dragons (6-1) won in 2005 over the same Falcons.
"To win another game against a quality opponent … Seoul (5-3) came with a great game plan, they played their hearts out, the game was a lot closer than the score indicated, absolutely. Seoul played very well."
It was the second home victory for Kubasaki over the Falcons at Mike Petty this season. The Dragons won 41-17 in the rain Sept. 16.
This time, in beautiful conditions, the Falcons went ahead 7-0 on Ty White's 3-yard run following a 30-yard pass from Harold Martin to Tomiwa Akinbayo on the game's first possession.
White then exited with a leg injury, and the Falcons simply couldn't overcome it, coach Rydell Wilkins said.
"We didn't have a suitable replacement," Wilkins said of White, who entered the game with a Korea-leading 733 yards on 108 carries. "We couldn't block, we couldn't seem to get it together. Kubasaki was the better team today. Hats off to them."
Despite that, the Falcons kept the injured Dragons, who were missing four starters, at bay the first 20 minutes. "You want all your players healthy for every game, but other guys have been making plays for us and they were ready to play," Bales said.
"Seoul took away a few things we'd been doing; we made some adjustments and kept things going," Bales said. "Cristian is like a coach on the field. He's been the guy to keep the offense together and keep things going."
Four minutes before halftime, Rivera threw across the field 30 yards to Isaac Garza to cut the lead to one point; the Dragons missed the two-point try.
Kubasaki went ahead for good late in the third quarter when Rivera found Crawford from 26 yards out. Jace Johnson ran in the two-pointer to make it 14-7 Dragons.
The Dragons stuffed two Falcons drives in the fourth quarter, then recovered a fumble. Crawford then took his end-around run to the 1-yard line, from where Rivera ran it in, then passed to Crawford for two points.
Rivera was 11-for-15 for 124 yards and ran five times for 30 yards. Johnson had 44 yards on 10 carries. Richard Allen caught seven passes for 59 yards and Crawford two for 30. Tyshon Butler and Jacob Jadwin led the Dragons with 7½ tackles each. Sidney Mala'ulu led the Falcons with six solo tackles and eight assists.
"I'm proud of how we picked up the program," Wilkins said of a Falcons team that went a combined 2-11 the last two seasons.
---
---
---
---