Kubasaki spices Kanto Plain track
by
Dave Ornauer
May 10, 2004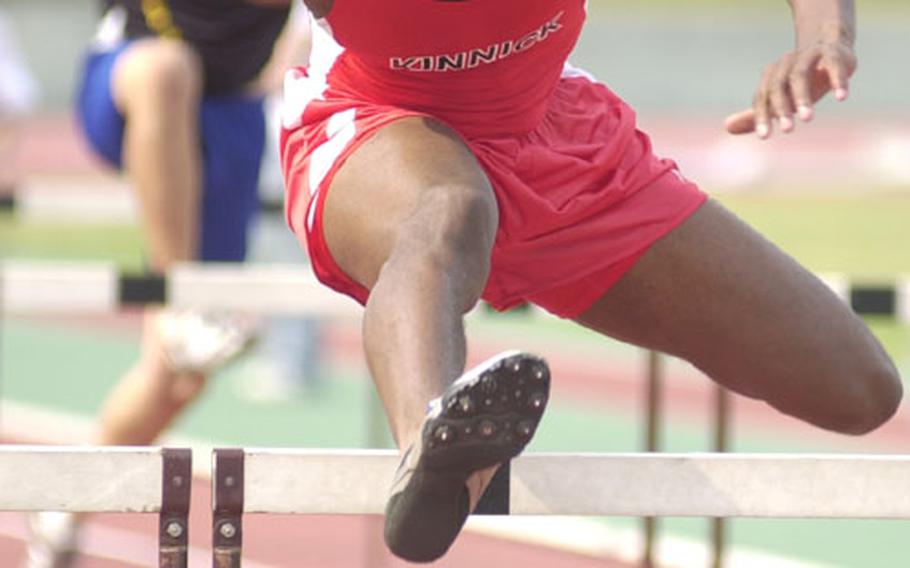 TOKYO — Matt Martinez shook his head. His Nile C. Kinnick Red Devils boys 400-meter relay team had just run its best time of the season, 44.96 seconds, in the Kanto Plain Association of Secondary Schools track and field finals.
"And we still came in second," he said of his team falling by .62 seconds to Okinawa's Kubasaki Dragons, who competed in Saturday's meet at Oi Pier Ground as an invited guest.
Kubasaki didn't run for team scores or medals. Only for pride.
And while St. Mary's International and the American School In Japan successfully defended their respective boys and girls meet crowns, Kubasaki, with just 15 athletes, made a respectable showing. The Lady Dragons won six events and the boys two.
Had Kubasaki's runners earned team points and medals in the Kanto finals, the boys and girls would have both finished fourth, according to Kanto Plain track league recorder and Christian Academy In Japan coach Craig Eby.
The Okinawa team added spice to the meet, giving the Kanto Plain's seven boys and eight girls teams variety in competition.
"Over the course of the season, the competition here gets stagnant," Martinez said. "With these guys here, predictability goes out the window."
Kubasaki brought "quality athletes" to Tokyo, Martinez said. Junior Serafina Smith and sophomore Crystal Sandness each won two individual events and contributed to a 1,600 relay victory, in addition to the boys' relay win and Chris Robinson's dash to victory in the 200.
"They can put together a 400 relay team to challenge us and Yokota and they beat us handily," Martinez said. "And with girls like Serafina and Crystal, how can the level of competition not increase?"
Why bother, though, raising $4,000 to travel to Tokyo, when your team can't medal or score team points and there was every chance that rain could drown the meet?
Underclassmen such as Sandness and Smith "are getting the experience of being in a big-time track meet, and it makes them compete better. You can't put a price tag on that," Kadena coach Charles Burns said.
"For the seniors, it's their last hurrah in a green uniform, as if to say 'thank you' for your efforts," Burns said, adding that months of fund-raising went into the effort.
"And it gets them off the island. This is that reward. It's worth it. They all wanted to make the trip."
It's the second time Kubasaki has faced Kanto Plain teams this season. On April 2-3, the Dragons hosted the second annual Alva W. "Mike" Petty Memorial Meet in a field that included St. Mary's, Seisen International, ASIJ, Kinnick and CAJ.
Robinson edged Yokota's Akiel Taylor 22.53 to 22.68 in the 200, then ran the anchor leg of Kubasaki's 400 relay victory over Kinnick.
On the girls side, Smith ran the 100 hurdles in 15.53, took the long jump in 16.306 feet and ran the lead leg of Kubasaki's 1,600 relay, in which the Lady Dragons edged Yokota by 3.5 seconds, 4:18.2 to 4:21.7.
Sandness rallied past ASIJ's Jenna Budge to capture the 800 in 2:24.4 to Budge's 2:25.2. In the 3,200, Sandness finished in 11:43, the region's best time of the season, bettering her Okinawa record by three seconds and shattering the Kanto Plain record by 11.
"That's the hardest she's had to work all season," Burns said of Sandness' comeback against Budge, whom she trailed for all but the final 50 meters.
Among league competition, Kinnick's boys recorded their best finish in the meet, trailing St. Mary's 157-113, with Yokota third at 106.
Senior Brenden Lynce led the way for the Devils, winning the 100 (11.34), 110 hurdles (15.84) and 400 hurdles (58.8). In two seasons in a Kinnick uniform, Lynce went unbeaten in 29 hurdles races.
But a sweep of the 1,600 by St. Mary's doomed Kinnick's chances of catching the Titans.
"They're too much. They're too deep," Martinez said. "My guys fought with all they had. I'm very proud of the second-place team."
Taylor ran the region's top time this season in the 400 — 49.95 — while shot-putter Joe Saffold finished second but set a personal record with a toss of 39.14 feet, well past his previous high of 37.95 feet.
"It's the happiest day of my life," Saffold said. "I'm overjoyed. I did way better than I projected. I wasn't expecting to throw that well."
Yokota's Lindaya Brown posted victories in the 100 and 200 and anchored the Lady Panthers' league record-breaking victory in the 400 relay, clocking a 50.57. Kubasaki was second in 51.76.
"You see new faces, it brings out the competition," Yokota coach Matt Grant said. "The kids have been reading the paper, seeing what the kids do on the island, just as they've been following us."
Yokota matched its best finishes in the meet in both boys and girls, with the Lady Panthers placing third with 92 points. Seisen International was second with 111½, while ASIJ took the top spot with 132.
"It's a good way to end the season," Grant said. "You can't beat it."