Kubasaki soccer teams defeat Kadena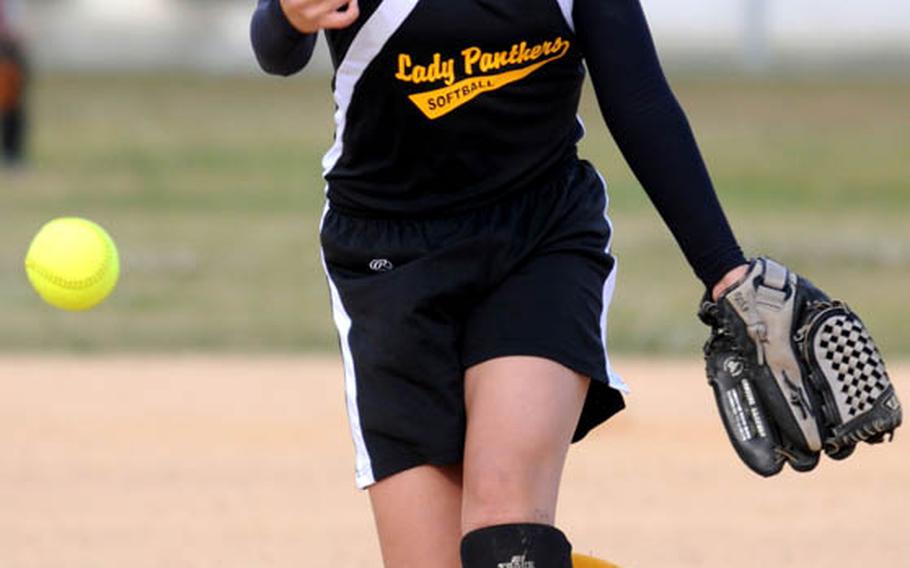 Elizabeth Fabila's scoring touch helped assure Kubasaki's girls soccer team of a season series triumph over Kadena.
The junior striker netted a penalty kick in the 55th minute and converted a crossing pass from Makayla Palazzo with two minutes left as the Dragons blanked the Panthers, 2-0, Thursday at Kubasaki's Mike Petty Stadium.
"Amazing game," Dragons senior midfielder Kaitlynn Hadley said, likening the match to Kubasaki's 1-0 playoff victory over Kadena during last May's Far East Division I Tournament.
It was the Dragons' second win in three matches this season with the Panthers. Kubasaki blanked Kadena, 4-0, on March 11, then two weeks later the Panthers responded with a 3-2 victory.
This time, "we shut them down from start to finish." Hadley said, adding that the Dragons displayed more "intensity, heart and dedication" Thursday than they did the last time the teams met.
"We were dead the last time we played them, maybe a little overconfident" after the season-opening triumph, she said.
Hadley credited the play of backup goalkeeper Rimika Ortiz, who made several clutch saves in the second half, for keeping the Panthers contained.
"Rimika was awesome. I've never seen her work that hard," Hadley said.
Meanwhile, Kubasaki's boys made it a clean sweep of their three matches with Kadena, but it took two late goals, by Mike Griffith and Anthony Thieleman in the 70th and 74th minutes, to fend off the Panthers, 4-2.
"It was nice to see the boys fight back," Dragons coach Chris Eastman said, confessing to worry that the team would "come out flat" after beating Kadena 6-0 on March 11 and 3-2 on April 4. "We knew Kadena would come out hard."
Kadena's and Kubasaki's boys and girls teams are the most decorated in Far East Division I Tournament history, with the girls combining for eight titles and the boys for six.