Kubasaki's first female wrestling coach embraces winning tradition
by
Dave Ornauer
January 23, 2003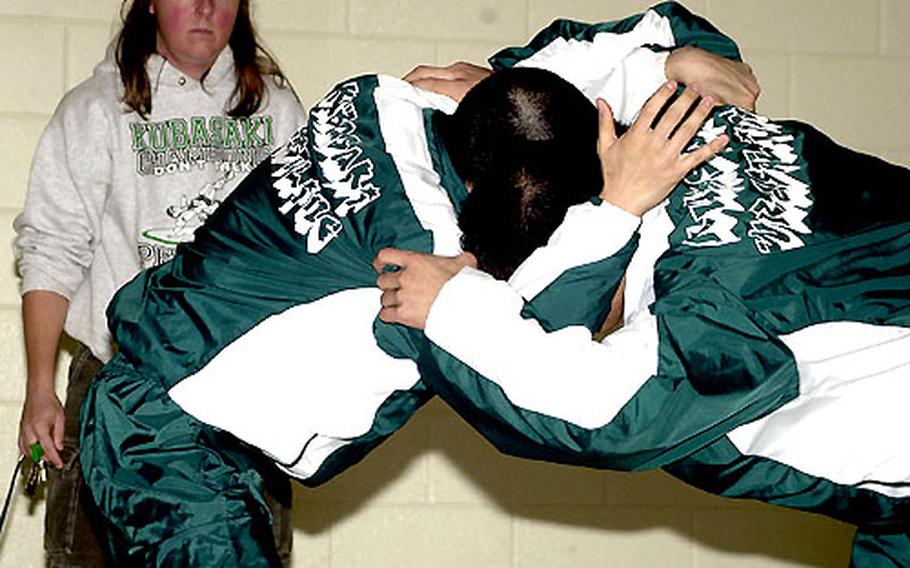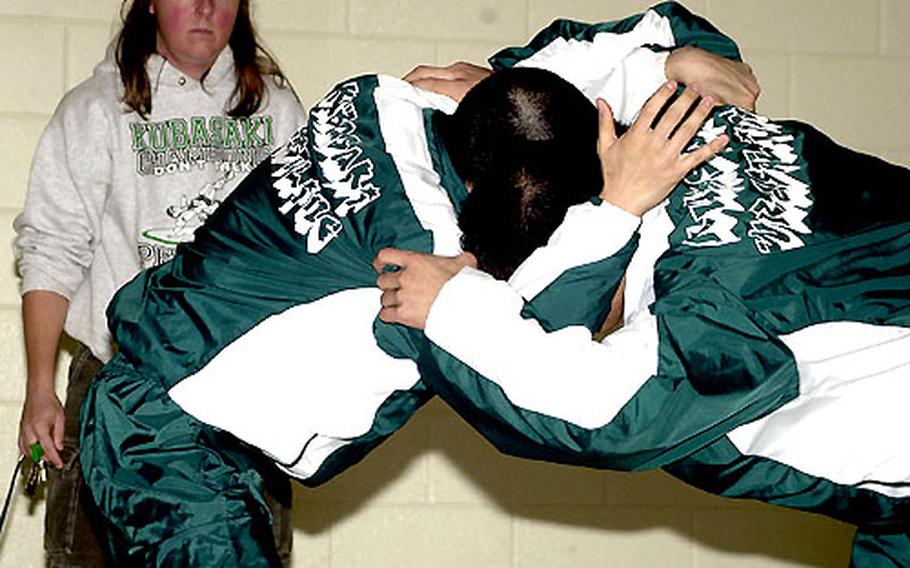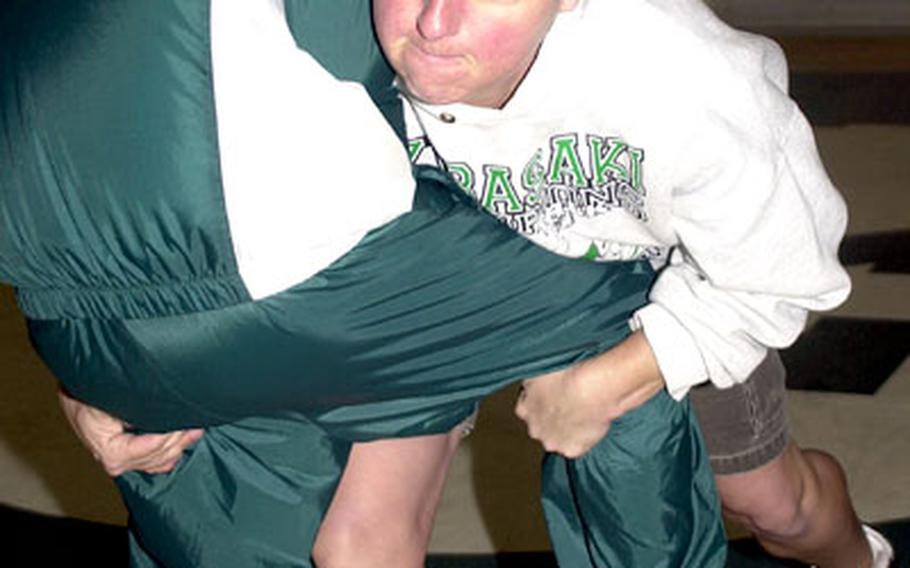 CAMP FOSTER, Okinawa — Chest heaving, gasping for breath, Dominic Canno gathered himself, hands on knees, in the corner of the mat.
Offering a bottle of water, Terry Chumley, the Kubasaki Dragons' coach, quietly exhorted her charge between periods of the 122-pound bout with Chris Maxey of the Kadena Panthers.
"You're doing fine. Keep working him," Chumley said, patting Canno on the side of his headgear. "Three more minutes, and you've got it."
Canno went on to win an 11-6 decision, helping his coach to a successful Okinawa High School Athletic Association dual-meet debut, winning 35-13 over Kadena.
Later, back in the Kubasaki practice room, Chumley reflected on the victory while staring at a quarter-century of Dragons wrestling lore.
Photos of past individual weight-class champions, their names and others stenciled in white over painted green fields, were arrayed on the wall. They were emblematic of a Pacific-record 18 Far East tournament championships.
Of that record haul, 13 titles were achieved by Chumley's predecessor, Jeff Pellaton, who transferred to Würzberg, Germany, last summer.
Just inheriting that legacy might be enough pressure, but Chumley also is the first woman coach in the wrestling program's 25-year history.
"Quite a challenge, quite a task," she said. "It's truly amazing what this program has done. But I have high expectations for myself and the team.
"I plan to carry on the tradition that people before me have set."
In the Pacific, only two of those people also were women: April Scott (Robert D. Edgren, Japan, 2001-02) and Lori Howell (Kadena, 1991-93).
Chumley, 40, already proved herself in the Far East tournament arena with a girls soccer title last spring. She views herself as a coach, she said, whether what she's coaching is soccer, volleyball or wrestling.
"I'm a coach coaching wrestlers, that's how I feel about it. I don't think it bothers any of the guys," she said.
The Falls Church, Va., native got started in Kubasaki's wrestling program as an assistant in 1998.
"She realizes the pressure, but she's a good coach no matter what sport she does," said Steve Schrock, the Kadena coach whose team the Dragons vanquished in that dual meet.
He coached against Chumley-led teams while he was at Naples, Italy, and she at Reykjavik, Iceland, during the 1980s.
"It doesn't matter that she's a woman," he said. "She's a good coach and she knows wrestling."
Though she never wrestled in high school or college, Chumley, a 17-year veteran of teaching and coaching, said she first got involved with wrestling when the DODEA school in Iceland needed a coach.
"I've always enjoyed watching and learning the sport," she said. "I have books, tapes, you name it. That's how I got started."
A year after she arrived at Kubasaki in 1997, Chumley moved into the wrestling program under Pellaton when his then-assistant, Jim Hall, took over the girls basketball team.
Among Pellaton's and Chumley's young acolytes was Bobby Duncan, who would go on to win a pair of Far East individual freestyle gold medals in 2000 and 2001. Now a University of Maryland student at Camp Foster, he assists Chumley and says the program isn't missing a beat with her in charge.
"She's done quite well," said Duncan, working to earn his teaching credential. "She and Coach P taught me a lot and inspired me to follow in their footsteps."
Not someone who just carries a clipboard and remains on the sidelines, Chumley even warms up with her wrestlers before workouts, said 148-pound senior wrestler Will Appling.
"When we learn technique, she's the one who shows us," Appling said. "Besides desire and hard work, every day we do hard conditioning. She's there every step of the way with us."
More than just teaching freestyle wrestling moves, much of what Chumley does is motivational, in much the same mold as her predecessor.
"She teaches us to just be strong, that we have what it takes to win," Appling said. "It's up to us, six inches between the ears and eight inches below the throat and a little left of center, as to whether we will win a Far East title."
"She won't accept the word 'can't,' Duncan added. "It's not a word in her dictionary."
More than learning the rudiments, Chumley considers the mental aspect to be crucial in developing a good wrestler.
"By the time Far East comes along, everybody's in shape, everybody's learned the technique," Chumley said. "It's central when you get on the mat, your mental imagery and your heart refusing to quit no matter what."
All these things, she said, were integral to Pellaton's philosophy. Now it's up to Chumley to carry it on, amid the added pressure of replacing a dynamic personality such as Pellaton, and amid whispers that the program will decline now that he's gone.
"That's a natural," she said. "He was a stellar figure. Of course, people will think the program will drop, but I don't feel that way. I'm very secure and comfortable in what I am doing."
"She's not Coach P," Appling said, "but I think what she's doing is excellent. Those are some big shoes to fill but if anybody in the Far East can fill those shoes, she can."