Kubasaki's Fernandez faces difficult choices for second semester ... and beyond
by
Dave Ornauer
November 10, 2005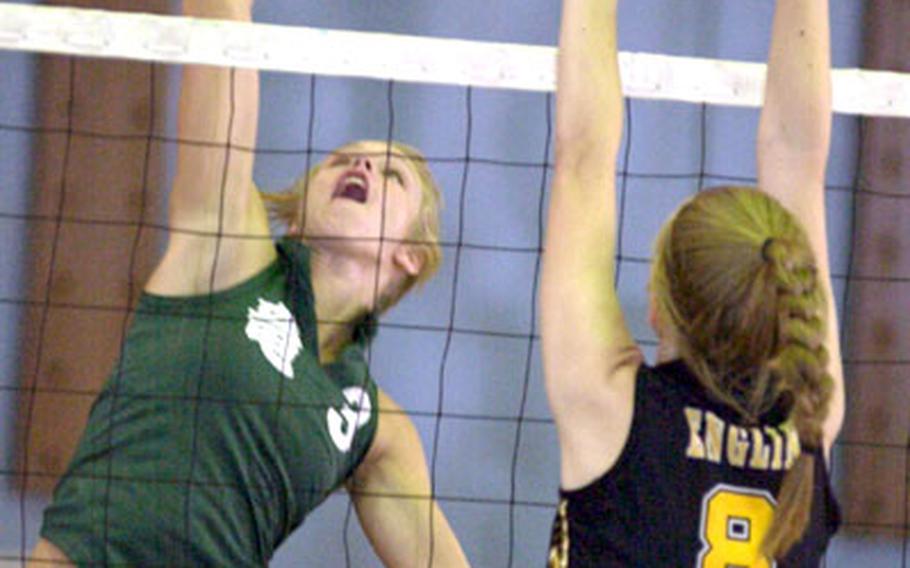 CAMP FOSTER, Okinawa — Alex Fernandez is torn.
The volleyball player and pole vaulter attending Kubasaki High School this semester is facing a couple forks in the road, regarding her school choices in the second semester and which college might be in her future.
Fernandez, who transferred during the summer to Okinawa from Woodland High School near Sacramento, Calif. to be with her father, is enjoying island life, making friends and renewing acquaintances from her previous four-year stay here.
But while playing a central role in the resurgence of Dragons volleyball as a middle blocker, a part of her longs for a return to California, where her mother resides, and where there are larger schools and stronger competition.
"I love playing with these girls," said Fernandez, a few days before heading to Seoul American for this week's Far East High School Class AA Tournament. "I'm having more fun here than in California. It's more fun here. The island atmosphere, there's so much you can do here, and the people here are awesome. You feel safer here.
"But opportunities for better competition are greater, far greater in California than here," Fernandez said of California Interscholastic Federation programs, with school enrollments that can number as much as 5,000, compared to Kubasaki, which is about 700.
"It's more serious there. It's nothing like it is here," Fernandez said.
Even her post-high school future is full of choices that seem to have Fernandez hedging her bets on attending San Diego State, where she'd made up her mind to go … or so she thought, until she began hearing from a handful of Ivy League schools and others wanting her to run track.
"I've known I wanted to go there (San Diego State) since the beginning of my junior year" at Woodland High, Fernandez said.
That was before Harvard, Cornell and Princeton came calling. Fernandez, a 4.0 grade-point average student, has also heard from Stanford and Duke. Initially interested in studying international relations, she's now considering the possibility of becoming a teacher.
It's been that kind of year for Fernandez, who left Woodland over the summer to reunite with her father, Rick, an Army warrant officer assigned to special forces the past eight years at Torii Station. Two of Alex's sisters are also on Okinawa.
Once enrolled at Kubasaki, Fernandez tried out for the Dragons volleyball team, and immediately impressed coach Terry Chumley with her athleticism. She'll dive for the ball in an open area or slide on the court to keep a ball from going out of bounds equally as well as slamming the ball inside the 10-foot line or blocking opponents' spikes.
"Normally, you'll substitute a middle blocker when she rotates to the back row, but she plays the full rotation," Chumley said. "She's one of few middle blockers who play all positions."
Fernandez has given the Dragons a confidence boost and elevated their level of play, Chumley said — so much so that the Dragons swept the Okinawa Activities Council season series convincingly from island-rival Kadena. Longtime teachers and coaches at Kubasaki compare the Dragons to the 1983 team that reached the Class AA semifinals.
"Her experience and skill level sets an example and the girls have stepped up. Every girl on the team has stepped up," Chumley said.
"They feel more confident when she's out there. She's a great hitter, but we have an all-around good team. It's not like she's carrying the team herself, but she's helped the level of play of the team immensely."
Fernandez said she plans to finish the semester at Kubasaki, then head back to Woodland, where her mother, Helen Shellhammer, resides.
Part of her, though, is considering the possibility of remaining at Kubasaki for the rest of her senior year to compete for coach Charles Burns and the Dragons track and field team.
"I'm still tossed up about that," she said.
Fernandez is accomplished in several track events — she's run the 100 hurdles in 15 seconds and high-jumped 5 feet 3. She also long-jumped 16 feet while in the eighth grade; the OAC record in that event is 16-2.
Perhaps the biggest obstacle to staying: OAC track and field does not include pole vaulting — Fernandez' specialty — as an event.
As a junior at Woodland, she vaulted a personal-best 11 feet, 9 inches, well short of the national record of 14 feet, but good enough to rank Fernandez No. 7 in the CIF most of the season.
"No vault here will probably send me back," Fernandez said.
No matter whether she finishes at Kubasaki or Woodland, whether she ends up at San Diego State or elsewhere, Fernandez has developed a soft spot for dealing with young people, which she says may lead her to a life in the classroom.
"I love working with kids," she said. "I wanted to go into international relations, (but) I'm thinking of learning to teach, get my teaching credential, and maybe come back here and coach."
Despite the distractions of being pulled in different directions, Fernandez asserted that her senior year has been one of the best of her life.
"I wouldn't have changed anything," she said.