Far East DI girls soccer
Kubasaki reign reaches 3 years
---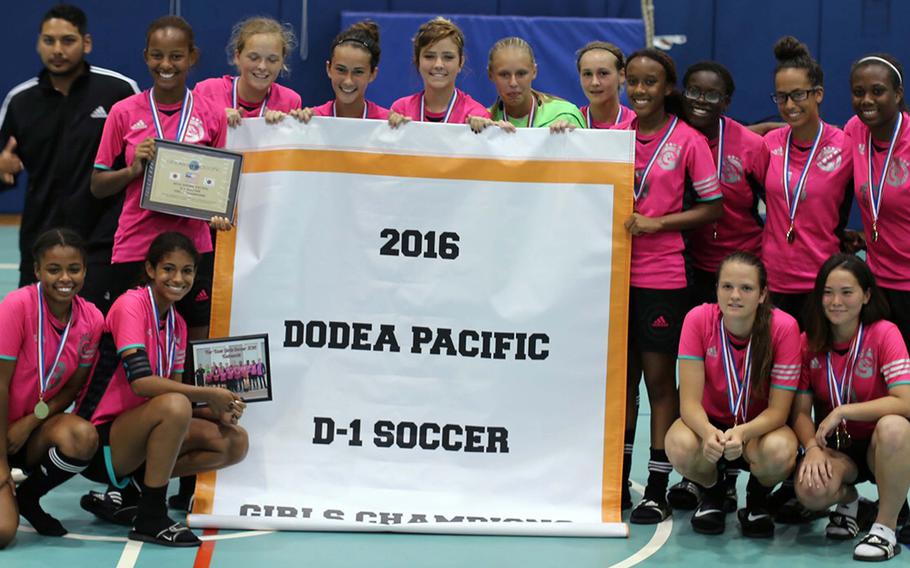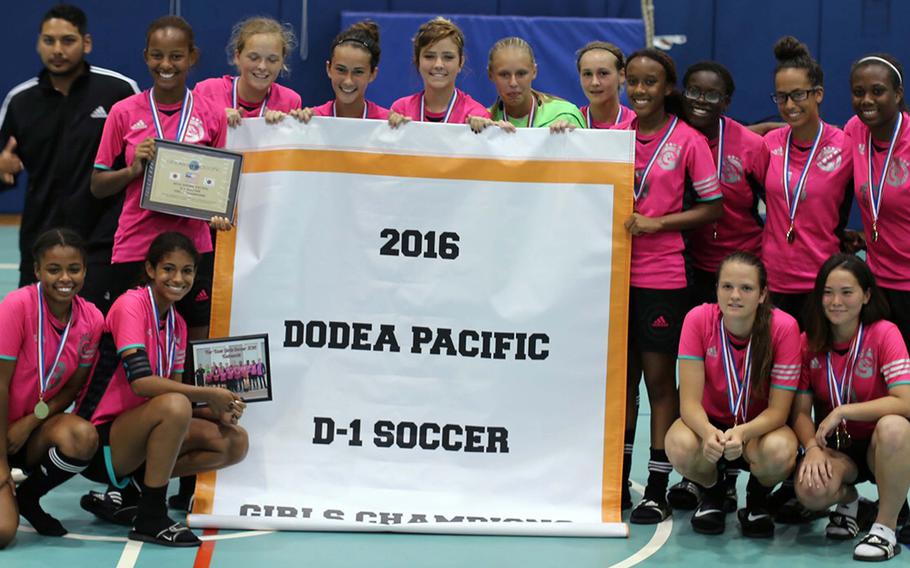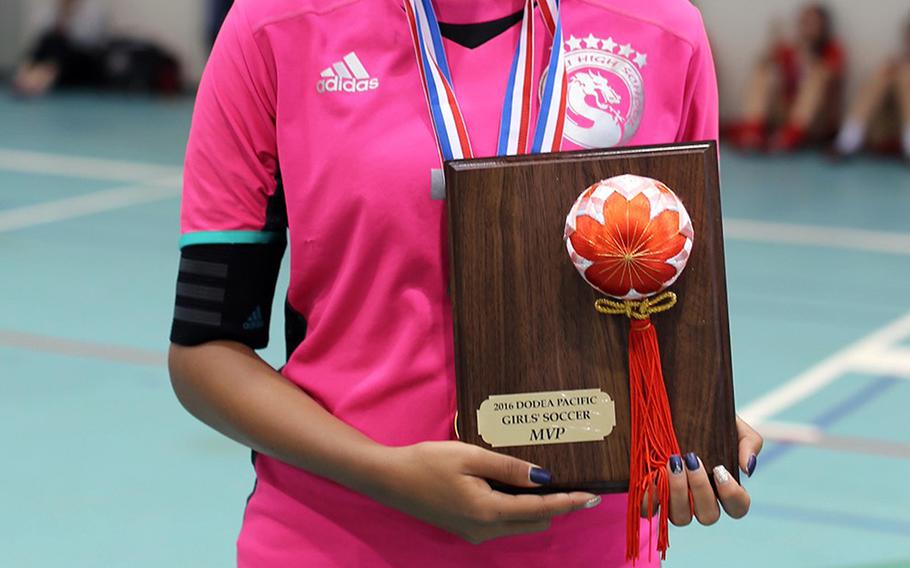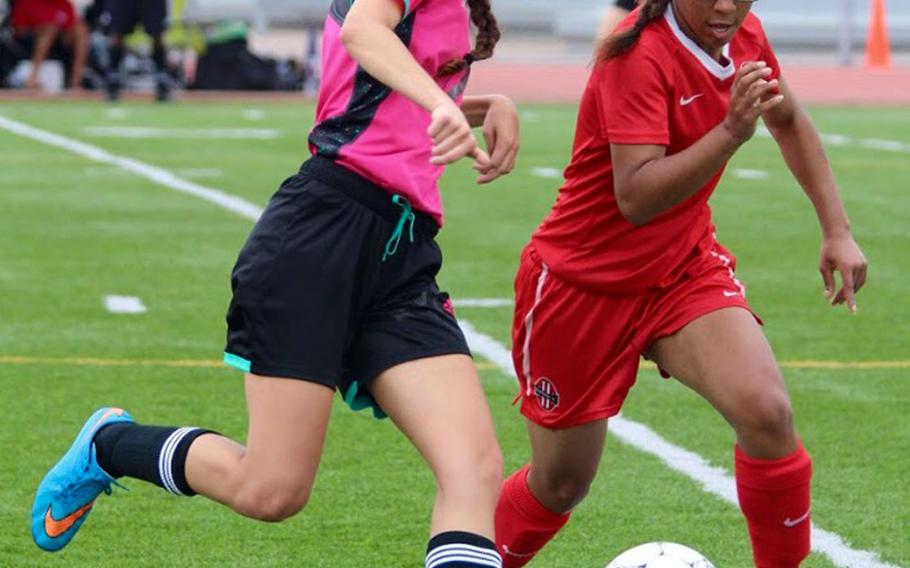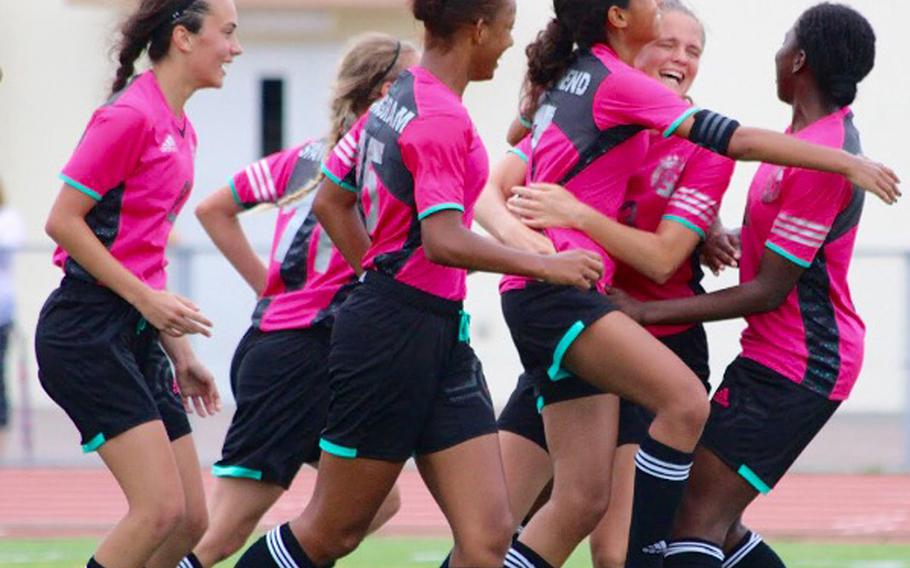 KADENA AIR BASE, Okinawa – A little more than a week ago, Alexis Townsend was in a walking cast due and her status for the Far East Division I Girls Soccer Tournament was in doubt.
But the junior midfielder shrugged her ankle injury – as well as the cast - returned to the pitch and helped pace her Kubasaki Dragons to their third straight tournament title.
She scored twice, giving her 18 for the season, and freshman Myca Ingram netted her 34th goal as the Dragons blanked Nile C. Kinnick 4-0 for the second straight year in the tournament finals, played in a driving rain Thursday at Kadena's Ryukyu Middle School's Habu Field.
Townsend, in her final season as a Dragon, exited as a champion and the tournament's Most Valuable Player for the second time in three years.
"Alexis is an awesome player," first-year Dragons coach Saleem Malik said. "You can only hope to coach a player of that caliber."
Two years ago when Townsend first came to the Dragons, it didn't seem as if things would go quite as swimmingly.
Kubasaki rotated through two coaches, went 1-1 in its first two matches before settling on Terry Chumley to coach for the rest of the season.
The Dragons did not lose again until the final match of the American School In Japan soccer festival on April 23 – a span of 25 months and 42 matches, including two D-I titles.
This Dragons team captured its seventh D-I title overall dating back to 2002. Kubasaki finished 21-2-2, including a 1-0 D-I pool-play loss Monday to Kinnick.
"They put their hearts into it," Malik said. "As a coach, the best measure of good players is how much effort they put into the game. And if they're victorious, that's what they can be measured by."
Townsend now turns her attention toward the States; she transfers to Rochester, N.Y., after the school year ends, and said the third of her three titles was the most special.
"We beat the odds, we came together, we got first place and that's all that matters," she said.
"It's a good way to send her off," Malik said. "I'd not have expected anything less of her."
The Red Devils closed 21-4, including the DODEA-Japan tournament title, and had not lost a match since late March. Kinnick played and lost in the D-I finals in 2000, 2007 and last year, coming up short in all four appearances.
---
---
---
---