Home Team
Kubasaki goalie back in net a year after gruesome injury
by
Dave Ornauer
April 19, 2018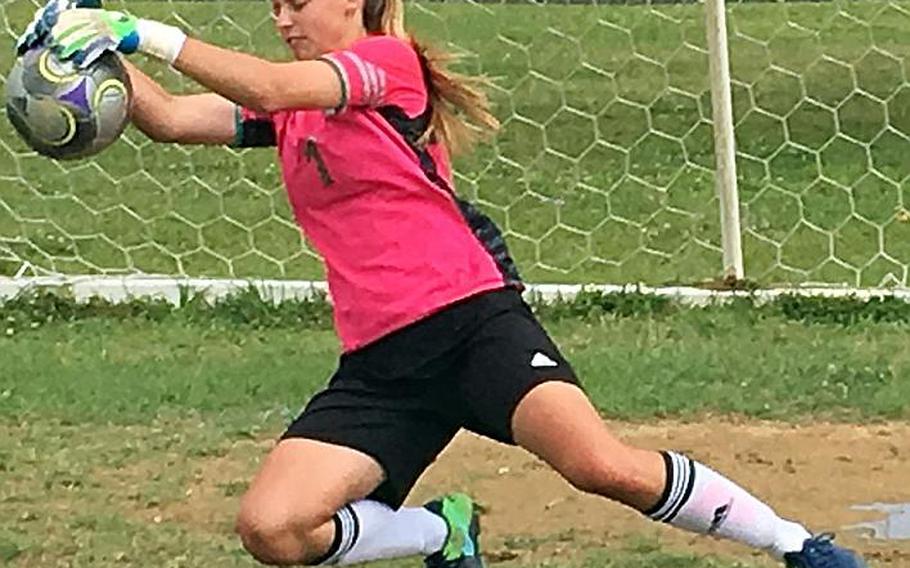 CAMP LESTER, Okinawa – It appeared to Lexi Klimek as any one-on-one situation she'd faced in her years as a soccer goalkeeper – a player coming in alone on goal with a chance to give her team the edge.
But a beautiful, sunny afternoon on the field-turf pitch at Yokosuka Naval Base would turn downright awful for Klimek and all her Kubasaki teammates. Klimek dashed from the net to try to cover the ball – and the knee of her opponent crashed into face.
The result was a fractured right cheekbone and orbital bone. Surgery was needed back home on Okinawa to repair the damage.
A chance at a fourth straight Far East Division I title seemed awfully remote when Klimek, the team's backbone, suffered the injury.
Losing their goalkeeper was the exclamation point to a disappointing tournament. "Definitely a big letdown, like a punch to the gut," said defensive captain Tasher Odom.
"We already weren't playing up to our ability, we'd lost a couple of other players to injury, but when that happened, we kind of looked at each other, like, 'What do we do now?'"
Klimek was conscious through the whole ordeal but says she wished she wasn't. "I wouldn't have felt as badly," she said. "With a shattered face, you're going to feel it. I was just doing what a keeper does, go after the ball, made the save and took a knee to the face."
She walked off the field under her own power, briefly visited U.S. Naval Hospital Yokosuka, which communicated with USNH Okinawa back home and determined surgery would be done there.
Despite all that, Klimek said she wanted to keep playing, as badly damaged as her face was.
"My team needed me," said Klimek, noting she was the team's only trained goalkeeper. "I was ready to go back in. The game wasn't over. The tournament wasn't over. I had to help my team."
Ultimately, Klimek left Yokosuka with her parents while the rest of the team played on. The Dragons would lose both their matches and finish last, something no Dragons team had done previously in a D-I tournament.
Four days later, May 22, five metal plates and 26 screws were inserted to repair the damage to Klimek's face. The doctor's instructions – four to six months of recovery time.
For the most part, Klimek said she followed those orders, but "I cheated a little" as her senior season approached. "No goal work; it was more running and ball-control stuff, but not much," she said.
But it ran much deeper than suffering her first major injuries since she began playing soccer. Most of her early years were spent playing youth ball at Camp Humphreys before transferring to Okinawa five years ago.
Klimek played just two matches her freshman year, backing up All-Far East goalkeeper Harleigh Lewis, then assumed the starting role as a sophomore, backstopping the Dragons to their third straight D-I title and the school's seventh overall.
"I was pretty confident with the team" entering Klimek's junior year, she said. "We lost a lot, but we had a good amount of players coming back, so I was confident throughout the season."
But during last year's Far East, "you could tell it wasn't falling together as much as it should; I definitely had to work harder than my sophomore year," she said.
The layoff following surgery gave Klimek plenty of time to think.
"Things happen for a reason," she said. "When it happened and I realized what was going on, I just said I would come back stronger next season. People asked me why I was coming back and I told them, one major injury in 14 years wasn't enough to stop me."
Though the Dragons bid farewell to strong talents such as midfielder Reiko Lemasters (graduation) and striker Myca Ingram (PCS) and are rebuilding this season, "I'm still pretty confident with this team," Klimek said. "Good players with skill. More defense than offense."
Her returning teammates were happy to see Klimek back on the pitch. Barely a hint of a scar is visible on the right cheek as she trots out to her customary spot in net.
"She came back stronger this season and she wants some redemption, just like all of us," Odom said.
Twitter: @ornauer_stripes