Kubasaki girls upset Andersen
by
Dave Ornauer
January 17, 2004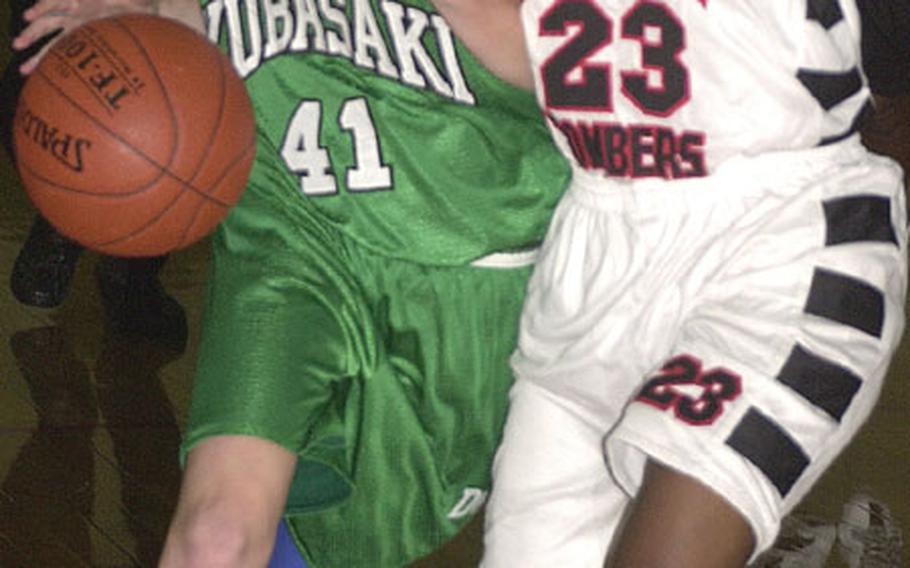 CAMP FOSTER, Okinawa — On a day when Kubasaki High School's girls basketball players mostly were concerned with the start of semester exams, they passed one midseason test with flying colors.
Shanea McDaniel scored 11 points Thursday, including the go-ahead basket with 3:32 left, as the Dragons stunned Guam's Andersen Lady Bombers 38-34 on the first day of the 13th Martin Luther King Pacificwide Open Tournament.
"We're starting out strong, exactly what we need," junior guard Erin Foote said of the victory over a Bombers team that won a preseason invitational in October at Yokota Air Base, Japan, with just six players.
Despite Andersen's full complement of 11 players, Kubasaki refused to be cowed, Foote said.
"We may look small, but we play big," she said. "All heart and determination and we don't let anybody intimidate us."
It was a major step for a Kubasaki team that went winless here a year ago, but has beaten defending Far East High School Girls Class AA Tournament champion Kadena and one military team, the Torii Matriarchs, this season.
It also recalled memories of two years ago, when the Dragons became the first team since high schools were allowed to enter the MLK in 1997 to win a double-elimination round playoff game. That Kubasaki team went on to win the Class AA championship.
Guard Brandee Hudson of the Bombers said the upset defeat was anything but a fluke.
"They're a good team, a very good team," Hudson said. "We couldn't get into an offensive flow, we missed a lot of free throws (4-for-20 from the line). But a game can go either way. And they played a good game."
While saying Thursday's victory sent a strong message, Foote refused to look too far ahead. All the Dragons faced a full Friday of mid-year exams, plus a regular-season game with Kadena High and a battle with the defending champion Queens on Friday and another game Saturday with Kadena.
"You can't take anybody for granted in a tournament like this," she said. "And it's a long weekend. It's a great early start but we have a long way to go."
The defending tournament champions, the Queens and Kadena Falcons, didn't have as much trouble disposing of their opening opponents, the Queens defeating Kadena High 49-37 and the Falcons disposing of Korea's Camp Casey Warriors 58-47.
Yet both titlists appeared to take the same attitude as Foote.
"These teams don't care that we were last year's champions," Kadena coach Kevel Ellies said. "They'll play us hard every game."
"We just have to focus on what we do, Queens basketball," added reigning women's MVP Trancye Foster. "This is a whole new year and this is a whole new team."