Kubasaki feels it's getting 'over the hump'
---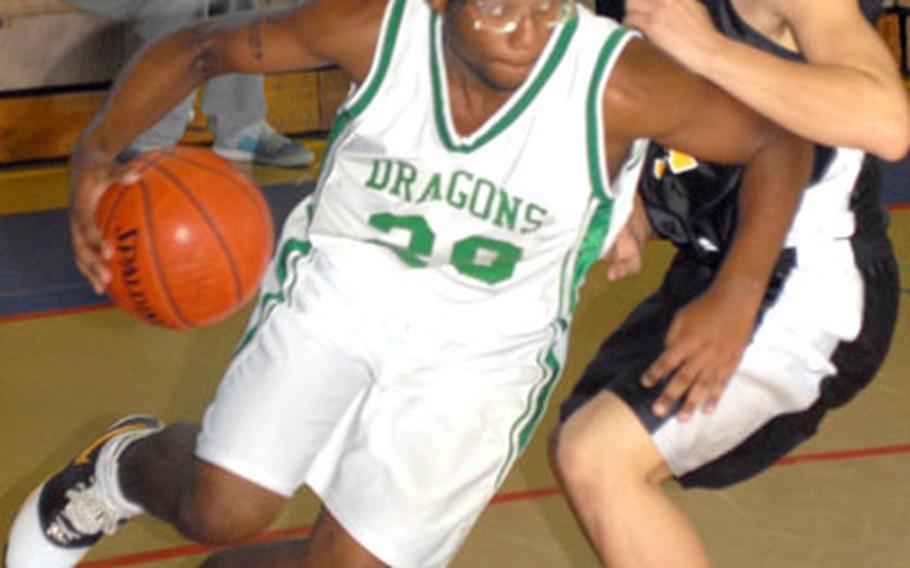 YOKOTA AIR BASE, Japan — All season long, Kubasaki coach Jon Fick has lamented how his boys basketball team seemed to be unable to finish games strongly.
He hopes his Dragons turned the corner on Friday, the third day of the 2nd New Years Classic tournament at Yokota High School.
In the morning, Chris Cooke scored 23 points and the Dragons went on a 27-0 run to bury Kadena 72-34. The Panthers had won their two previous matchups with Kubasaki last month.
Then in the afternoon, Jacorian Callier led a rally from a 43-18 third-quarter deficit, scoring 20 of his 26 points in the second half as the Dragons charged back to edge Kinnick 63-62 on Chris Cooke's last-second three-pointer.
"Maybe we're over the hump. Maybe we aren't," the visibly relieved Fick said after the victory over Kinnick. "Finally, we snatched victory from somebody instead of the other way around."
Kubasaki had entered Friday's games with a record of 9-7, but Fick felt his Dragons could easily have been 13-3 or 14-2 had the team finished games better.
The difference Friday, particularly in the Kinnick game, was making use of zone pressure, a 1-3-1 halfcourt trap and 1-2-2 and 1-2-1-1 zones in the Kinnick backcourt.
Prior to Friday, "we hadn't put a lot of time" into working zone presses, Fick said. "We pressed today, and that got us back into it."
Senior T.J. Jones gave Kinnick a 43-18 lead, its biggest, 2:10 into the third quarter before Kubasaki gradually worked its way back.
Finally, with six seconds left, Kinnick inbounded, but Kubasaki senior Rodney Brown dived for the ball and flipped it to Cooke just outside the three-point arc.
"Shoot it and make it," Cooke said he was thinking as he got the ball. "All I knew was, if I didn't shoot, we'd lose. And when I hit it, ecstatic."
Cooke feels confident that "this was the one" that will help Kubasaki find itself. "We had our wake-up call. After the Kadena game, we came out flat, but we came back in the fourth quarter."
Fick viewed the victory over Kadena as "an exception," given the results of the two previous encounters. Kadena won 88-73 on Dec. 8 at Kubasaki, then 84-73 on Dec. 18 at Kadena.
"The first one, Kadena dominated. The second game, we led and Kadena did what it had to do. They closed things out. This game was an exception."
Despite watching the 25-point lead over Kubasaki slip away, Kinnick first-year coach Mike Adair said the close game proved that "we belong" in a tournament featuring five previous Far East Class AA tournament champions — everyone but Kinnick.
"As I told the guys after the game, 'Welcome to the big leagues,'" Adair said of his Red Devils. "You can go up 25, but if you don't play fundamentals, then you'll get beat. If you play as a team, then I know we can compete."
High school boys basketball
2nd New Years Classic
At Capps Gym, Yokota High School
Yokota Air Base, Japan
Pool-play standings
School W L Pct. GB
Seoul America 5 0 1.000 --
Yakota, Japan 3 2 .600 2
Kubasaki, Okinawa 3 2 .600 2
Kadena, Okinawa 2 3 .400 3
Kinnick, Japan 1 4 .200 4
St. Mary's, Japan 1 4 .200 4
Wednesday's games
Kadena 60, Zama American 42
Kinnick 61, St. Mary's 59, 2 OT
Seoul American 63, Kubasaki 56
Yokota 57, Kadena 31
Thursday's games
Kadena 56, Kinnick 45
Kubasaki 45, St. Mary's 29
Seoul American 70, Yokota 40
Kadena 63, St. Mary's 57, 2 OT
Seoul American 72, Kinnick 55
Yokota 63, Kubasaki 59, OT
Friday's summaries
Seoul American 52, St. Mary's 31
St. Mary's 8 12 10 1—31
Seoul American 10 13 19 10—52
Scorers-Seoul American, Chris Churchwell 15, Raidion Fails 12; St. Mary's International, Osamu Matsuda 8.
Kubasaki 72, Kadena 34
Kubasaki 14 16 27 15—72
Kadena 7 9 12 6—34
Scorers-Kubasaki, Chris Cooke 23, Jacorian Callier 13, Matt Logan-Robertson 10; Kadena, Jamil Barney 10.
St. Mary's 37, Yokota 32
St. Mary's 6 5 10 16—37
Yokota 5 5 9 13—32
Scorers-St. Mary's International, Woo Sob Kim 12; Yokota, DeEric Harvin 17 (10 fourth quarter).
Kubasaki 63, Kinnick 62
Kinnick 10 22 17 13—62
Kubasaki 6 12 19 26—63
Scorers-Kubasaki, Jacorian Callier 26 (20 second half), Rodney Brown 11; Kinnick, Rodney Johnson 14, Sam Green 12.
Seoul American 87, Kadena 41
Seoul American 18 14 29 26—87
Kadena12 8 10 11—41
Scorers-Seoul American, Chris Churchwell 16, Raidion Fails 14 (11 third quarter), Joe McLean 10; Kadena, Jamil Barney 10.
Yokota 58, Kinnick 41
Kinnick 11 13 8 9—41
Yokota 19 8 14 17—58
Scorers-Yokota, Riki Byrnes 17, DeEric Harvin 15; Kinnick, Sam Green 12 (8 third quarter)
Saturday's games
Game 1-Kadena vs. Kinnick, 9 a.m.
Game 2-Kubasaki vs. St. Mary's, 10:30 a.m.
Game 3-Seoul American vs. Game 1 winner, noon
Game 4-Yokota vs. Game 2 winner, 1:30 p.m.
Game 5-Game 1 loser vs. Game 2 loser, fifth place, 3 p.m.
Game 6-Game 3 loser vs. Game 4 loser, third place, 4:30 p.m.
Game 7-Game 3 winner vs. Game 4 winner, championship, 6 p.m.
---
---
---
---