Kubasaki ends Kadena hex, takes Okinawa title
by
Dave Ornauer
September 23, 2011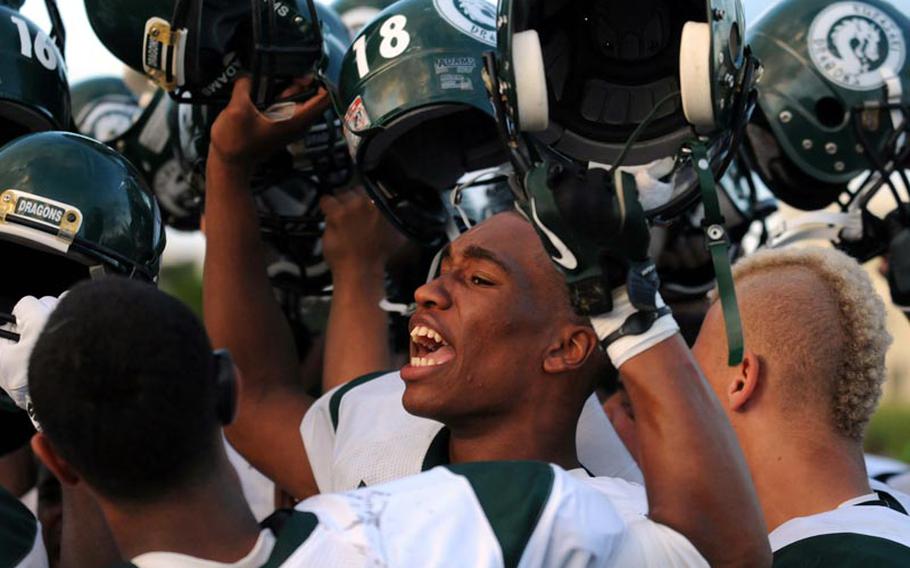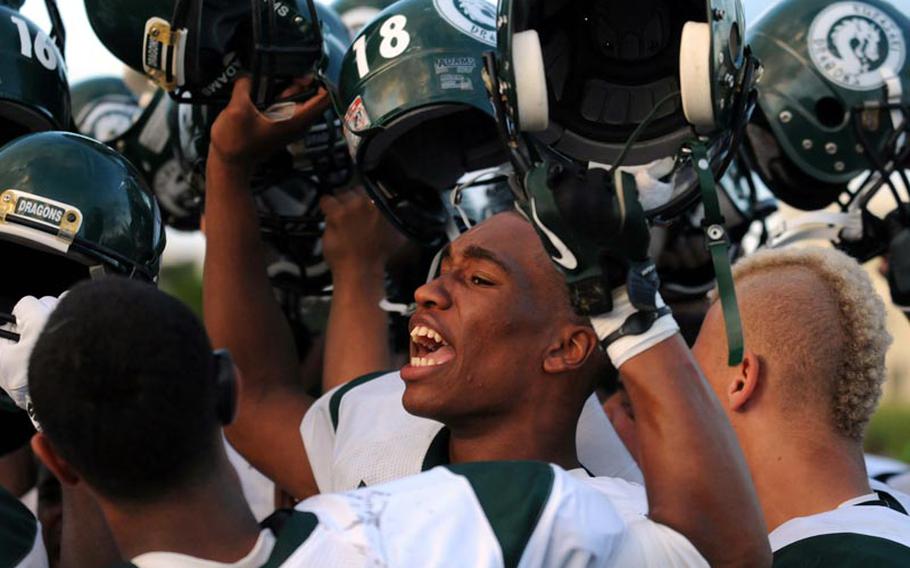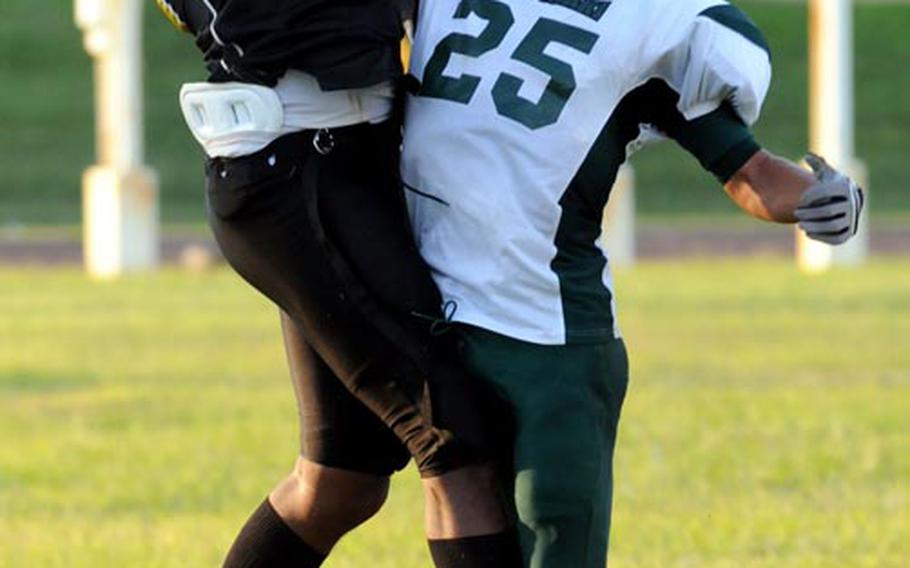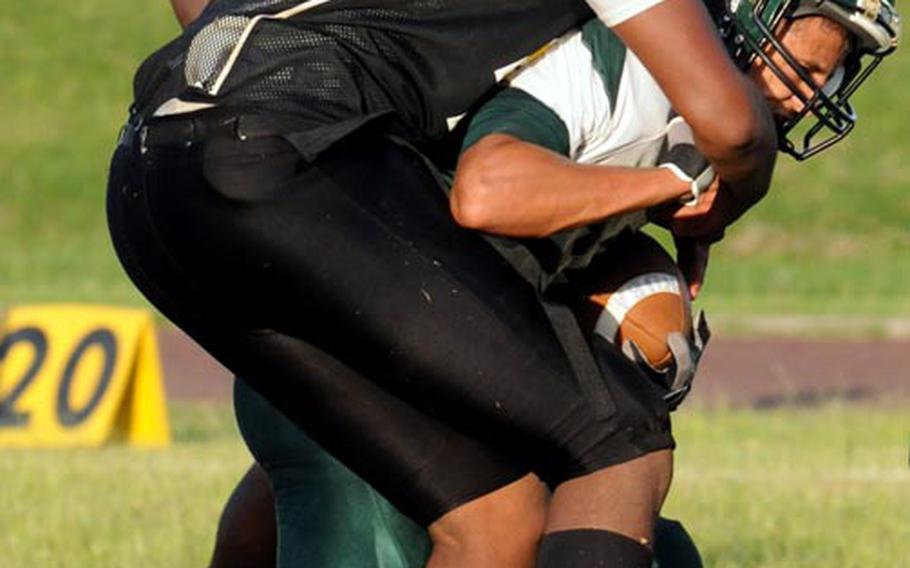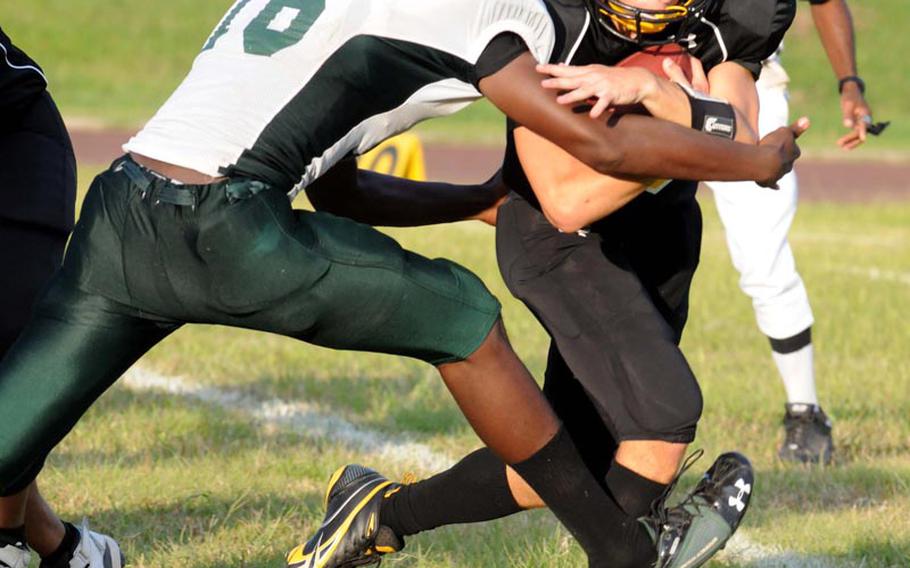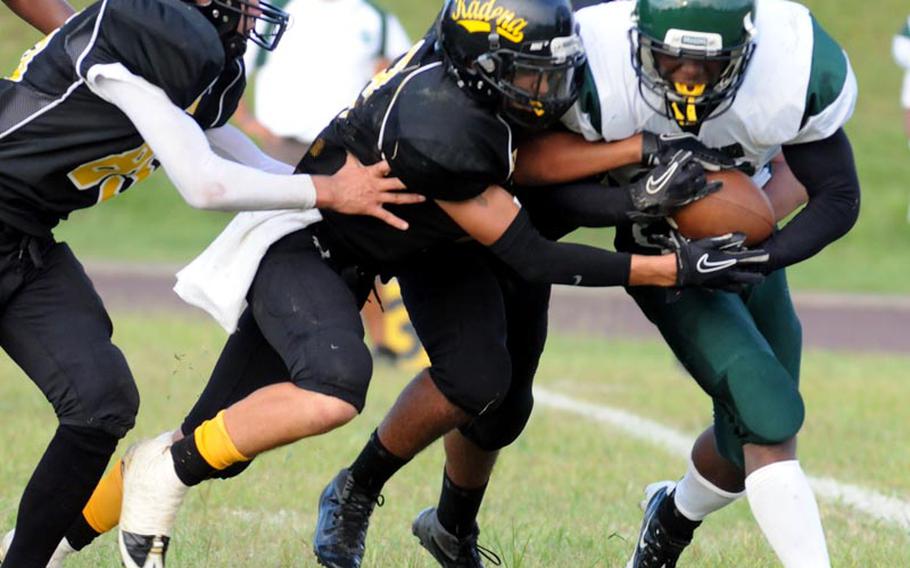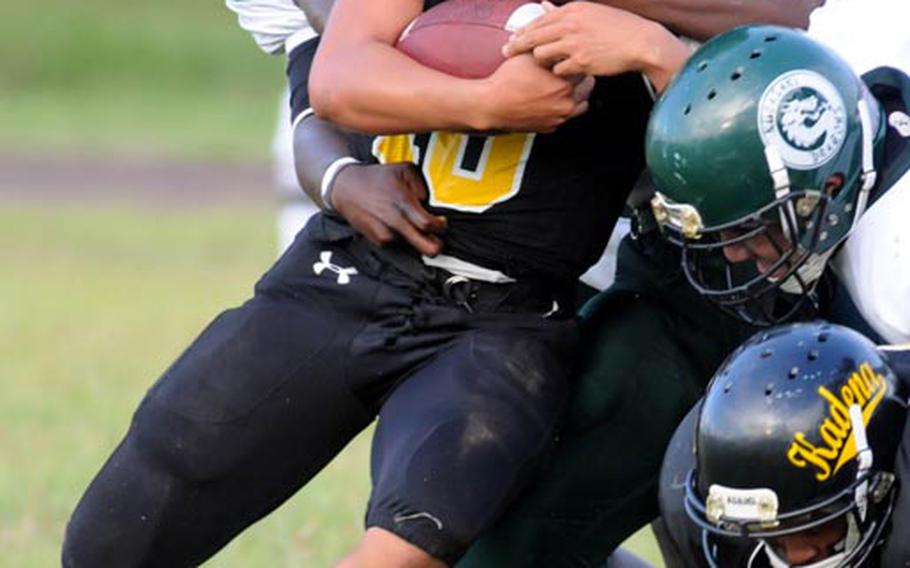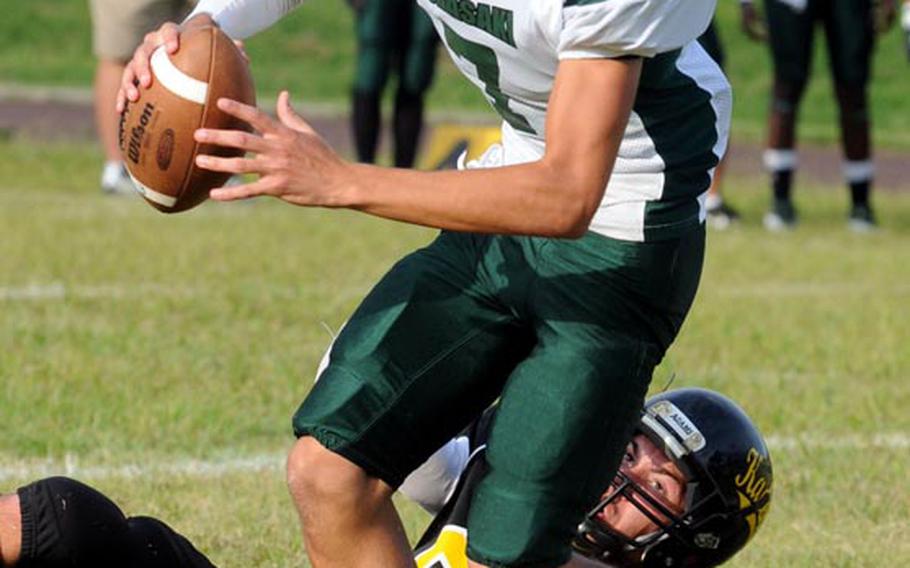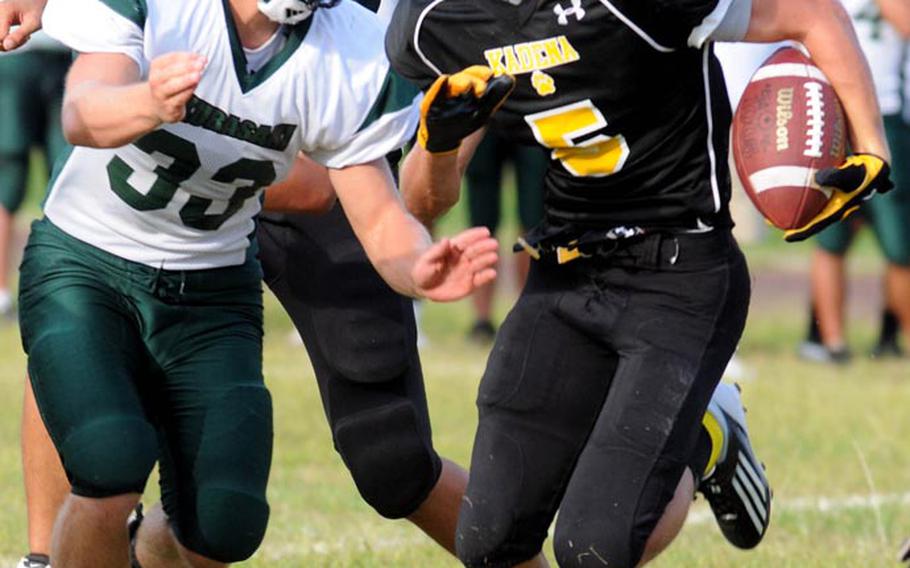 KADENA AIR BASE, Okinawa – Columbus Wilson endured the frustration of losing game after game and Okinawa Activities Council title after title to Kadena for his first three years in a Dragon uniform.
Friday, he did something about it – and helped Kubasaki snap its 15-game losing streak to the Panthers and end Kadena's run of five straight OAC championships.
Wilson returned an interception 87 yards for a touchdown, one of his three takeaways, and Cristian Rivera threw a 16-yard TD pass to Brandon Crawford as Kubasaki blanked Kadena, 13-0.
"It feels awesome," Wilson said. "I can't find the words right now. I've never felt this happy before. Four years of hardly touching the ball. It feels great."
The teams split their two games this season. Kadena won 15-14 on Sept. 9 at Kubasaki, but the Dragons outscored the Panthers (27-15) to win the league title on point differential.
"It's been too long and that's a testament to the Kadena coaching staff and their team," Kubasaki coach Fred Bales said. "They were as classy in defeat today as they've been in victory. They competed like champions today. We'll take that as a huge win for us."
"The 16th time was the charm," said coach Sergio Mendoza of Kadena, a young team with 90 percent freshmen and sophomores that lost running back Justin Sego to injury in the second quarter. Fellow tailback Joey Dyer played but limped on a sore leg for most of the second half.
"If it was going to happen, it was going to happen this year with the youth we have on this team," Mendoza said.
After a scoreless first quarter, Wilson began the second with his pick-six, in which he went virtually untouched up the left sideline.
"That was maybe the play of the game because it flipped the field, it turned the tone of the game," Bales said.
Two possessions later, Rivera found Richard Allen with a 34-yard pass down the right sideline to the 16, setting up his TD pass on a broken play to Crawford up the right sideline that made it 13-0 at halftime.
Kadena's defense "almost made a huge play and almost got Cristian on the ground, he spun out and had his eyes upfield like the great competitor he is," Bales said. "He and Brandon have been making those plays for a few years now."
Twice Kadena drove into Kubasaki territory in the second half, but couldn't make a dent. Wilson's second interception and third takeaway of the day came as the fourth quarter began. He had squelched a Kadena drive on the Panthers' second possession of the first quarter with a fumble recovery at the Kadena 7.
Rivera was an economical 3-for-4 for 69 yards. Sophomore tailback Jarrett Mitchell ran 23 times for 142 yards for the Dragons, who gained 211 yards on 41 plays.
Kubasaki's defense held Kadena to just 110 yards on 48 plays. Sego left with a team-leading 49 yards on 11 carries. On defense, Tyler Holmes recovered a fumble and Tim Johnson picked off a Rivera pass.
Kadena (3-1) will entertain Guam High (2-3) in a Division I play-in game at 7 p.m. Oct. 3 at Kadena Air Base's McDonald Stadium. The winner travels to Yokota for an Oct. 29 semifinal game at 7 p.m.
"We're far from done," Mendoza said. "We're going to come back and work. We're going to remember a lot of what we saw today and grow from it."
Kubasaki (3-1) hosts the other semifinal at 7 p.m. Oct. 29 against the winner of the Seoul American (2-2) at Nile C. Kinnick (2-3) play-in game on Oct. 3.