Kubasaki closes out Kadena
---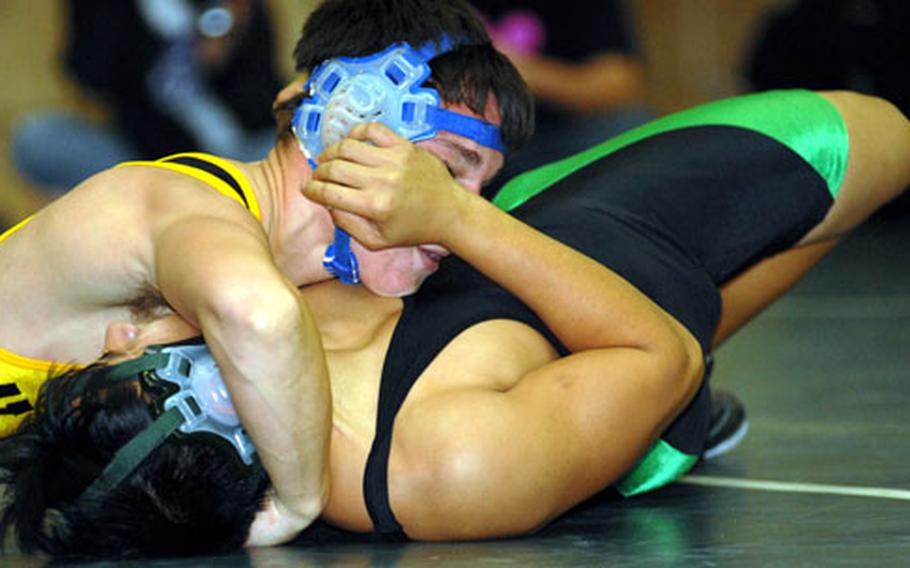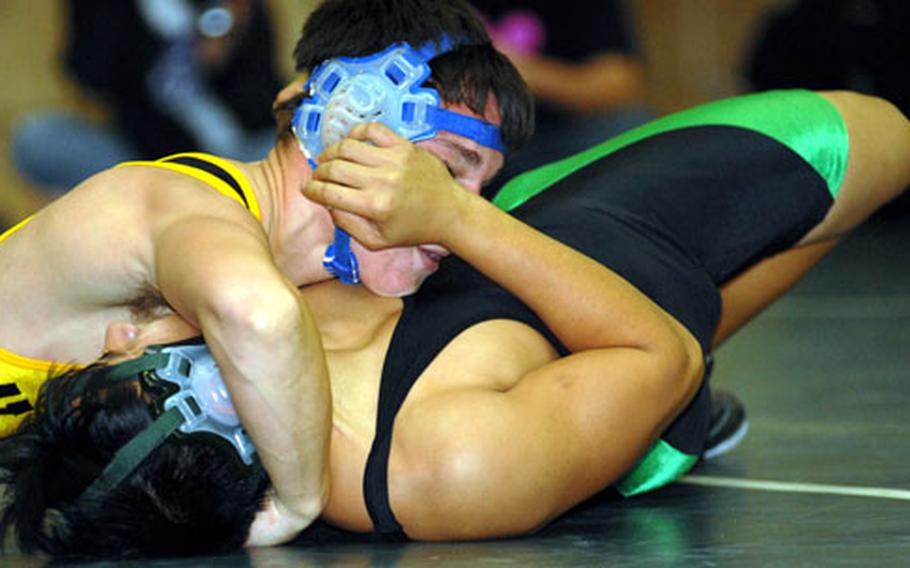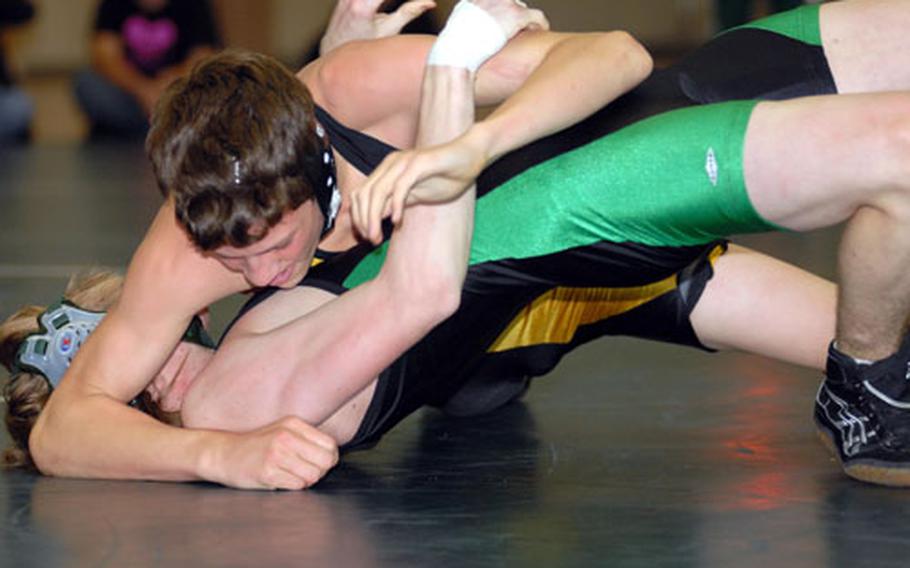 CAMP FOSTER, Okinawa — His Kubasaki teammates call Jake Haynes "Cowboy." They might consider renaming him "Closer."
For the second time in eight days, the sophomore 168-pounder scored the clinching pin to give the Dragons an Okinawa Activities Council dual-meet victory over defending island and Far East champion Kadena. Haynes finished off Josh Carpenter in 1 minute, 18 seconds to boost Kubasaki past the Panthers 41-23 on Thursday at the Dragons' Den.
"He takes advantage of mistakes by an opponent and he knows how to pin," coach Terry Chumley said of Haynes, who a week earlier pinned Matt Correia in 1:30 to seal Kubasaki's 39-20 triumph at Kadena. "When you have somebody in position to pin, you always want to have your wrestler show that killer instinct, to finish the opponent right then and there."
In his second year with the Dragons, Haynes says he's been working on using technique more than brute strength and "just going out there and trying to win and get the job done."
He wasn't alone Thursday. Chris Paul (115 pounds), Josh Bales (122) and defending Far East gold medalist Scott Wood (108) pushed Kubasaki ahead 15-5 after the Dragons spotted Kadena a 5-0 lead when Kody Kennedy (101) won by walkover.
The tide turned after that. Chris Hoshaw (129), Brandon McCullough (141) and Cody Cash (158) scored pins and defending Far East champion Jacob Bloom (148) earned a decision; Kubasaki could only answer with a pin from Matt Maza (135) as the Panthers roared back in front 23-21.
Then Haynes stepped into the fray, catching Carpenter on his back after the latter tried to shoot for Haynes' legs. Haynes used a front chest press to finish off Carpenter.
Kubasaki 215-pounder Jorge Cristobal put the capper on things by pinning Karsten Hendrickson in 2:56. That was sandwiched by walkover victories for Kubasaki's Ricky Jones (180) and Mike Coots (heavyweight).
Haynes says he and his teammates are using for motivation Kadena's 32-25 victory over Kubasaki in last year's Far East dual-meet tournament final, and that their work is far from done.
"That ain't gonna happen this year," Haynes said. "Nothing less than winning. We're not going to stop until we get it."
Chumley also said much remains to be done by the 20-time Far East tournament champion Dragons to get ready for next month's tournament at Yokosuka Naval Base, Japan.
"We're going to work hard to be better on our feet," she said.
"They wrestled better than us," Kadena coach Steve Schrock said. "They (Dragons) have some good, strong lightweights, some good middleweights who will get better and some solid heavyweights."
---
---
---
---