Far East D-I soccer
Kubasaki breaks ASIJ hex, wins tourney
---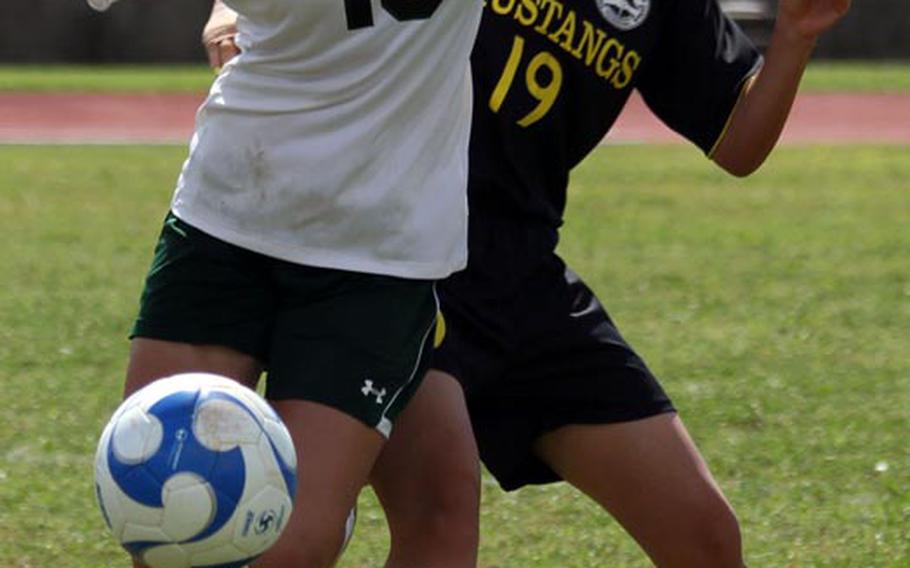 This article has been corrected
CAMP FOSTER, Okinawa – Years of frustration gave way to championship joy Friday as Kubasaki's girls soccer team posted a 2-0 victory over American School in Japan, giving the Dragons their fourth Far East Division I Tournament girls soccer title in school history.
Kubasaki avenged title-match defeats by identical 1-0 scores against American School In Japan twice in the last four years, including last May on the same Mike Petty Stadium field, as Makayla Palazzo and Hina Neill scored on long-distance shots in a three-minute span late in the first half.
The third time against the Mustangs was the charm for the Dragons, who also won in 2002, 2003 and 2007. They used motivation from their previous two one-goal losses suffered at the Mustangs' cleats, the first one coming in May 2008 at Yokota.
"All we thought about before the game was getting revenge," All-Tournament senior Katelyn Lerette said.
The victory was especially sweet for fourth-year starter Elizabeth Fabila, who saw her team finish second twice and third once during her tenure at center-forward. This season at center-midfield, Fabila's thoughts centered on payback, she said.
"I've waited all four years for this moment," said Fabila. "Everything we did during the season paid off, and we finally got 'em back."
ASIJ had a good chance early to score the first goal.
A back-and-forth battle led to a perfectly placed through-ball from last year's tournament MVP Julie Keese that found her Mustang teammate and Golden Boot winner Katey Helwick. Goalkeeper Korina Martinez of Kubasaki, named the tournament's Most Valuable Player, demonstrated why by stoning Helwick's shot, keeping the match level.
Kubasaki's motivation paid off in the 36th minute, as Fabila dropped a pass to left back Neill, who launched a shot from 40 yards out. It broke through the hands of ASIJ goalkeeper Alison Klemencic and bounced in for the match's first goal.
Three minutes later, Dragons midfielder Palazzo smashed a high-arcing shot from 30 yards out that sailed over Klemencic's head into the left corner of the goal.
Both long-range goals were similar to the goals ASIJ used to beat Kubasaki in their previous title encounters: Ivie Myntti's shot from deep along the left side in the 58th minute of the 2008 title match, and Helwick's 25-yarder in the 39th minute of last year's match.
"The lead made us comfortable but we still weren't satisfied until we knew we won," Fabila said.
Helwick had a great chance in the 65th minute after a quick turn outside the penalty box gave her a clean look at the goal. Her shot sliced wide, however, and with it went ASIJ's hopes of winning back-to-back titles as the Dragons allowed no more shots.
"This is a great way to finish my high school career," said Lerette, who along with Fabila watched ASIJ celebrate on Kubasaki's home turf after last year's final. "We are so relieved that it's finally over."
Stanley Schrock is a journalism major at Colorado-Mesa University and a 2010 graduate of Kadena High School.
CorrectionAmerican School in Japan's Mizuki Toriya was misidentified in a photo caption in an earlier version of this article and goalkeeper Alison Klemencic was misidentified in the article.
---
---
---
---