Kubasaki boys upend host Seoul American
by
Dave Ornauer
February 26, 2007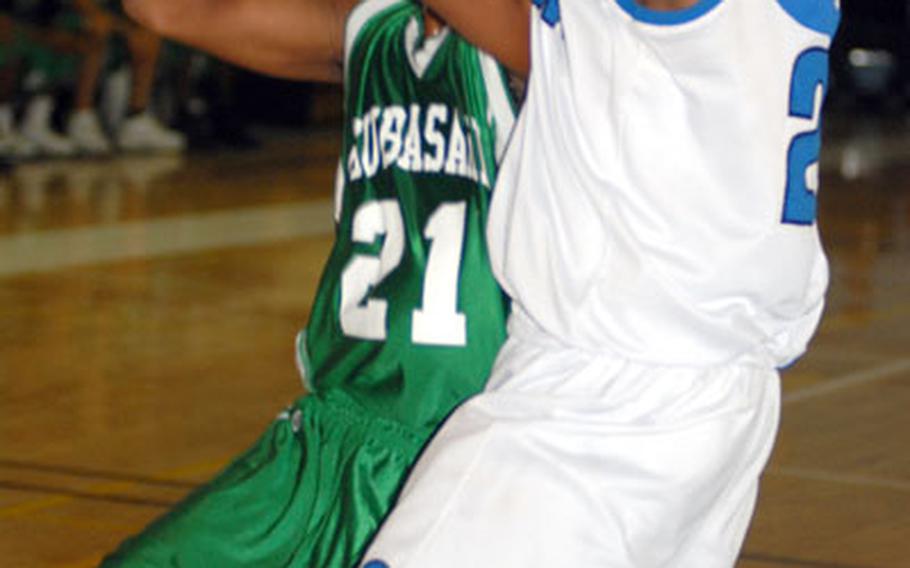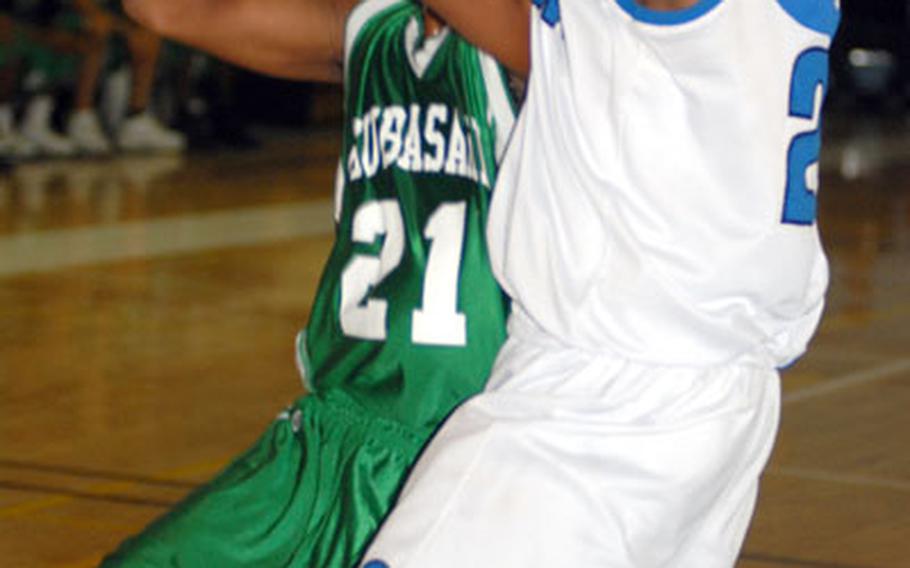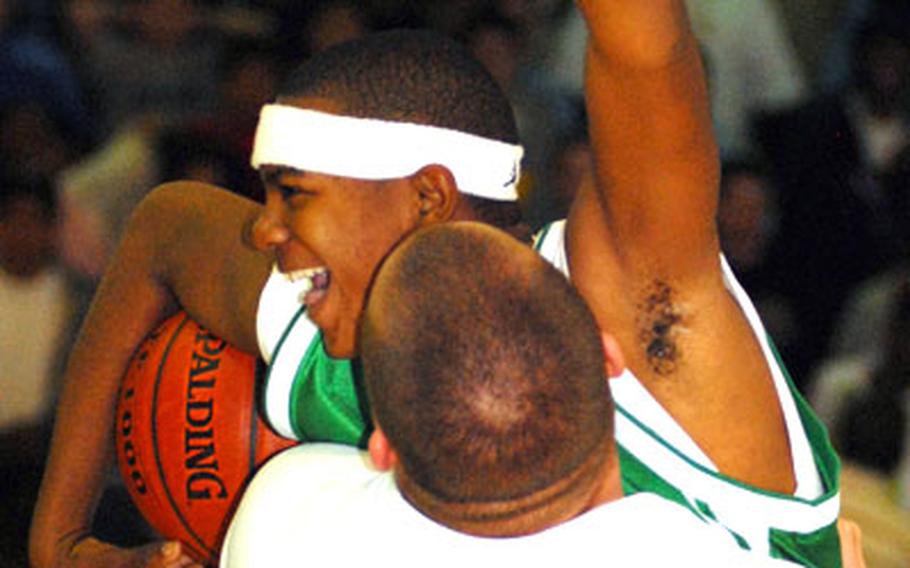 YONGSAN GARRISON, South Korea — Thanks to Jacorian Callier's breakout performance, the Kubasaki Dragons ended a 10-year Far East Boys Class AA basketball title drought and handed Seoul American a heartbreaking defeat on its home court.
Callier, a sophomore forward, scored 26 points, shooting 7-for-8 at the foul line, and tournament MVP Quinton Mason went 6-for-6 at the line in the final quarter as Kubasaki survived a seesaw battle with the host Falcons 75-71 in Saturday's championship game.
"He turned into a prime-time player in this tournament," first-year Dragons coach Jon Fick said of Callier, who moved up to the varsity team in December after playing two junior varsity games. "He's shown us more than we thought earlier than we thought."
"He became a man this week. He grew from boy to man," assistant coach Keith Richardson said. "Rebounding, scoring, he did it all. He's been doing it all the time we've been here. He's been stepping up and taking the leadership role."
"I didn't think he (Callier) had that in him," Seoul American coach Steve Boyd said.
Callier helped the Dragons survive a contest that featured 10 ties and eight lead changes, and yet another tight game during a week of close calls for Kubasaki. The Dragons also survived a Falcons team bent on "closing the deal," Boyd said, after losing last year's final 72-51 to Yokota.
"To get to the finals, you have to be a good team," Fick said. "Seoul American had it. They had the home court, good players and they're well coached. We knew it would be a battle, but we've had battles all week."
Neither team led by more than eight points. Tyras Milner gave the Falcons a 12-4 edge 3:30 into the contest; Callier's two free throws with 6:10 left until halftime gave Kubasaki a 27-22 lead, its biggest of the game.
Six of the lead changes and four of the ties came in the second half. Milner scored five straight points to push the Falcons ahead 66-62 with 4:12 left, but Mason hit two foul shots to tie it 71-71 with 1:51 left. Then Callier's driving layup put Kubasaki ahead for good 73-71 with 1:24 remaining. Milner missed a running shot in the lane with 5 seconds left.
Andrew Luna paced the Falcons with 24 points, 10 in the third period, while Milner scored seven of his 15 in the final quarter.
"They hit their free throws. We didn't execute. That was the difference," Boyd said.
His Falcons were the 18th host team to reach the championship game since 1982, with 11 of them winning the title.
Kubasaki extended its Pacific record with its 10th Class AA crown.
"We know there's a long history with Kubasaki in this tournament," Fick said.
"We're so proud for our school and to come to this tournament and represent Kubasaki this way."
---
---
---
---