Kubasaki boys bounce back, rout Kadena in rematch
---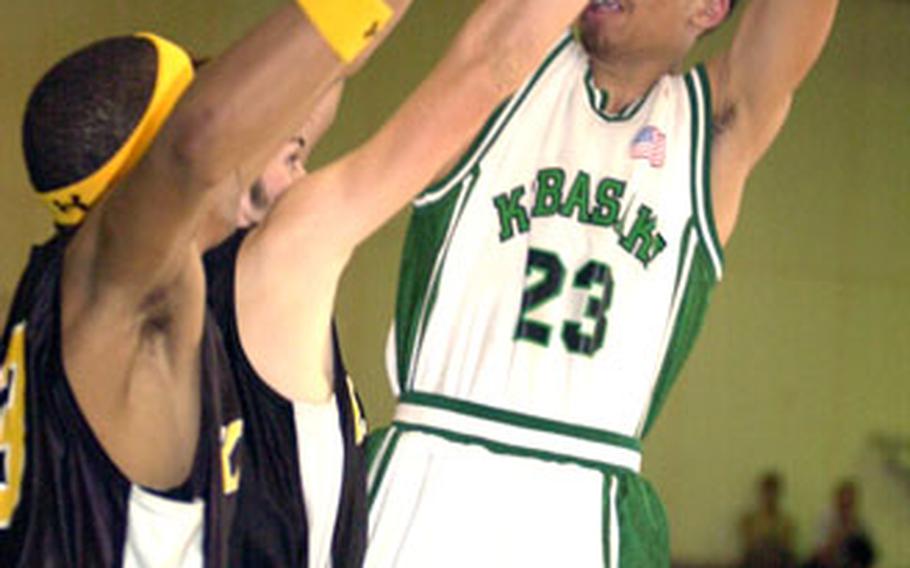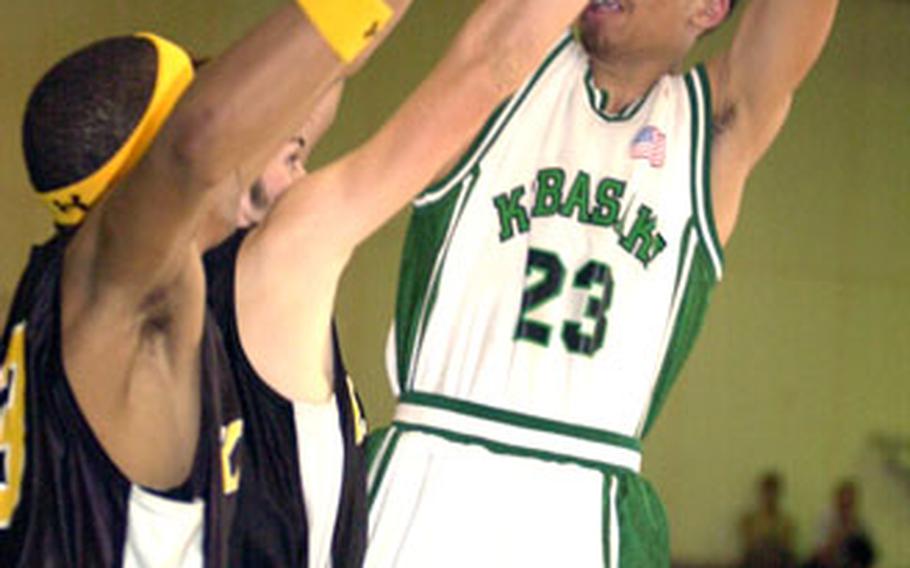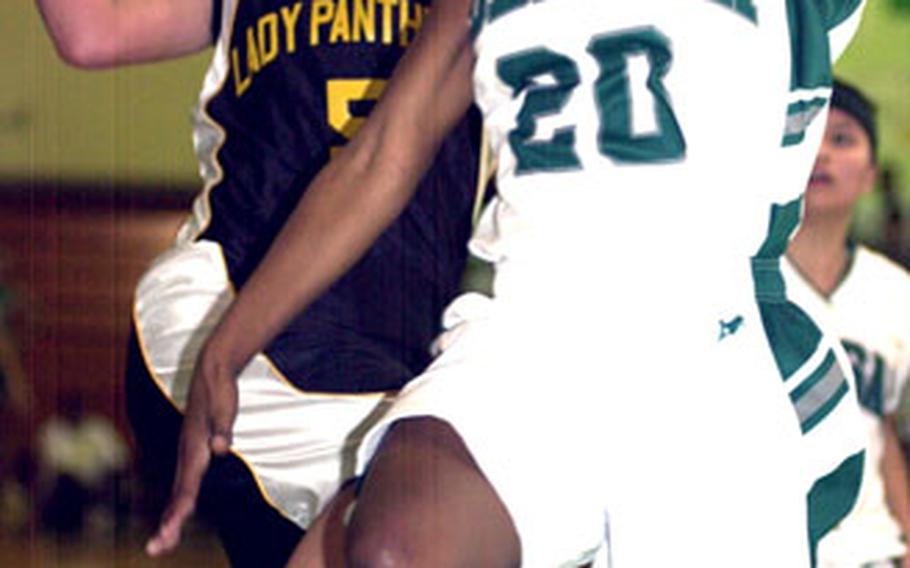 CAMP FOSTER, Okinawa — What a difference a week and a healthy dose of defense makes.
Eight days after Kadena crushed Kubasaki by 22 points, the Dragons rebounded smartly. They rode a 3-2 zone defense and the scoring tandem of seniors Vance Maxey and Stephen Thompson to a 92-63 rout of the Panthers before 400 fans at the Dragons' Den on Friday.
Kubasaki improved to 8-7 and evened the annual four-game Okinawa Activities Council "Rumble on the Rock" series at a game apiece. Kadena dropped to 6-9.
"We had to get our pride back," said Maxey, who scored 20 points while Thompson netted 18 in just over 2½ quarters. "We knew we were better than that."
The Dragons previewed Friday's victory three days earlier, when Kubasaki trailed Kitanakagusuku, a Japanese team, 50-29 six minutes before halftime. The Dragons rallied to win 102-100 on a late shot by Maxey.
"Kitanakagusuku was a huge confidence-builder for us, especially after Kadena drubbed us," coach Chris Sullivan said of Kadena's 83-61 pasting of Kubasaki on Jan. 12 at the Panther Pit. "We respect the heck out of Kadena and their program. We know we have to bring out our best game, and tonight, we brought out our best game."
Sullivan switched Kubasaki out of its customary man-to-man defense into a 3-2 zone, clogging up the interior and forcing the Panthers to shoot from the perimeter. On offense, the Dragons played a controlled pace, getting the ball inside to their two finishers.
"We started to realize that initial strategies, to feed the big men down low and create mismatches underneath ... had to be followed through," Sullivan said.
Of the switch to the zone, "We realize we aren't the fastest team out there so we adjusted our strategy. Our 3-2 has been successful for us in the past," Sullivan said of a defense that helped Kubasaki to a Final Four finish in last year's Far East Class AA tournament and a runner-up spot in 2003.
The Dragons also sent an immediate message by scoring the game's first 12 points. The Panthers chopped the gap to eight by quarter's end, but it was all Kubasaki from there. The Dragons seized their biggest lead, 76-40, on reserve guard Michael Bennett's three-point goal to end the third period.
"They got off to a great start, Thompson and Maxey were magnificent, their inside game was a total force in their success and they shot the ball very well," said coach Robert Bliss of defending Far East Class AA champion Kadena.
Kadena's girls helped ease the boys' pain, as the Panthers (9-6) romped 59-32 over the Dragons (3-11). Kadena owns a 2-0 lead in the "Rumble" series with Kubasaki. Unlike in the Panthers' 63-40 triumph on Jan. 12, a game which featured 69 fouls, Kadena coach Ken Hudson said he was pleased.
"They played like a team," he said. "We controlled the tempo and dictated the offense and defense. We spent the week working on that in practice. And the players are becoming more accustomed to each other."
The teams meet again Feb. 3 at Kadena and Feb. 17 at Kubasaki.
Seniors enjoy big night around the PacificAnother senior tandem which played big on Friday was Caiveon Thomas and Cameron Cooper, who scored 15 points each as Yokota (14-3 overall, 7-0 league) maintained its one-game Kanto Plain Association of Secondary Schools lead by pounding American School In Japan 57-38.
Senior swingman Travis Ekmark continued his scoring tear, draining 27 points as second-place Nile C. Kinnick (11-1, 5-0) drilled Christian Academy In Japan 78-46. "He has been unconscious lately," coach Nathan Brewster said of Ekmark.
Guard Whitney Grandy of Seoul American celebrated her 18th birthday in style, pulling down 10 rebounds and recording four steals and three assists to boost the Falcons (11-3, 7-0 Korean-American Interscholastic Activities Conference) past the Seoul International Tigers 54-24.
---
---
---
---