KMC wins Germany title, advances to Little League regional tournament
---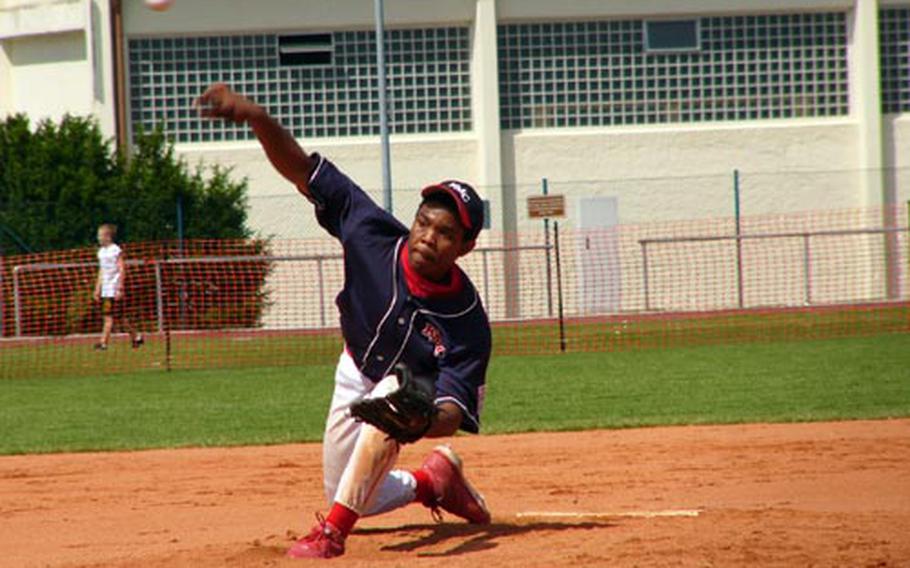 STUTTGART, Germany — After going three games and 21 innings against the Stuttgart Bulldogs, victorious Kaiserslautern Military Community coach Gary Harrington thinks he knows who will win Little League Baseball's Europe, Middle East and Africa Regional tournament for 13-14-year-olds next month in Kutno, Poland.
"We expect to win," he said Saturday after his team downed Stuttgart 18-9 in the decisive game of the best-of-three Germany championship series.
"We can hit."
Harrington, whose KMC squad rebounded from a 9-8 loss to Stuttgart in Game 2 Saturday, also knows who would come in second in Poland, if it could participate.
"If Stuttgart were somehow allowed to go, they'd be in the championship series with us again," he said. "They could beat Belgium, Italy, all those teams."
Unfortunately for the Bulldogs, they were unable to beat KMC more than once in this two-day event.
KMC won Friday's Game 1, 10-3, behind a 2-for-3 outing by Tyler Breed and a bases-loaded double from Rashad Brown.
Stuttgart rebounded in Saturday's first game, as closer Ohmar Gonzalez got the final four outs after KMC had clawed back from an 8-3 third-inning hole. Dylan Measells picked up the victory.
KMC made certain there was no doubt in the finale, bursting out to a 13-3 lead after four innings and coasting home with one minor blip behind power pitcher Brown.
Stuttgart scored six runs in the fifth inning as Brown tired and the usually efficient defense sagged slightly. The outburst made the score 13-9 going into the bottom of the fifth of the seven-inning contest.
"I usually pitch only three innings or so," Brown said after he was lifted with nine pitches left on his 95 limit and the bases loaded.
Brown, who moved to center field just in time to save three runs with a diving catch of a sinking line drive, said his wildness in the fifth — he walked three — didn't bother him.
"As long as we won," said Brown, who'll be making his third trip to Kutno, once as a Little Leaguer and once as a Junior.
Also making his third trip to Poland is KMC catcher Devin Johnson, whose solid game behind the plate blocking and snaring pitches in the dirt avoided endless trouble for KMC.
"I was a little scared," he said of the Stuttgart rally, "but I knew our sticks would pick us up."
Their sticks and their speed. KMC runners stole 18 bases in their six innings, stretching their 15 hits and four walks into extra bases every time.
Davey Novak was the major offensive spark for KMC in the clincher. He scored five runs and drove in two on two hits and three walks. Breed, Johnson, Shawn Madl and Finn Friedenberg, the Game 1 winning pitcher, also rapped out two hits each.
Although KMC came close to closing the series out in Game 2 — Brown struck out with the tying run on third and the winning run on second — Johnson said his team wasn't worried about having to go the distance.
"We were prepared for three games," he said.
---
---
---
---