KMC stars top Moldova, get rematch with Dutch in Big League tourney
by
Rusty Bryan
July 14, 2010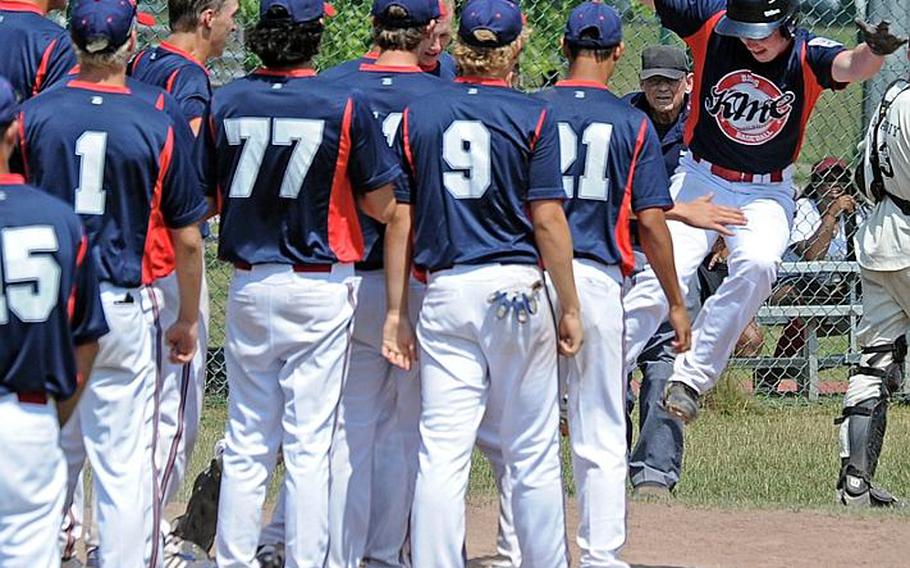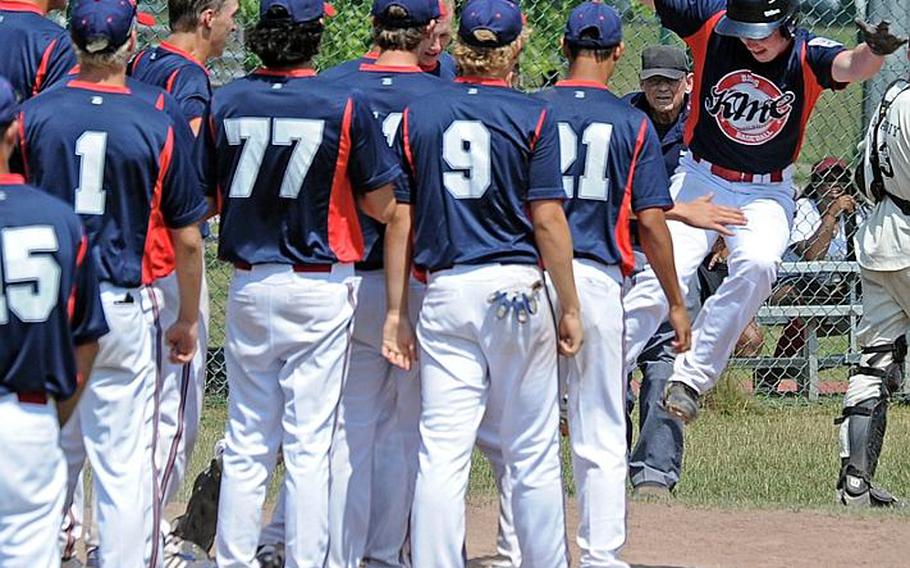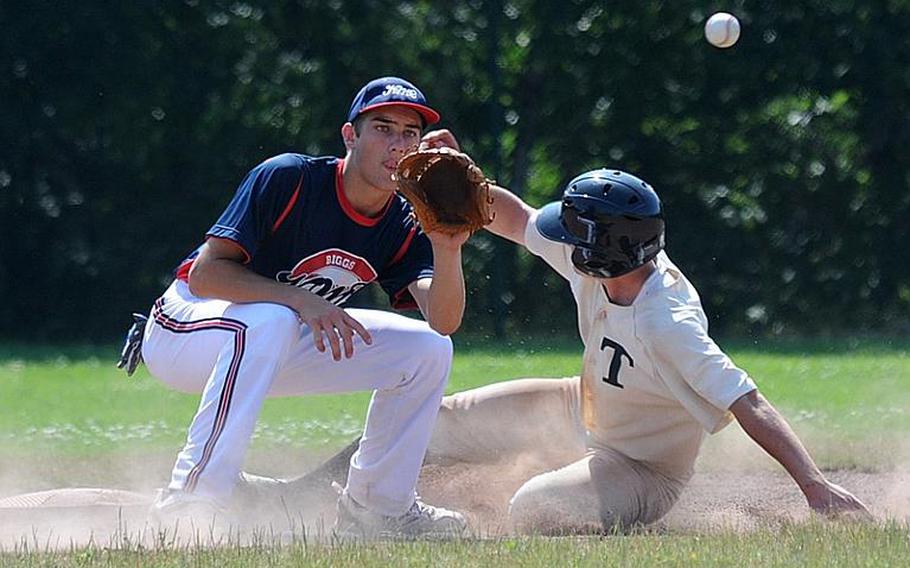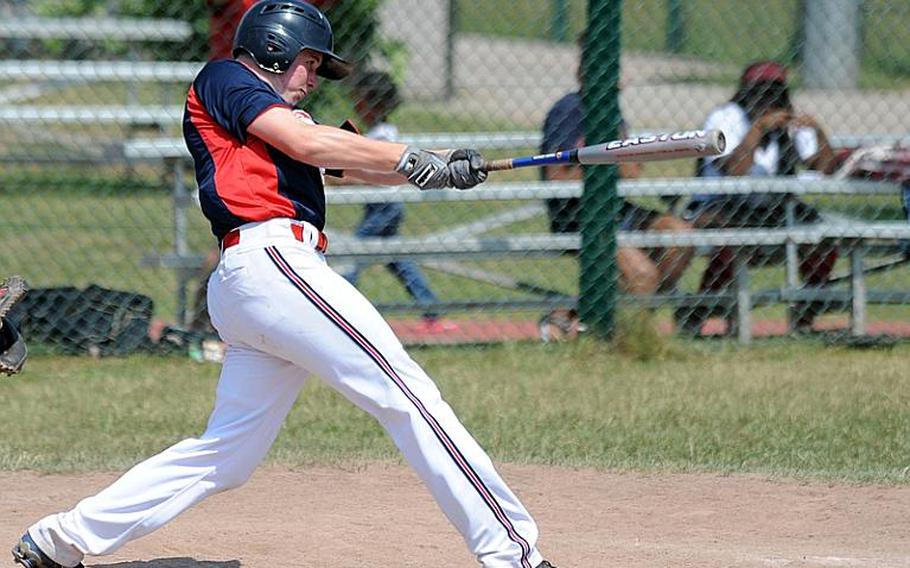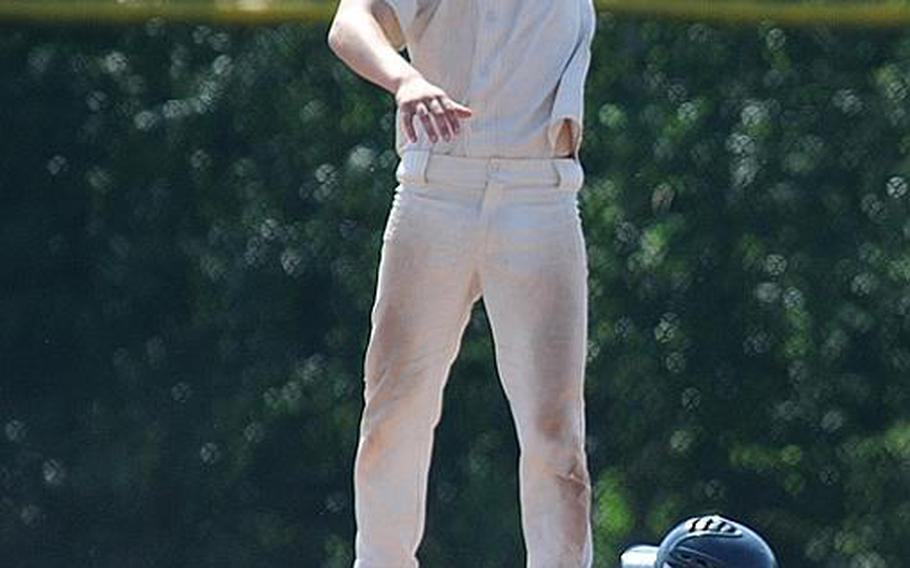 RAMSTEIN AIR BASE, Germany — Just when it looked as though they were about to be packed away until next season, the KMC Big League All-Stars' bats came to life Wednesday in a nine-inning, 9-8 elimination-game victory over Moldova in Little League Baseball's Europe-Middle East-Africa Big League regional tournament.
"It's all about the bats," said Ramstein High School junior-to-be Shane Foley, who wielded the biggest stick of all on Wednesday. He lined the first pitch of the bottom of the ninth inning over the left-center field fence for a walk-off victory that sent KMC's 17-18-year-old all-stars into Thursday's 10 a.m. title game against the Netherlands.
"It was an outside fastball," Foley said of the pitch he hit out to end the three-hour contest. "I was a little late on it. That's why it went to the opposite field."
Foley emphasized the importance of KMC's sticks not because he hit the game-winning homer, but because it took so long for KMC to get started offensively in this round-robin event, which sends its champion to the Big League World Series July 28-Aug. 4 in Easley, S.C.
KMC was no-hit by three Dutch pitchers in a five-inning, 12-1 run-rule defeat Tuesday. Against Moldova, KMC fell into a 2-0 first-inning hole and trailed 3-0 before getting its first hit of the tournament. Jon Groteleuschen bounced a bad-hop single over the head of the Moldovan second baseman to open the third inning and end KMC's seven-inning hitless streak.
The high hop seemed to awake KMC's bats. Jake Reynolds followed with a ringing line single to right, and one batter later catcher Kyle Krajkovic doubled Jon Groteleuschen home with a shot to the fence in right center. Drew Groteleuschen then lifted a sacrifice fly to center to score Reynolds and advance Krajkovic to third. Krajkovic trotted home to tie the game when Moldovan starter Valeri Covalenco balked.
Moldova answered with a four-run fifth built around consecutive infield singles to open the frame, a double to left, and three seeing-eye singles between short and third.
The lead stood until the bottom of the sixth, when KMC pushed across five runs. With one out, Jon Groteleuschen singled off Moldovan reliever Vadim Scriptov, and Reynolds moved him to third with a double to right. KMC loaded the bases when Shawn Madl was hit by a pitch, and Krajkovic singled home the first run of the inning. Drew Groteleuschen got in the way of another Scriptov pitch to bring home Reynolds, and Matt McDonald sliced a two-run double to right to tie the game. Foley then put KMC ahead for the first time when he drove in Drew Groteleuschen with a groundout to short.
KMC brought in pitching ace McDonald to work the top of the seventh and final inning, but Moldova sent the game into extra innings by converting a lead-off double into the tying run.
McDonald settled down the rest of the way, retiring the side in order in the eighth and erasing a throwing error and wild pitch which put the potential go-ahead run on second in the ninth with two strikeouts and a groundout. He collected the victory on Foley's walk-off shot.
"Hopefully, this will spark us for tomorrow," said KMC coach Steve Madl, aware of the quality of the Dutch opposition.
Foley, however, was dismissing that Tuesday thumping.
"As long as we hit and stay together," he said, "we can win."