KMC Little Leaguers win Germany playoffs, advance to European tourney
by
Rusty Bryan
July 17, 2010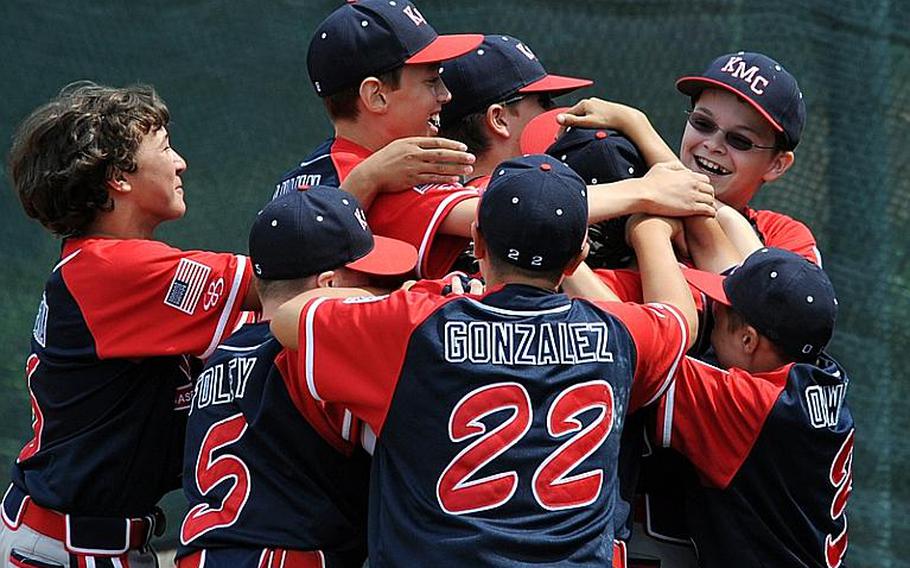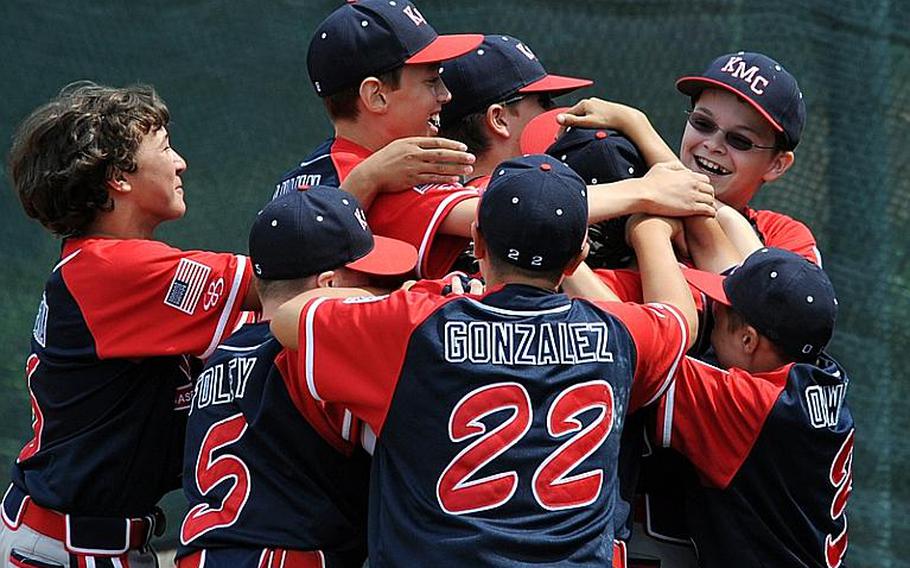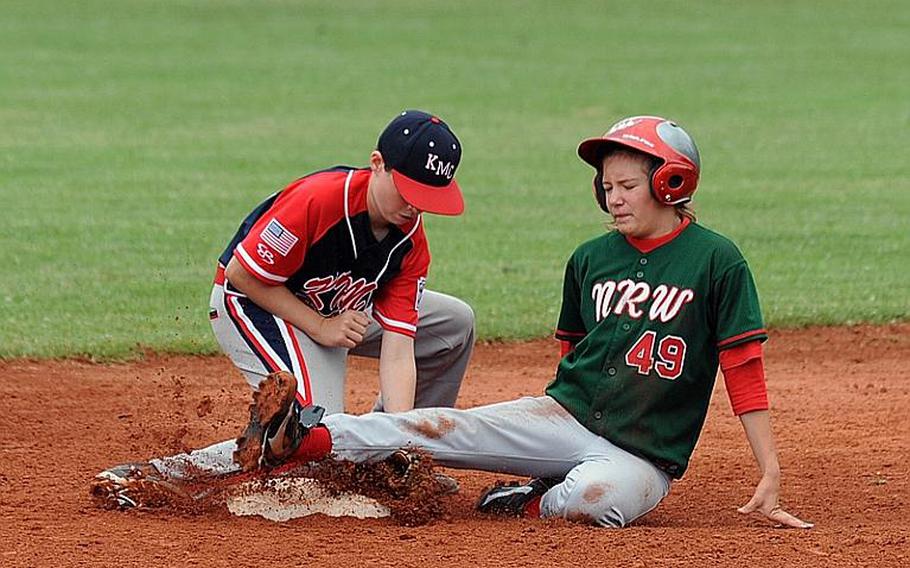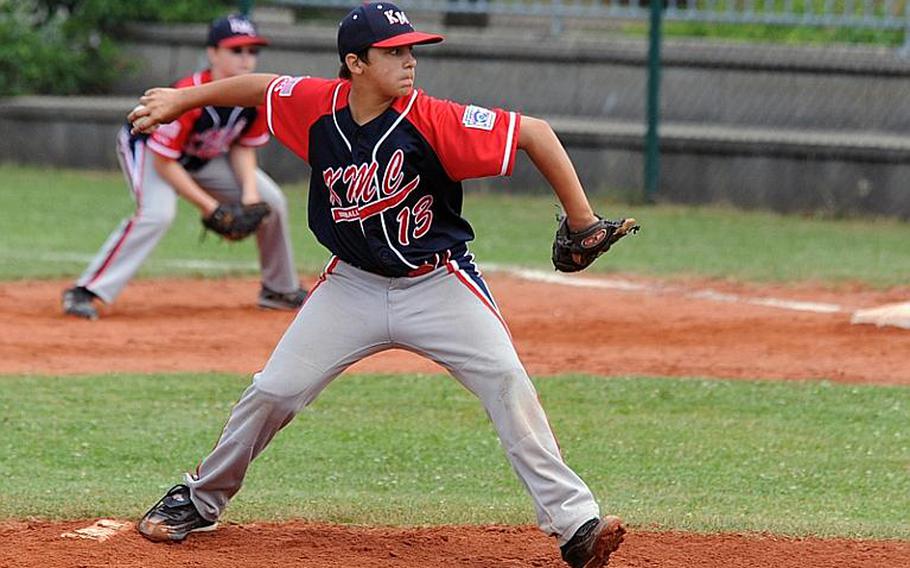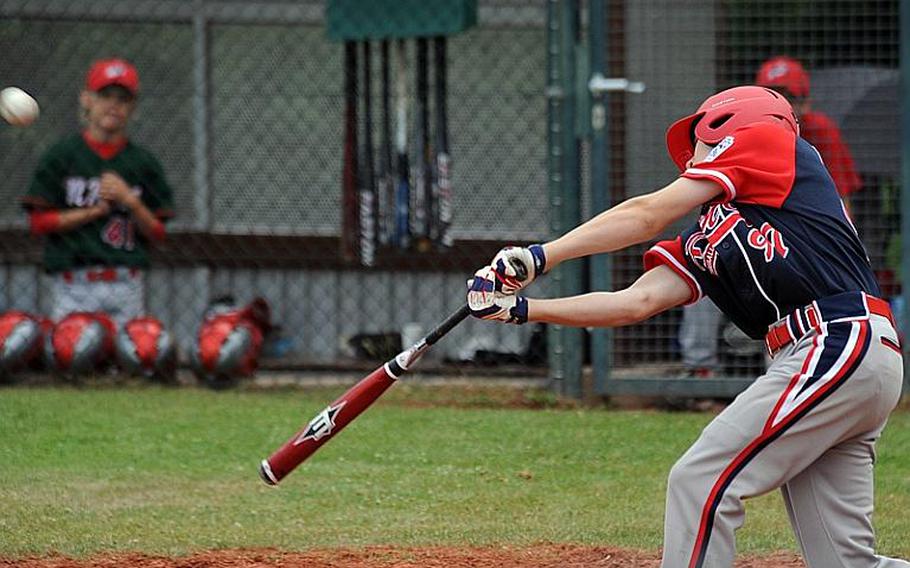 RAMSTEIN AIR BASE, Germany — Kaiserslautern Military Community's 11- and 12-year-old all-stars pushed two runs across the plate in the fourth inning Saturday en route to a 3-2 victory over German national champion North Rhine-Westphalia and a trip to Little League Baseball's European Regional tournament at Kutno, Poland.
With his team trailing 2-1, Mackenzie Mueller hit a low outside pitch over the right field fence to tie the game. Four batters later, after KMC had loaded the bases on a hit batsman and singles by Daniel Harrington and Stan Hurley, Kaleb Stokes' one-out ground ball scored Robert Steed from third with the run that eventually wrapped up KMC's sweep of the best-of-three series to decide which German champion would represent the country in Kutno.
KMC, which waltzed unbeaten through last weekend's three-team District I (non-native teams in Germany) playoffs over Stuttgart and Berlin, won 9-4 on Friday evening, breaking open a 1-1 game with a five-run fourth. Harrington, who was 3-for-3 Friday, had the big blow in the outburst, a three-run homer to right.
Harrington, who closed out Friday's game in relief of winning pitcher Mueller, started and picked up Saturday's victory. He pitched 4 2/3 innings, allowing two earned runs and six hits while striking out seven and walking none.
"I threw 20 pitches on Friday," said Harrington, who was a combined 4-for-5 at the plate in the sweep, "and 85-90 today."
Pierce Tujo, struck on his non-pitching elbow in the decisive fourth inning, came on to pitch from his shortstop position with two out in the fifth. He retired the side on a grounder to second and allowed a harmless single with one out in the sixth and final inning to nail down the save.
For all that, Tujo's re-appearance after he left the game for a special pinch runner after being hit eventually earned KMC manager Greg Harrington a two-game suspension when the team begins play in the European Regional July 28-Aug. 4.
"This will be the first time I've been kicked out of a game in 30 years of coaching," the elder Harrington said after Little League headquarters in Williamsport, Pa., ruled he had reinserted Tujo into the lineup improperly. Little League rules require a re-entering player to bat at least once, but Tujo's slot never came up, since KMC didn't have to bat in the bottom of the sixth.
"I put him back in as high in the lineup as I could," Harrington said. "We just didn't bat in the sixth. It's OK, though. I'll take a suspension as long as we get to Kutno."
Doing all he could to force a third game Saturday was NRW starter Nadir Ljatifi, who limited KMC to four hits and struck out eight in going the five-inning distance.
Most of those strikeouts came as KMC batters lunged awkwardly at his curve ball, which broke low and away to right-handers. Mueller, however, leaned as low as balance permitted and reached out far enough to propel one of them over the fence on a half-swing.
"I hit it off the top of the bat," Mueller said.
Perhaps dazed by his bad luck on the home run ball, Ljatifi allowed the go-ahead run to score when, with the bases loaded and one out, he elected to go to first with Stokes' comebacker to the mound instead of taking the force at the plate.
That was fine with the now two-time Little League champions of Germany and defending European champions.
"We were ready to play another game," said Mueller, who was on last year's KMC team that advanced to the Little League World Series in Williamsport, "but we wanted to get it over now."
bryanr@estripes.osd.mil
xx
KMC 3, North Rhine-Westphalia 2
(Saturday at Ramstein)
NRW		100	100—2	7	2
KMC		100	20x—3	4	1
WP—Daniel Harrington. LP—Nadir Ljatifi. Save—Pierce Tujo. LOB—NRW 6, KMC 4