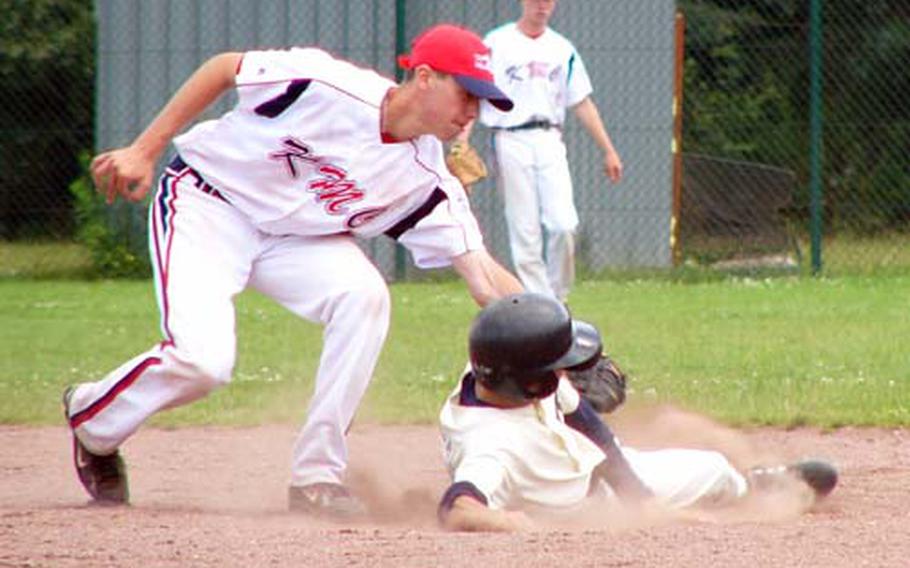 RAMSTEIN AIR BASE, Germany — Josh Sloan got the Kaiserslautern Military Community All-Stars off to a fast start with a two-run, first-inning single, and Tyler Breed pitched four innings of scoreless relief Thursday as KMC beat Moldova 9-5 in must-win game in Little League Baseball's European Senior League Regional for 15- to 16-year olds.
KMC was facing elimination from the tournament after Germany improved to 2-3 in the round robin with a 7-1 victory over winless Netherlands on Thursday morning. A KMC loss would have given Germany, a 13-9 victor over KMC on Wednesday, the final berth in Friday's semifinals.
Instead, Sloan, who is 10-for-18 with 11 RBIs in five games, gave KMC (3-2) a quick 2-0 lead with his one-out single to left to score Ian Acosta, who reached on a two-base error by Moldovan pitcher Oleg Gamandi, and Cavan Cohoes, on base after being hit by a pitch.
Moldova (3-2) tied the game in the third. Reliever Pete Sablan walked the first two batters, bringing Breed in from right field to pitch.
Moldova loaded the bases on a scratch hit by the first batter Breed faced and scored on a wild pitch and sacrifice fly before shortstop Cohoes snared a line shot off the bat of Vadim Scripsov and Sloan speared a hot ground- ball just inside the third-base line and threw the runner out. Both runs were charged to Slaban.
"I was really glad to have that defense behind me," Breed said.
KMC took the lead for good in the fifth, scoring when Christian Randolph provoked a rundown play off first base while Joey Beach raced home. Randolph ended up at second base, and Andre Porterfield drove him home.
The All-Stars added a single run in the sixth, then put the game away with a four-run seventh built around a two-run homer to left by Porterfield and Alec Holba's two-run double.
"We were more focused today," Randolph said about his team's rebound from two straight losses.
KMC will play Italy (3-2), a team it beat 11-9 on Monday, in Friday's 9 a.m. semifinal at Ramstein Southside. Lithuania, which finished the round robin 4-1, will face No. 4 Moldova (3-2) in the second semifinal at noon on the same field. Moldova downed Lithuania 16-6 Wednesday. Germany (2-3) and the Netherlands (0-5) were eliminated.
Friday's winners will play Saturday morning for Europe's berth in the Senior World Series next month in Bangor, Maine.
"We're right where we wanted to be," KMC coach Gary Harrington said after his team's do-or-die victory. "We're playing Friday. We're still alive for Bangor."
---
---
---
---