KMC All-Stars slide past Italy
---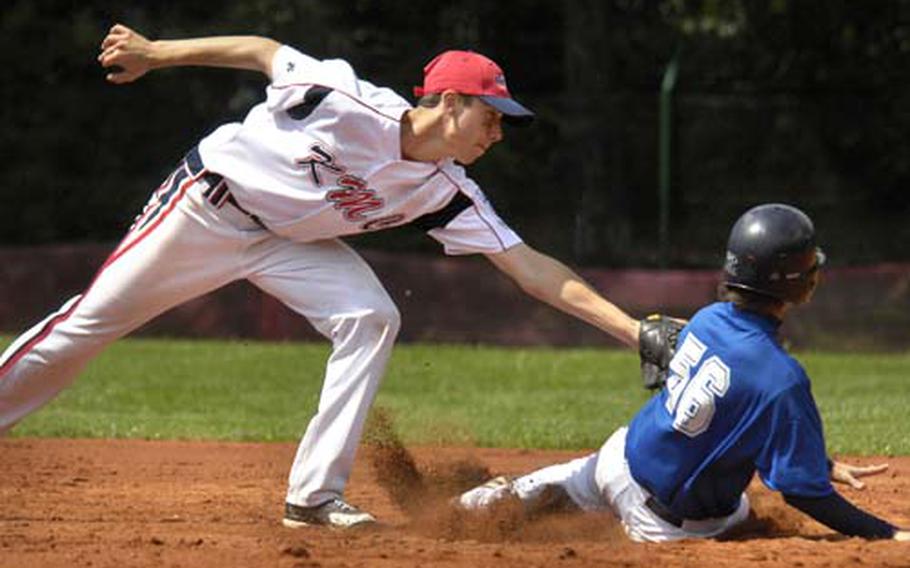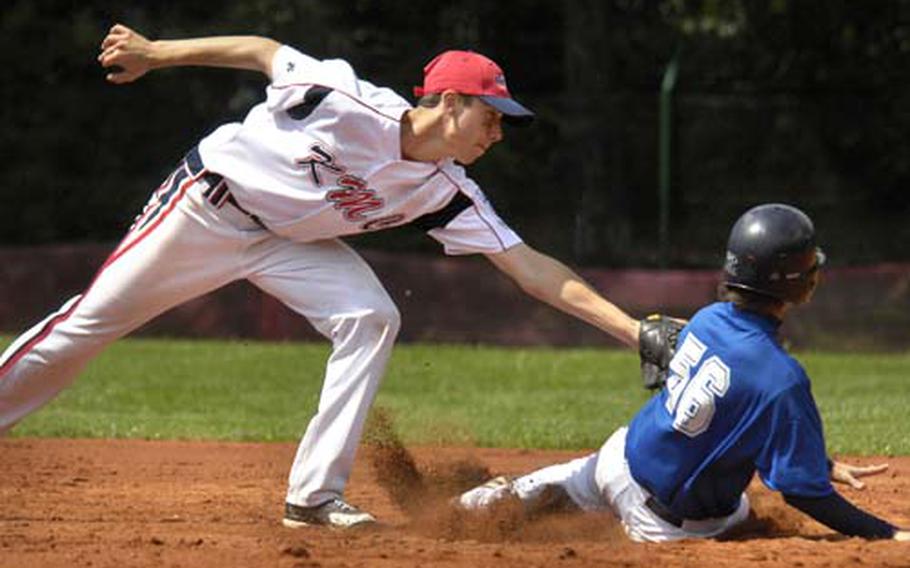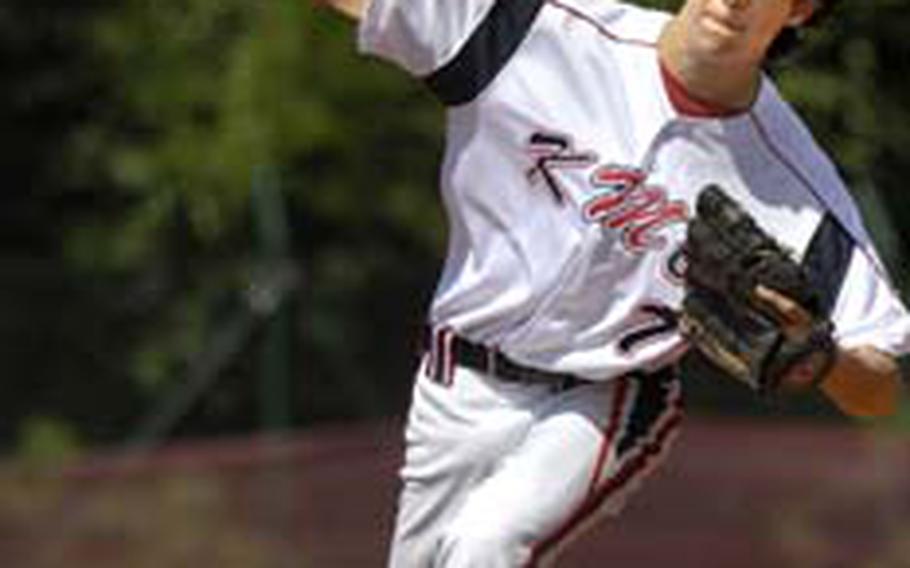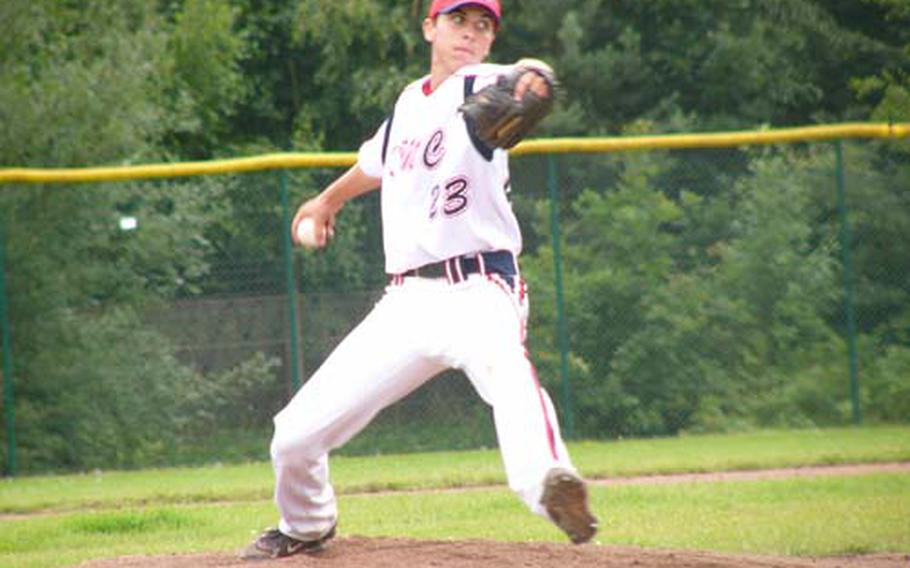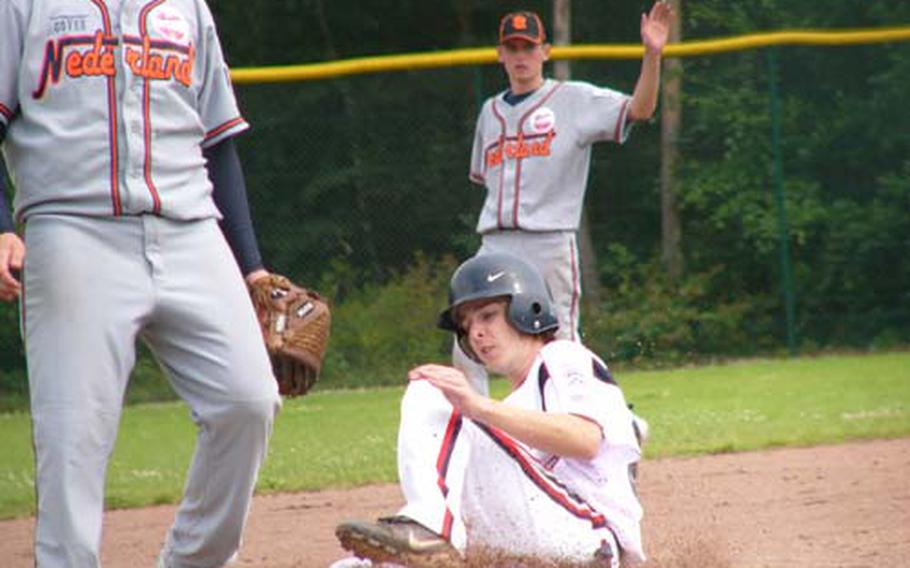 KAISERSLAUTERN, Germany — Three straight singles and a daring steal of home allowed the Kaiserslautern Military Community All-Stars to scratch out an 11-9 victory Monday over Italy during Day 2 of Little League Baseball's Senior League European Regional tournament.
KMC scored a run when Ian Acosta and Cavan Cohoes led off the bottom of the sixth with back-to-back singles. Josh Sloan then singled to right, scoring Acosta and sending Cohoes to third.
Italy pitcher Gabriele Orso got the next two batters out and had two strikes on batter Joey Beach, when Cohoes broke for home.
"Coach (Gary Harrington) told me to try it," Cohoes said. "I got a good jump. I just was hoping the batter wouldn't swing away. He didn't know I was coming."
Neither did Orso, whose deliberate delivery to the plate allowed Cohoes to slide under the tag.
"You've just got to try to get in there," Cohoes said.
Up by two runs, KMC called on reliever Andre Porterfield to close out the team's second victory in as many games.
Porterfield, who came on in the top of the sixth to end a four-run Italy rally with a strikeout, walked the leadoff batter in the top of the seventh. He then fanned Orso and, after allowing a single to center, retired the side on a strikeout and a come-backer to the mound.
"I like the pressure," Porterfield, an All-European last season for the Ramstein Royals, said about closing. "I'm supposed to be a starter, but I'll take whatever role they give me."
Ironically, the baserunning that paid big dividends for KMC ran Italy out of several promising innings, thanks to the strong arm of KMC backstop Acosta. Acosta erased the leadoff runner in the second on a steal attempt, then gunned down two more Italy runners in the third inning.
"I love catching," Acosta said about his two third-inning assists that held the Italians scoreless in what had begun as a promising frame.
The victory puts the undefeated Americans into a 9 a.m. showdown Tuesday at Ramstein Southside against two-time defending European champion Lithuania. Lithuania downed Germany 12-5 on opening day and was to play Moldova on Monday.
KMC closes out its round-robin against Germany at 9:30 a.m. Wednesday at Vogelweh and against Moldova at noon Thursday at Ramstein. The top four teams of the six here advance to Friday's semifinals at Ramstein.
Those winners are to clash on the same field Saturday for the championship, with the winner headed to the Senior League World Series next month in Bangor, Maine.
---
---
---
---