Kitzingen women rally past Ramstein for USFE title
by
Rusty Bryan
April 3, 2006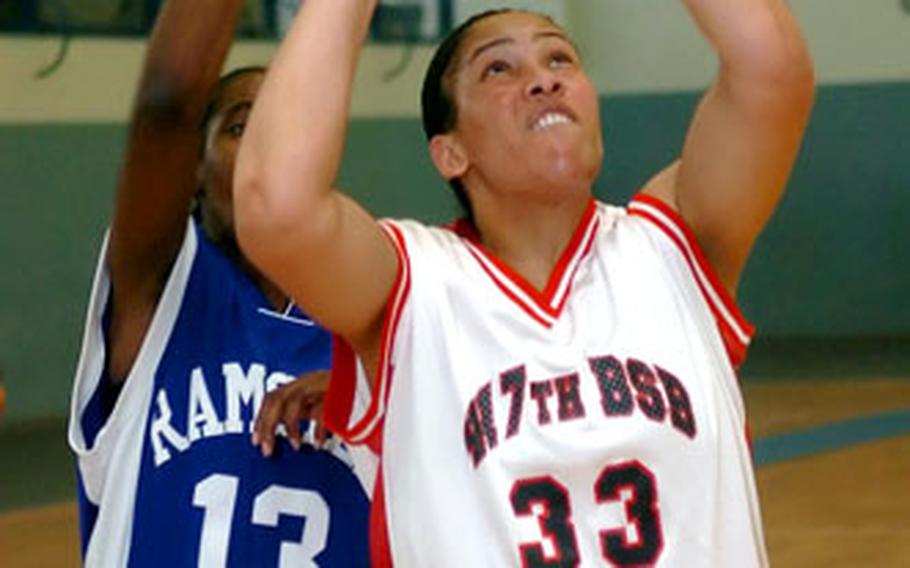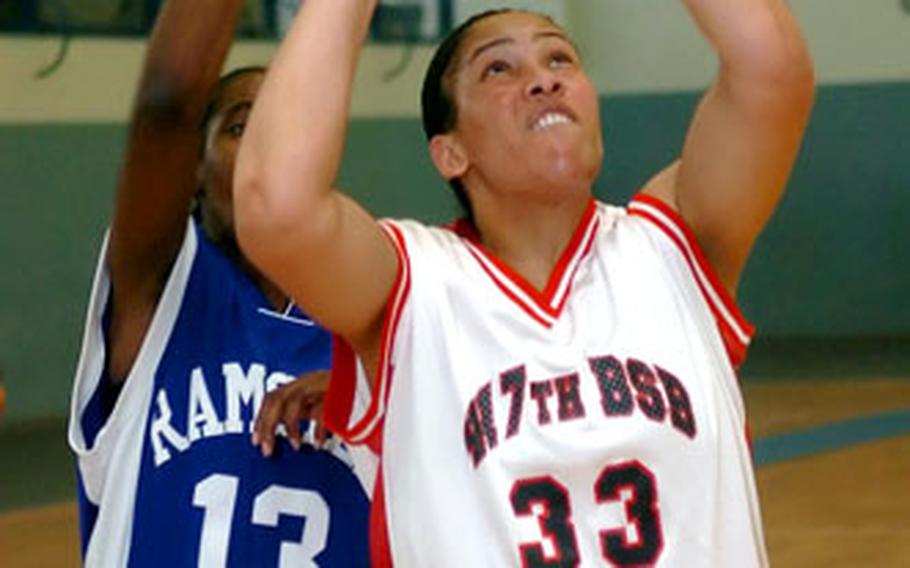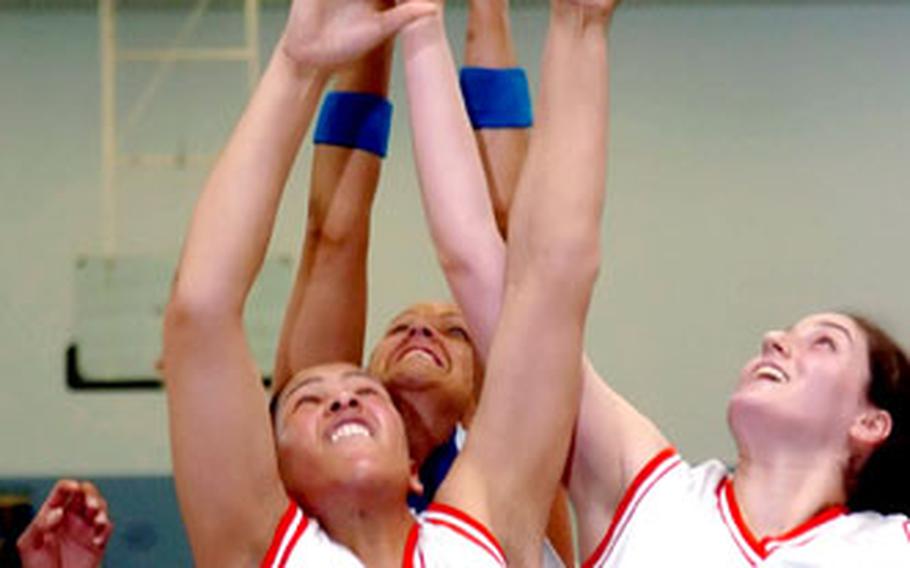 KAISERSLAUTERN, Germany — The Kitzingen Lady Rattlers finally walked off the court victorious in the final game of a tournament, claiming the 2006 U.S. Forces Europe women's basketball championship with a 56-46 comeback victory Sunday over the Ramstein Lady Rams.
"We've been in the championship game of every tournament this season," said Kitzingen coach Isadore Borden, "And this is the first one we've won. We lost two of them to Ramstein."
At halftime Sunday, it looked as though this would be the third title-game loss to Ramstein. The Lady Rams led 26-20, and Kitzingen was struggling to score.
"We were getting good shots, they just weren't falling," said Kitzingen point guard Amber Wallace, who led her team with 13 points.
Ramstein expanded its edge to 30-22 before Borden shook things up by bringing in Paula Horner and three-point shooter Lidia Smith. The substitutions paid immediate dividends as the burly Horner began taking apart Ramstein's inside game and Smith canned two of three treys to allow the Lady Rattlers to pull away.
"This is the Big Dance," said Hunter, a former South Carolina-Spartanburg player and possessor of a duck-under move in the paint that Ramstein center Jennifer Brooks was unable to stop. "Coach says if you're going to go in, be ready to play."
Hunter began by stepping in front of Ramstein's entry pass to Brooks, who was on her way to a game-high 18 points. She would have had more, but Hunter quickly stole the ball three times, then sank four of six free throws to tie the game at 38 with 6:26 to play.
That set the stage for Smith, who canned back-to-back treys to put Kitzingen ahead for good, 47-38 with 3:40 to play.
"Those threes were huge," Borden said. "All of my players have roles, and Lidia's purpose is to shoot threes."
The victory capped Kitzingen's rise from pool-play doormat the first two days of this four-day event to U.S. Forces champion.
"We didn't win a game in pool play, except for a forfeit," Borden said. "It wasn't on purpose, although I thought it might be a good idea just to try some different combinations and not worry about winning. Then my basketball sense kicked in and I thought we should be playing to win every game."
The Lady Rattlers did just that, beginning with the double-elimination portion of this event which matches the top two teams from the Army-Europe championships against the winner and runner-up of the USAFE event. Ramstein came in as Air Force champion and Kitzingen as runner-up to Wiesbaden in the Army event.
But the Lady Rattlers were dominant in the final bracket, hammering Ramstein 63-37 and Mildenhall 52-42. Ramstein battled back with a 61-54 losers-bracket final victory over USAFE runner-up Mildenhall, but to no avail.
"This makes up for losing USAREUR," said Borden, whose team took champion Wiesbaden to an if-game in that event. "USAREUR is just champions of the Army. This is the champion of everybody."
The USFE men's title was on the line Sunday night, but did not finish by press time. USAFE champion Mildenhall forced an if-necessary showdown against Army champion Wiesbaden with an 84-69 romp in Sunday's championship game.
U.S. Forces Europe basketball tournament
Women's championship, Sunday at Kaiserslautern
Kitzingen 56, Ramstein 46
Halftime: Ramstein 26, Kitzingen 20.
Scoring: Ramstein: Jennifer Brooks 18, Cheryl Burney 8, Patricia Phillips 8, Brandi Jones 6, LaShannon Grant 3, Jessica Bailey 3; Kitzingen: Amber Wallace 13, Shea Fisher 11, Jessica Reuben 9, Pauloa Hunter 8, Lidia Smith 6, Bertha Kabuye 4, Lauren Tyler 3, Jenai Griffin 1, Kelly Crawford 1.