Kinnick wrestler Doughty is the latest in a line of standouts
by
Dave Ornauer
February 5, 2004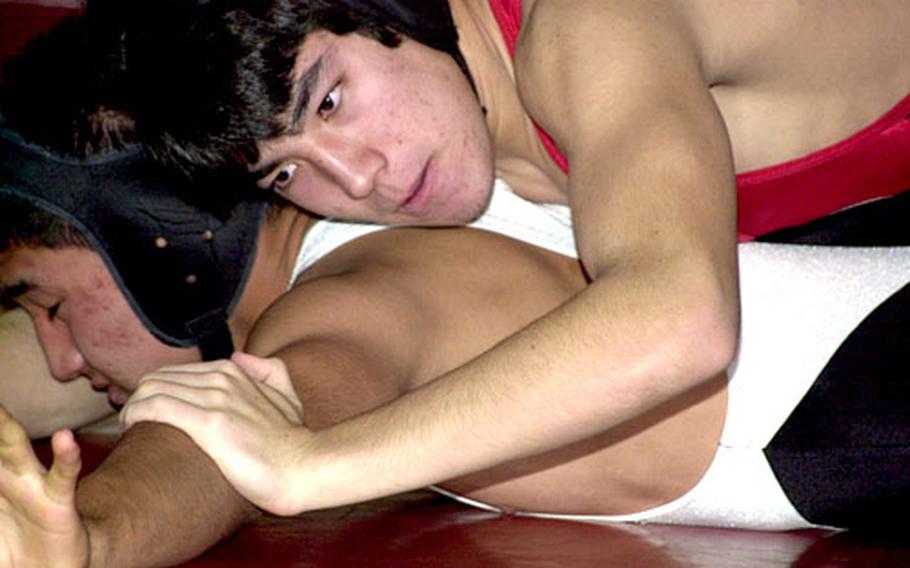 YOKOSUKA NAVAL BASE, Japan — Sometimes a family pedigree can be as much a burden as a point of pride.
Sophomore Kenji Doughty, a 141-pound wrestler with the Nile C. Kinnick Red Devils, has quite a bit of Far East family history preceding him.
His older brothers, Billy and Jonny, are former two-time Far East tournament finalists with one gold medal apiece. His older sister, Emi, earned All-Far East honors as a cheerleader in the mid-1990s.
Does Kenji feel any pressure to live up to the family name?
"I do, but it works in a positive way," said the lifelong Yokosuka resident. "It makes me want to do better and strive for excellence."
In his second year in a Red Devils uniform, Doughty is showing signs he can match the success of his older brothers.
Coming off a so-so freshman season at 135 pounds when he went 1-2 in the Far East tournament, Doughty (22-3 this season) has won four in-season tournament gold medals. He earned Best Wrestler honors Dec. 13 in the Zama American Invitational and a silver medal in last Saturday's Kinnick Invitational.
This season's weight class holds special significance for him.
Both of his brothers lost Far East championship bouts at 141 pounds.
"I want to win it at 141," he said.
Aside from his impressive record and gold-medal haul, Doughty provides solid leadership for his teammates, first-year Kinnick coach Robby Rhinehart said.
"He's a very relaxed wrestler. He's good under pressure," said Rhinehart, who came to Yokosuka last fall after coaching for 18 years at high schools in West Virginia.
"He's a sophomore, but he's an excellent leader by how hard he works in practice and matches. He's the type who will tell a kid to "do this" while he's doing it, not just watch him do it. And he'll do it 10 more times."
"He makes opponents pay for their mistakes," Rhinehart added. "[He's] a good counter wrestler. With Kenji, it depends on the situation. He knows so many situations that when an opponent makes a tiny mistake, he makes them pay for it."
Ian Harlow, Zama American's second-year coach, thinks the best may be yet to come from Doughty, and the possibility that he can win as many as three Far East gold medals is real.
"I don't think he's reached his potential. He hasn't peaked yet," Harlow said.
"He's a very, very nice, soft-spoken young man, very modest, doesn't draw attention to himself," Harlow said.
He called it "fitting" Doughty earned the Zama Invitational's Best Wrestler award.
Kenji gives much credit to his brothers, who spend time breaking down videotapes with him over the holidays when they return from the University of Hawaii.
"They go over all my weak spots, go over tapes with me, go over moves, then in practice, we drill them," Doughty said.
Those tapes are recorded by his father, Bill, U.S. Naval Hospital Yokosuka's public affairs officer and a 1972 graduate of Matthew C. Perry High at Iwakuni Marine Corps Air Station. He's been at every one of his sons' meets, as has his wife of 30 years, Keiko.
They'll be at Yokota Air Base come Feb. 11-13, when Doughty goes for his first Far East gold medal. Doughty feels he'll enter Far East with a sense of confidence.
"Last year, I went in thinking I might lose," he said. "This year, I go in wanting to win."
Standing in his way very likely will be Zolboo Enkhbayar, of Brent International School in the Philippines. The 135-pound gold-medalist and Outstanding Wrestler of the 2003 Far East on Okinawa, Enkhbayar introduced Doughty to the tournamentwith an 11-0 technical fall in 1 minute, 28 seconds.
"That's going to be my toughest competition," Doughty said of Enkhbayar, a Mongolian who sports a family pedigree of his own: His father was a bronze medalist in the 1988 Seoul Summer Olympic Games.
Can Doughty — or anybody — be the one to bring down Enkhbayar?
"His style, his body positioning at all times, when he's on his feet or on top, he's always in the right position," Harlow said of Enkhbayar. "For you to be able to beat Zolboo, you have to be at the top of your game, no doubt about it."
Such an opponent "brings a sense of urgency, where you have to raise your level and surpass it out of necessity," Rhinehart said. "He's the type of kid who can do that."
A reputation like Enkhbayar's "can work as a positive" for me, Doughty said. "Somebody like Enkhbayar shouldn't have to worry about any opponents. If I do wrestle him, I won't expect to win it all, but I expect it to be a good match."
Part of Doughty hopes Enkhbayar moves up to 148 pounds, but if the two of them do meet again, "I won't expect to be tossed around like a rag doll," he said.
---
---
---
---