Far East wrestling
Kinnick, St. Mary's expected to dominate again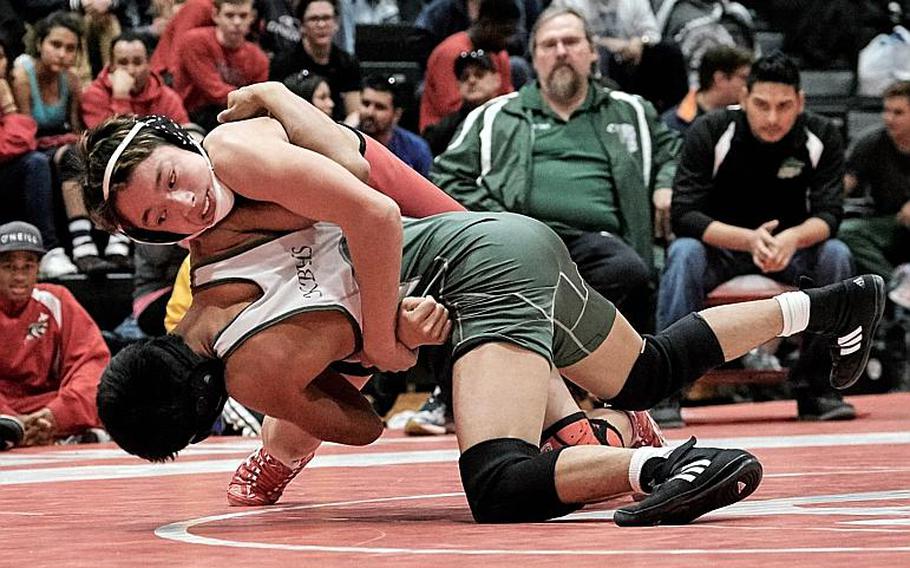 Countless stories will unfold at the Far East Wrestling Championships that begin Monday at Osan Air Base in South Korea.
Just don't look for one of them to be about a Cinderella team that manages to crawl over St. Mary's or Nile C. Kinnick to the winner's podium.
The chances are there for individual wrestlers from just about any school to grab a title during the two-day individual tournament. But finding enough depth to capture a team title during the event – or knock off either favorite in Wednesday's dual-meet -- seems highly unlikely.
St. Mary's has won the last two Far East individual tournaments and four of the five they entered during the regular season. The Titans' only loss was to Kinnick – the two-time defending Far East dual-meet champ – which captured titles in both dual tournaments it entered this season.
St. Mary's, which ended Kinnick's dual-meete streak at 31 in January, is led by defending champions Chang Young Lee (122 pounds), Ryan Vasoncellos (135) and Kazuho Kawashima (148). Kinnick's Lucas Wirth (108) also won his weight class a year ago.
The Titans, Kanto Plain regular and tournament champions, topped Kinnick at the "Beast of the East" tournament in early January, defeating a field that will closely resemble Far East – though, as coaches often stress – a lot can change in a month during a relatively short season.
Kadena features another returning Far East champion in Jason Bland. He fell to Kawashima in a matchup at Beast, as the Panthers finished third to provide the closest competition. Kadena also was fourth behind Seoul American in the Far East individual tourney a year ago.
St. Mary's and Kinnick each won six of the 13 weight classes at the season-ending Kanto Plain tournament, leaving just one title unclaimed.
Team-wise, the individual tournament might come down not to just how many Kinnick and St. Mary's wrestlers win head-to-head battles, but how many wrestlers from other schools claim medals, keeping them from various Titans or Red Devils.
Four-time defending Division II champion Robert D. Edgren is favored again to take the dual-meet tourney on Wednesday. The Eagles will likely have a tougher time winning the individual portion. Edgren routed Osan, 46-16, a year ago in the dual-meet portion, but topped the individual competition with 53 points to Zama's 44.
Yokota finished ahead of Edgren in several meets this season and could challenge for either title.
---
---
---