Kinnick pinning track title hopes on its stable of throwers
by
Dave Ornauer
April 1, 2010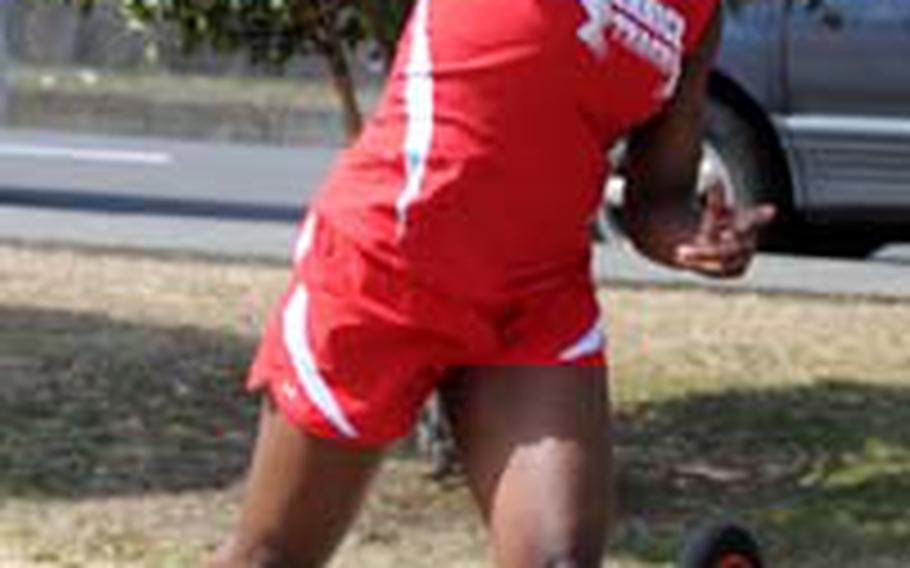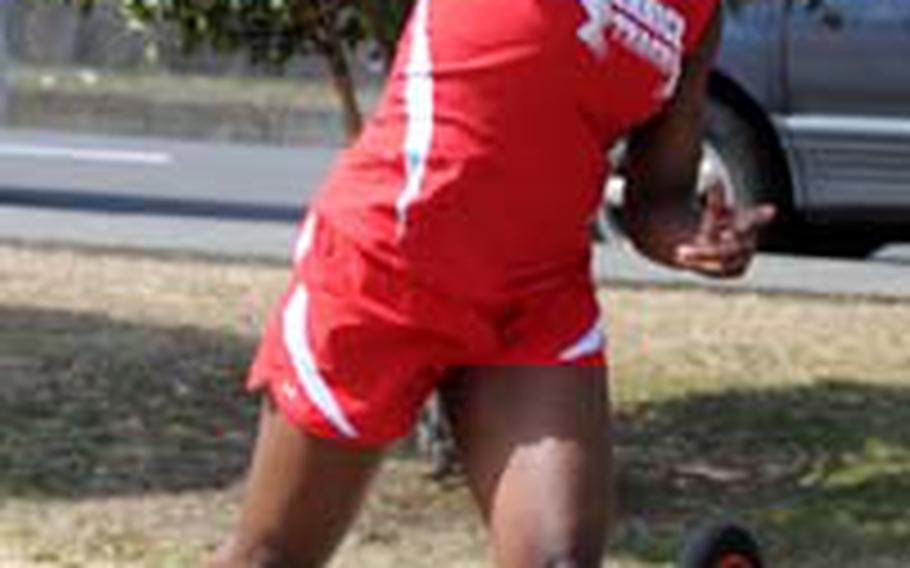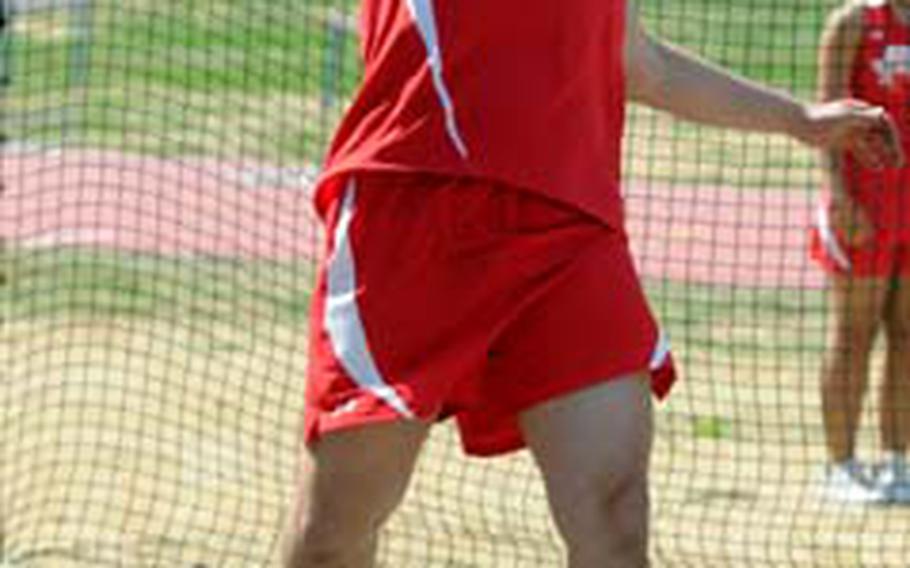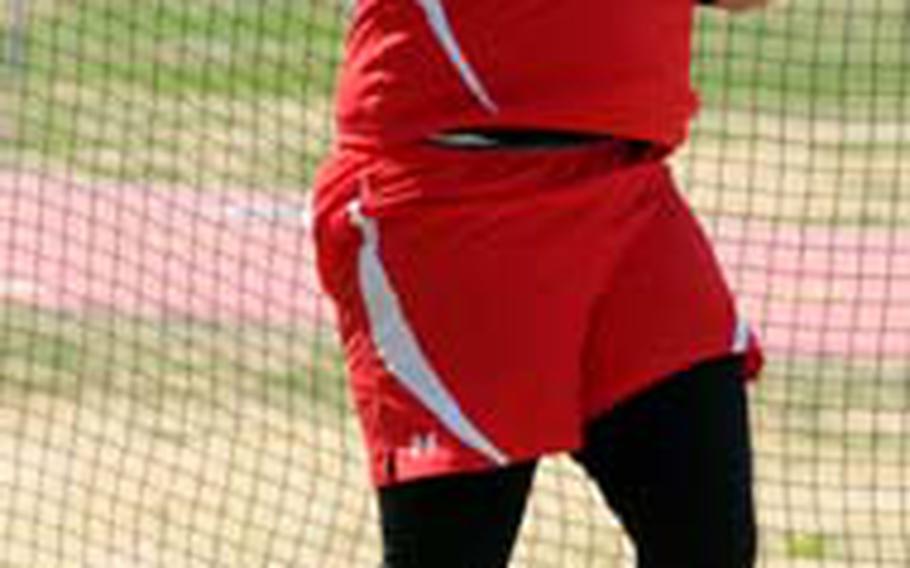 YOKOTA AIR BASE, Japan — Al Garrido spent weeks, months verbally twisting junior Shannon Jackson's arm, goading her to at least give the shot put and discus a try.
"I looked in her face and told her: 'You don't know what you're missing. You don't know how good you are. Come out. Try it for a few weeks, and I'll show you how good you are,' " Garrido, Nile C. Kinnick's fourth-year track coach, recalled telling Jackson.
And with just one throw, from a "standard, basic" position, in the March 13 season-opening meet at Zama American, Jackson tossed the shot 30 feet, 3 inches — breaking the school record. She followed that here a week later with a 32-5, a foot short of the Pacific record.
"I think she can set the next record," Garrido said of topping 33-5, set in 2005 by Pinkey McBride of Kubasaki. "Imagine if [Jackson] had done it during her [sophomore] year, when I told her to come out."
For her part, Jackson was probably more surprised than anybody.
"I didn't know what to expect, other than to throw it and hope I didn't scratch," Jackson said. "I was pretty shocked."
Jackson and fellow throwers Adam Cason and David de los Santos form what Garrido calls the "heart and soul" of a Red Devils team looking to challenge at such events as next week's Mike Petty Memorial Meet and next month's Kanto Invitational in Tokyo and the first Far East meet on Okinawa.
For Garrido, Jackson's success came as no surprise. He'd coached the 6-foot-2 All-Far East selection in volleyball, where she'd averaged 15 spike kills and seven block points per match. He'd then watched Jackson average a double-double for the season for the Red Devils in basketball.
"I already knew she had upper-body strength," said Garrido, who'd coached field events for five years on Guam before being hired at Kinnick. "Combine that with her great leg strength, and I knew [it was] a matter of putting in some technique."
That Jackson has done what she's done — she also throws the discus and runs relays — in just her first year "makes it that much more of an accomplishment," said Cason. "And she's only going to get better. And she's a junior."
"That says she's an athlete," Zama American coach Mitch Moellendick said. "She's multi-faceted. She has the ability to do all these different things. … And she's already doing them. Sounds to me as if she'll be a force to be reckoned with."
Cason and de los Santos, in particular, are "great examples, great leaders, great work ethic," Garrido said. "I couldn't ask for better athletes than Adam and David right now."
An example came at last Saturday's meet at Zama, where Zama's Roland Cote fired the discus 123-3. Suitably inspired, Cason responded with a 122-7, beating his personal best by more than two meters.
It's the sort of attitude Garrido said he hopes his team takes as it enters inter-area competition. "They're not going to underestimate those other teams," Garrido said. "That's not their character. Their character is to go out and just do their best."
"There's people down on Okinawa and up in Korea who we have to look out for," de los Santos said.
While Kinnick's throwing is strong, de los Santos says the Red Devils can compete in other areas as well, thanks to the presence of three newcomers competing in short sprints.
Freshman Valerie James, who runs the 100, 200, 400 relay and long jump, "is really dominating," de los Santos said, as are newcomer Chaun Lynn in the 100 and 200 and long jump, and Kadena transfer Cory Serfoss in the hurdle events.
What pleases Garrido across the board is the demeanor of his entire team.
"They're humble. They don't walk around carrying a big stick," he said. "They talk with their actions."
How far their actions will take them, individually and team-wise, remains to be seen, but de los Santos feels Kanto Plain Association of Secondary Schools and Pacific records are within reach, while Garrido is cautiously optimistic about his team's chances.
De los Santos feels either he or Cason can exceed 130 feet in the discus.
"It depends on how I'm progressing and how much time I'm actually practicing the discus," he said. Kinnick doesn't have a track on base, so the team trains off base two days a week.
Jackson, for her part, feels coming close to or breaking the Kanto record is possible.
"I wouldn't be surprised if she attacks the record," Garrido said.
Team honors are another matter. American School In Japan still looms as the Kanto Plain's premier team, and while ASIJ won't compete in Far East, there are Kadena's boys and Kubasaki's girls and Seoul American's overall strength to consider.
Kubasaki and Kadena "have great athletes. And I'm not going to bypass Seoul American; anybody who does that would be a fool," Garrido said. "It's so early in the season. Zama, Yokota, they may play spoilers. Putting them in the mix could really make things interesting."