Kinnick makes smooth change to fastpitch
by
Dave Ornauer
March 26, 2009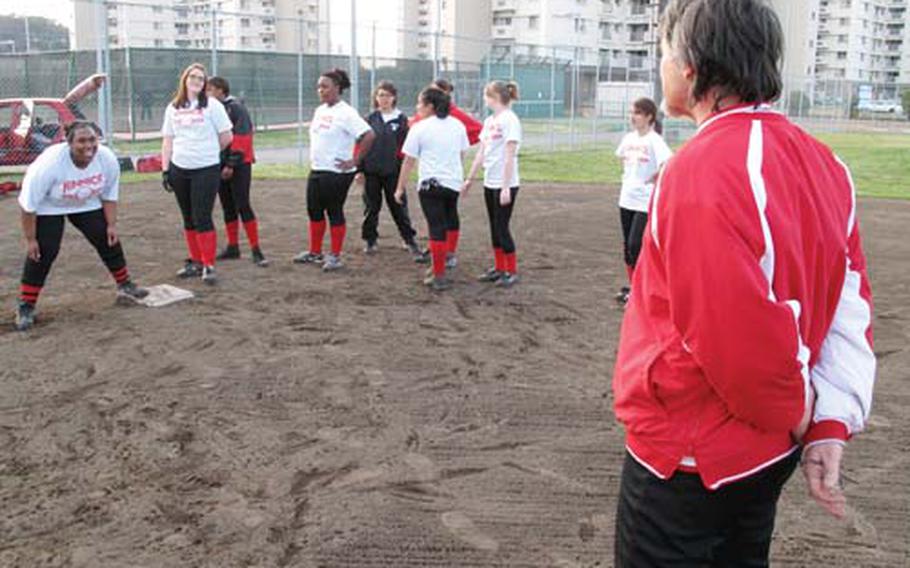 Last season's transition to fastpitch seems to be agreeing with Nile C. Kinnick's softball team.
Behind the pitching of Cheyenne Tullos and Callie Lamont, each 5-0, and a offense relying on a high on-base percentage and a generous helping of stolen bases, the Red Devils are 11-0 in DODDS-Japan this season.
Eleven players return from a team that went 7-0 a year ago and won the league's tournament title. That capped a year in which Japan became the last DODDS-Pacific district to convert to fastpitch from slowpitch, played since the league's inception in 2000.
"They are a great group to work with and they're certainly playing well as a group," sixth-year Kinnick coach Danel MacWhyte said via telephone Tuesday from Yokosuka Naval Base.
He called Kinnick's success the result of a two-year commitment by his players.
"Last year we had the transition. Some of them had never even seen the game before," MacWhyte said. "We developed slowly, working on skills [and] they're continuing on what they built last year. They're a good group of athletes, they have good attitudes and work ethics."
It's a far cry from when MacWhyte took over the then-slowpitch team in 2004, when "the attitude was … it was a recreational sport," he said.
"Now, that's not the case," MacWhyte said, adding that fastpitch requires a different type of athlete for a team to be successful and that "Kinnick has attracted those athletes."
Finding the athletes and getting them to mesh quickly into a cohesive unit, the Red Devils last year set a goal of winning the DODDS-Japan tournament but developing the skills needed to do it.
"We spent the first third of the year building individual skills. Then, we worked on team skills, throwing out runners, tagging up on fly balls, relays, double plays. The girls picked that up quickly," MacWhyte said.
The tournament championship "motivated them to come back this year. We now wanted to play a league, show that it wasn't a fluke."
"We're the champions. We want to keep it that way," said senior first baseman Azsa Alderman, one of a handful of Red Devils who've been with the team before and after the transition.
"Every day, we go in and look at that trophy and don't want it to leave. It motivates people to work hard and do the best we can and that's why we're doing so well."
Lamont, a transfer from Pacific Grove, Calif., says she expected good things when she saw the team's chemistry. "They were such a team," she said. "I expected them to win."
With Kinnick, it starts at the top of the order, junior Jordan Hunt and sophomore Dusty Keolanui-Wilson. In last weekend's four-game set against E.J. King and Robert D. Edgren, the two had 27 at-bats and got on base 24 times.
"They set the tone," MacWhyte said. "Obviously, they get on base a lot, and we run a lot. All the girls are expected to be able to steal, to put pressure on defenses as early as possible. And we score
runs in bunches. It's not unusual for us to get four or five hits in a row."
Bunting is also a strength, he said of the team's nine bunt singles. "We've gotten really good at that," he said.
Pitching is an issue, and not just for Kinnick. "We're still walking a lot of batters," MacWhyte said. "The girls are working on velocity at the expense of accuracy, not just our team, but the league in general."
The defense also needs work, Lamont said. "Fielding the ball, hitting our cutoffs. It's fixable. We're progressing a lot through this year."
"Being able to throw out or hold up runners, not giving up extra bases, keeping the ball in front of the runner," MacWhyte said.
One issue that could surface down the road is dealing with adversity, which Kinnick hasn't faced much of yet.
"Some of these girls, well, they haven't lost. Two games we were down 10 runs and came back," MacWhyte said.
The challenge, he said, continues to be a mental one. "Have them be confident, but be business as usual. We don't want to get too excited or too disappointed if things don't go our way. Have short memories. At the end of the season, we'll celebrate."
There could be more to celebrate than a standard league tournament title this year – Kubasaki of Okinawa has been invited to the DODDS-Japan tournament April 17-18 at Naval Air Facility Atsugi, and Kadena is hoping for an invitation as well.
It may not be a true Far East tournament in the classic sense. But the prospect of facing new opponents excites coach and players.
"We can see the other teams (and) learn from them," Lamont said. "They are probably at the next level, having played longer than we have."
"Every year, they bring it (Far East) up, there's no money, I really don't know what the real reason is," MacWhyte said.
"We've been playing teams like us. We would expect them (Kubasaki and Kadena) to have aspects of their game that we haven't developed. To see that, will help us get better in future years."