Home Team
Kinnick junior's fast and getting faster
by
Dave Ornauer
September 21, 2011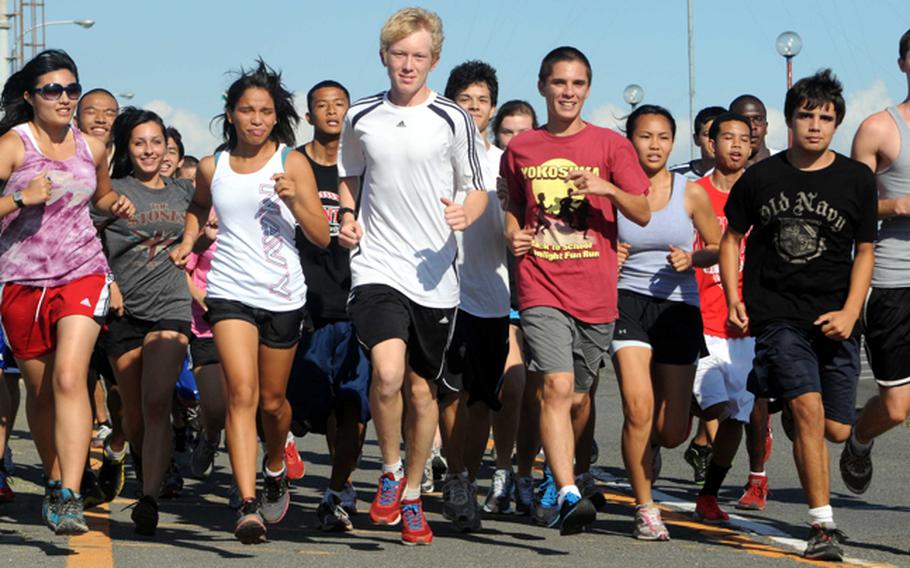 YOKOSUKA NAVAL BASE, Japan — It wasn't so much that Robert Beard battled Kanto Plain distance king Trevor Maggart of American School In Japan step-for-step to the finish of last Saturday's race that surprised Nile C. Kinnick coach Richard Ringling.
It was Beard's time on the 2.9-mile course at Tama Hills Recreation Center. The best he'd ever done previously was 17 minutes, 6 seconds as a sophomore last season; on Saturday, the Red Devils' junior shaved 1:04 off that time.
"To drop more than a minute in the first meet of the season (at Tama), is incredible," said Ringling, Kinnick's first-year coach who for nine years coached at St. Maur International school in Yokohama and has seen scores of meets at Tama.
Until Wednesday, Beard also held the top time among DODDS runners Pacific-wide, 17:27, run on Sept. 3 in the 3.1-mile DODDS Japan race at Isanoura Park near Sasebo Naval Base. That's 27 seconds better than his previous personal best of 17:54, last Oct. 9 at Misawa, Japan, and three seconds behind this season's DODDS best, by Kubasaki freshman Erik Armes.
Though Beard has a way to go before equaling the Tama record of 14:29.9 and the 16:20.37 run in the 2008 Far East meet by Zama All-American Andrew Quallio in 2008, both runner and coach feel the last two weeks were just the start for Beard.
And it's a giant step up from a season ago, when he posted a middle-of-the-road 18:06.4 in placing 13th in the Far East meet at Tama.
"He's worked his butt off, he is very internally motivated, he knows his goals and knows what he has to do to get them," Ringling said of Beard, who spent the summer training with Kanto Gakuin, a Japanese high school in Yokohama.
At St. Maur, Ringling coached then-senior Anna Novick to become the first girl to ever break the 13-minute mark on the Tama 2.1-mile course, hitting 12:58.6 in October 2007. Ringling feels Beard can put Quallio's boys mark in his sights as well.
"He does all the required work, extra hills, extra sprints. He's getting all the potential out of his body that he can. He's going to be stronger and he's going to keep growing. He's got higher goals, Far East champion and Tama course record and he's got two years to do it."
Beard, who's been at Kinnick since his freshman year, takes on a rigid academic course load as well — Advanced Placement U.S. history, Japanese and calculus. He says he hopes to someday become an engineer or an architect.
Like those courses, much of running cross country is mental, Beard said, something he saw when practicing as much as three hours a day in searing summer heat at Kanto Gakuin.
"No matter how tough the training is, others are dealing with it, too, so keep at it and hold onto it," Beard said. "If I keep giving 110 percent every practice, I'll run much faster and easier than before."
That was evident, coach and runner said, in Beard's step-for-step finish at Tama with Maggart, who finished two-tenths of a second ahead of Beard.
"Motivator. It's always nice to have others to compete with," Beard said, adding that Maggart seemed "surprised" after the finish. "We each said 'good race' and shook hands."
Beginning of a rivalry? "It can be a pretty big one," Beard said.
Does Beard ever get concerned that he might be overtraining or overdoing it? "I always ask my coaches if I can practice more," he said. "I know they have experience and know a lot more than me."
How fast does he believe he can run? "Most likely 16:30," Beard said. "My Japanese friends (at Kanto Gakuin) toward the end of the season, I was able to beat them and one of them ran a 16:40."
Beard isn't the only Red Devils runner starting to feel their oats. Sophomore Carydaliz Fontanez finished third in the Isanoura race and outpaced all other DODDS opposition in placing fifth in the Tama race.
Beard spent some time giving Fontanez some advice "about what it takes, and she had some very good workouts after that," Ringling said.
"He's already thinking that he's doing this not just for him, but for other people," said Al Garrido, Kinnick's track and field coach, adding he saw Beard's potential as long ago as his freshman year. Beard also runs the 3,000, 1,500 and 800 for Kinnick's track team.
"Sometimes, you see that in an athlete and I saw it," Garrido said. "Some athletes speak with their actions. Robert's body was yelling and screaming with its actions."
Beard's stated track and field goals are to push below 10 minutes in the 3,000, 4:10 in the 1,500 and 2:04 in the 800.
"I see him easily competing with those times, coming close to those times," Garrido said. "I don't want to pressure him, but Robert Beard has the ability to be the best in DODDS this year and next year. I think the best is yet to come."