Kinnick Invitational often helps fuel Far East wrestling rivalries
by
Dave Ornauer
January 7, 2010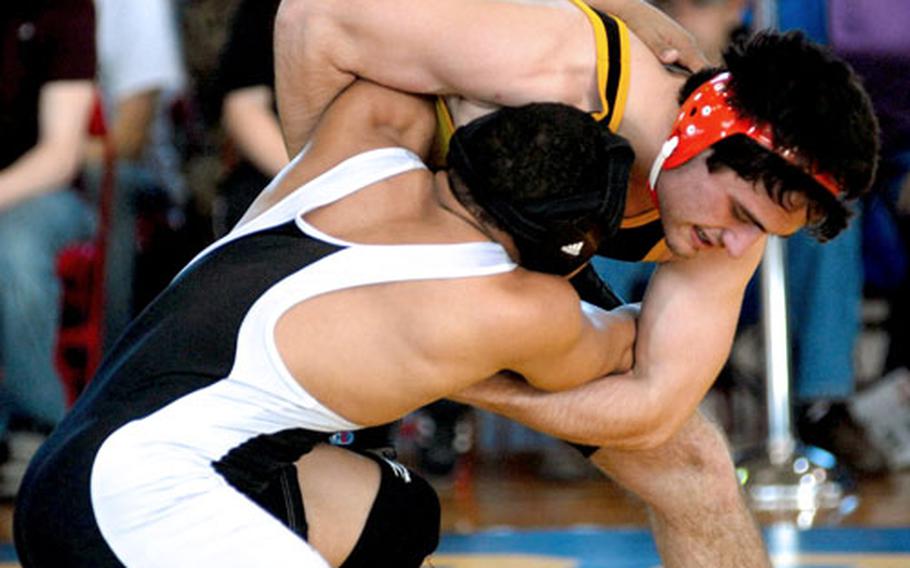 It was a quote that resonated last season with Harry Bloom that spurred the Kadena 148-pounder to a training regimen the likes of which he'd never experienced in preparation for last February's Far East Tournament.
"Things work out best for the people who make the best of the way things work out." Those words were uttered by Bloom's conqueror, Elias Labrador of Zama American, at the Nile C. Kinnick Invitational "Beast of the Far East" Wrestling Tournament last Jan. 10.
Labrador decisioned Bloom 2-1 in the final, and a rivalry was born.
"I still see them now," Bloom said of Labrador's words, which he says he photocopied and taped to his locker, his bedroom, his schoolbooks — anything to remind him of that day.
He then trained like a madman. Then after losing to Labrador 2-1 in the early rounds of Far East at Okinawa's Camp Foster, Bloom rallied to edge Labrador in a two-bout final, again by scores of 2-1.
"Having a rivalry and competition is a great thing," Bloom said, as much admitting the rivalry with Labrador was the best thing that could have happened to him last season. "You can't have that rivalry without that competition."
Labrador, who has since graduated but remains in the Zama area, calls Bloom the "ideal opponent. He listens to his coach on and off the mat. He was the perfect match for my skill, which was how he overcame my ability."
It's perhaps an unintended byproduct of a tournament that began in the early 1990s as a Japan in-season invitational, but has grown in size and importance over the years. Many coaches view it almost as a Far East dress rehearsal.
Bloom will return to Yokosuka Naval Base, the tournament's host site, for Saturday's edition of a tournament so well known, it's called by one word: "Beast." Kadena, last year's runner-up team, joins 10 other schools in a day of individual freestyle action.
The Bloom-Labrador rivalry certainly wasn't the first of its kind to emerge from Beast and culminate at Far East.
Seoul American's Scott Tunis and Zama American's David Burnett were one of those pairs, back in 2004 at 215 pounds. The next two years, Kinnick's Joey Wood and Kadena's Devon Copeland made for an intense, heated rivalry at 158 and 168 pounds.
Why does the tournament create such rivalries?
"It's the anticipation, the adrenaline, that sparks rivalries right there," Bloom said.
"Everybody spends a lot of time talking about wrestlers from other schools; now, you finally get to see them," Labrador said.
The match with Labrador showed Bloom "what he had to work on, and somebody he had to work for," Kadena coach Steve Schrock said.
It may happen again this year, should the stars align and defending Far East champion Michael Spencer of Zama sheds a few pounds; Spencer is listed at 168, but "that could change," tournament director Tom Bell said.
Should that happen, once more Bloom will face a situation where he "can't bring his two gold medals" to the mat and expect his opponent to wilt. "He'll have to work for it," Schrock said.
He calls Beast a "proving ground" and an important cog in Kadena's season schedule. The Panthers to this point have only seen Kubasaki, and only in preseason scrimmages. "We don't see much until the day of battle. Other schools have already wrestled; that's how we have to deal with it," said Schrock.
In addition to other DODEA schools, Kadena's and Kubasaki's brethren in Japan get to go up against Shonan, a Japanese powerhouse, as well as American School In Japan and St. Mary's International, with 10 Far East team titles between them.
Beast is perhaps more important for Kadena and Kubasaki and outlying Japan schools such as E.J. King and Robert D. Edgren, which wrestle fewer regular-season tournaments than Yokota, Zama and Kinnick in the Kanto Plain, which also wrestle ASIJ and St. Mary's in regular-season dual meets.
Japan schools wrestled as early as Dec. 4; Beast is Okinawa's first taste of outside competition.
"It's just an in-season tournament for us," Yokota coach Brian Kitts said. "This is not the big one for us. The one that matters is Far East. Once you've been out here long enough, you know what everybody has. You get a peek at Kadena and Kubasaki and you get five weeks to fix things."
"This is another event in their season; for us, it's one of our only events," said Schrock, whose Panthers get one dual meet with Kubasaki plus the Okinawa-American Friendship Tournament at Kadena on Jan. 16, then the Rumble on the Rock Tournament Jan. 29-30 at Kubasaki.
Some teams, such as Korea's three DODEA schools, end up on the outside looking in.
They attended E.J. King's invitational last January, but new district rules heaping the total bill for bus and air transportation on the teams themselves drove the price tag too high, one coach said. Prior to this year, districts funded bus transportation, while teams picked up the air fare.
Osan American coach David Hemmer said he wishes his Cougars could have attended either Beast or the E.J. King tournament; the latter "made a huge difference," he said, in his team's showing at Far East. "It's a shame we won't get that opportunity this year."
Coaches and wrestlers who will make their way to Beast appreciate the quantitative and qualitative benefits it confers.
"Our schedule has gotten a lot better" as a result of Beast, Schrock said.
"I'm so pumped," Bloom said. "I can't wait."