Kinnick, Humphreys meet for right to play one more time
---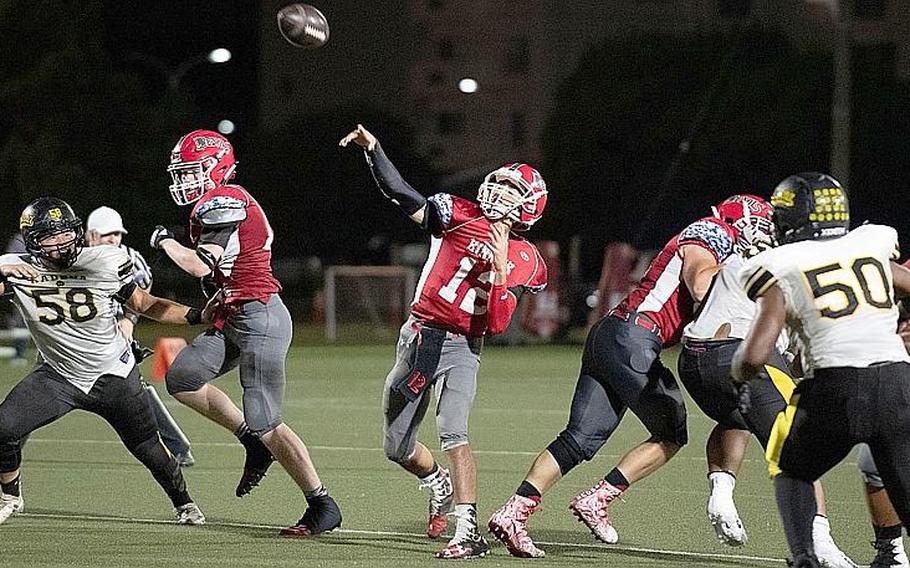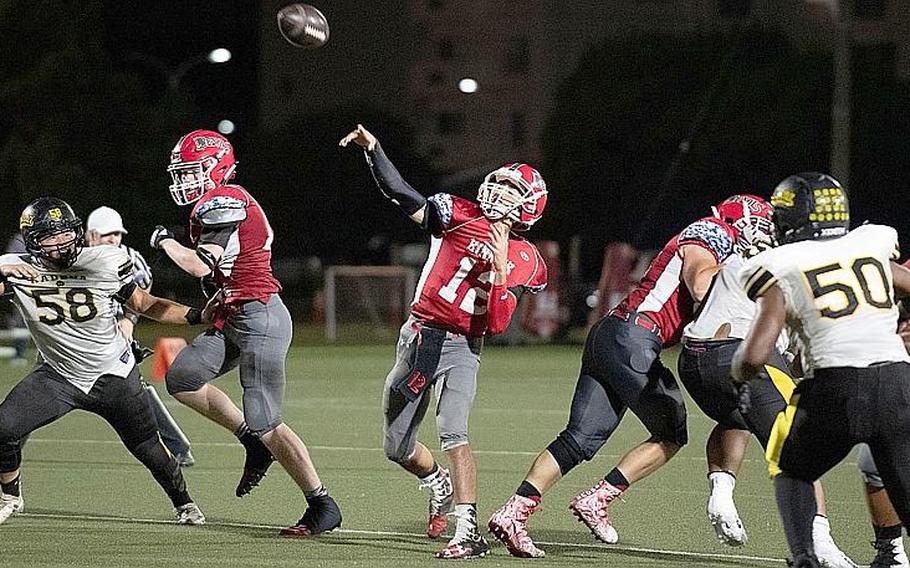 It couldn't get any more simple for Humphreys and defending champion Nile C. Kinnick: Win and extend the season a week. Lose and go home.
Whichever team wins Friday punches their ticket to the Far East Division I title game Nov. 9 at Kadena.
"We talked about it at the end of practice, about the value of being relevant at the end of the season. Playing for a chance," said coach Dan Joley of the defending Far East champion Red Devils.
Kinnick is attempting to reach its third straight D-I title game, while the Blackhawks, Division II champions two years ago, are trying to reach their first.
"They (players) sense it, the community senses it, a lot of people involved understand that this is a big game," Blackhawks coach Steven Elliott said. "They know what's on the line."
This is the last regular-season weekend before Far East tournament week, and the weekend is chock full of district tournaments. But the Humphreys-Kinnick game carries the most all-or-nothing of any of the events.
The teams were supposed to play twice this season, but their first scheduled showdown, Oct. 11 at Kinnick, was canceled due to Typhoon Hagibis. That leaves only Friday's game counting for all the marbles.
Humphreys (3-1) has one more D-I win than Kinnick (2-2), but the two are tied for second place with four standings points each, trailing Kadena (6-0), which has already clinched title game host rights with eight points.
Humphreys beat Kubasaki twice, each win counting for one point, and American School In Japan once, counting for two points. Kinnick beat ASIJ and Kubasaki, with each win counting for two points.
Friday's contest will come down to which team makes the least mistakes and executes soundly, Elliott and Joley said.
"You have to be error-free and play with a passion," Joley said, adding that "one of the toughest things in Pacific football is to win on the road."
One sign of hope for the Red Devils, Joley said, came during Kinnick's 39-0 shutout of ASIJ last Friday.
"One thing I hadn't seen all season, I saw a lot of times when the kids had each other's backs," Joley said. "Playing for each other. It couldn't have come at a better time."
For the Blackhawks' part, Elliott says he believes they're up for the challenge.
"We have to play consistently, disciplined football," he said. "If we can play our game with the utmost discipline, we'll give ourselves a chance. They'll leave it all out on the field."
Meanwhile, on the tennis courts and in the gymnasium a touchdown pass away from the football field, Korea's Red Division tennis tournament and girls plate volleyball tournament takes place Friday and Saturday.
Osan and Daegu will play in the plate tournament, while Humphreys, which had a winning record, plays in the Korea cup tournament at Cheongna Dalton school in Inchon.
Humphreys boys will play in the Korea cup tournament Friday and Saturday at Seoul Foreign, while the Cougars and Warriors boys are entered in the Korea plate tournament at Osan.
Okinawa's district tennis finals began Wednesday and conclude with the mixed doubles and boys singles finals on Thursday.
Korea's cross country finals take place on Saturday at Korea International School in Pangyo.
And the DODEA-Japan girls volleyball and tennis tournaments begin Thursday and run through Saturday, the tennis at Matthew C. Perry and volleyball at Yokota.
ornauer.dave@stripes.com Twitter: @daveornauer
---
---
---
---