Far East Soccer - Day 3
Kinnick girls, Kadena boys turning heads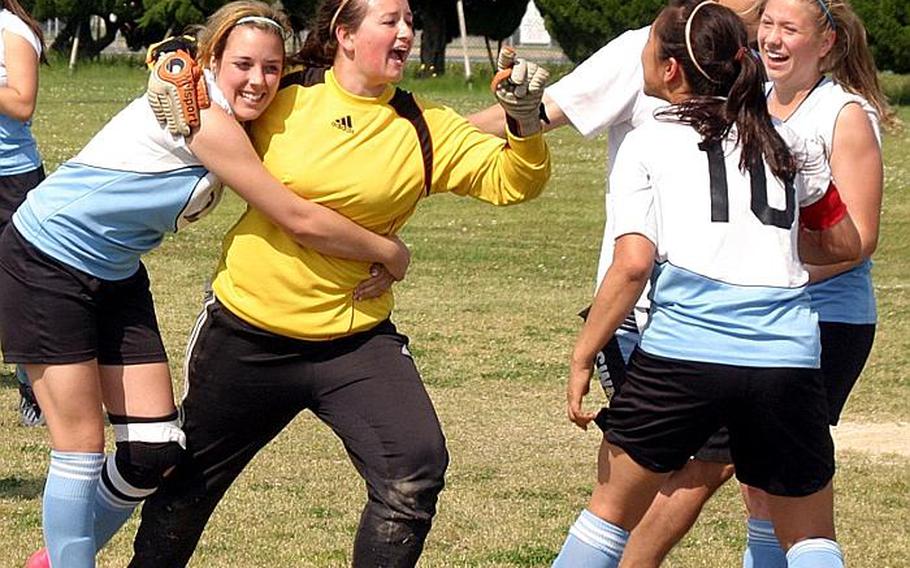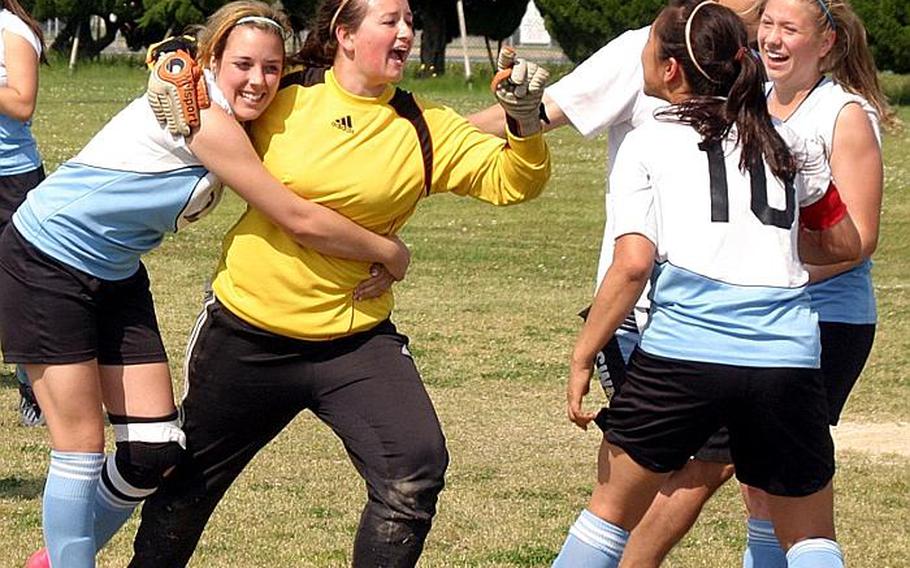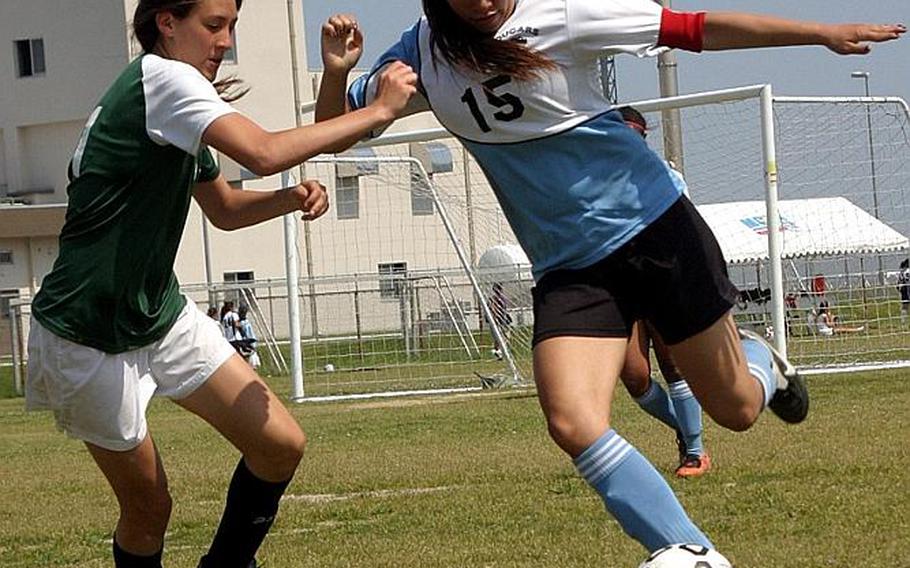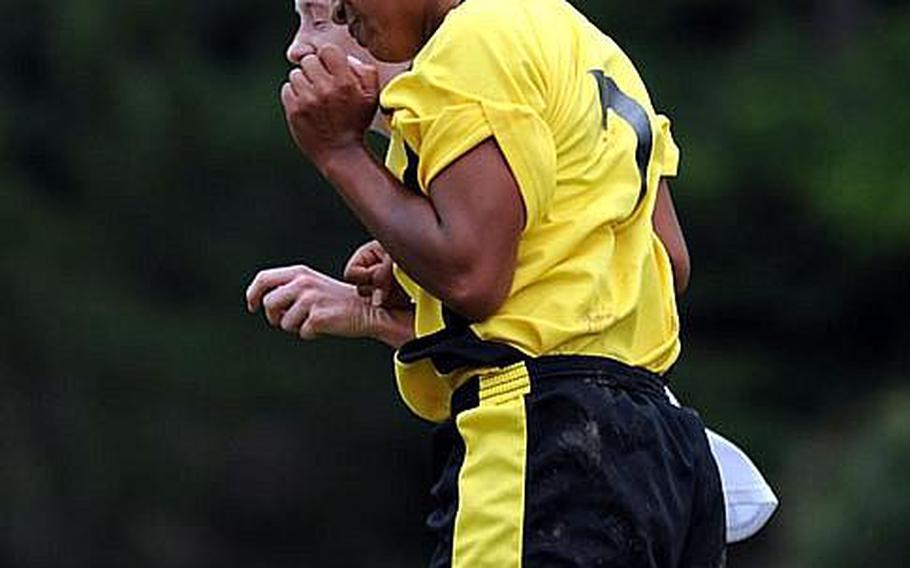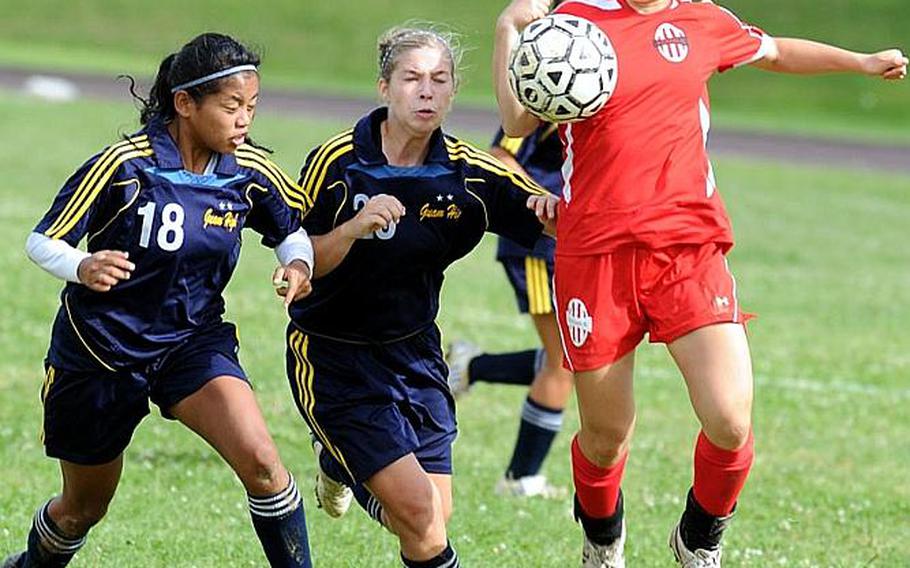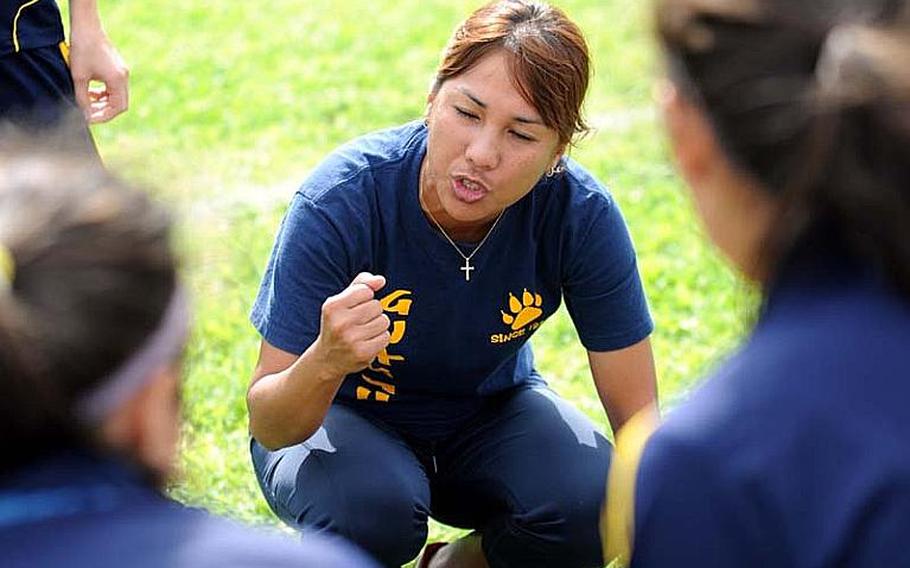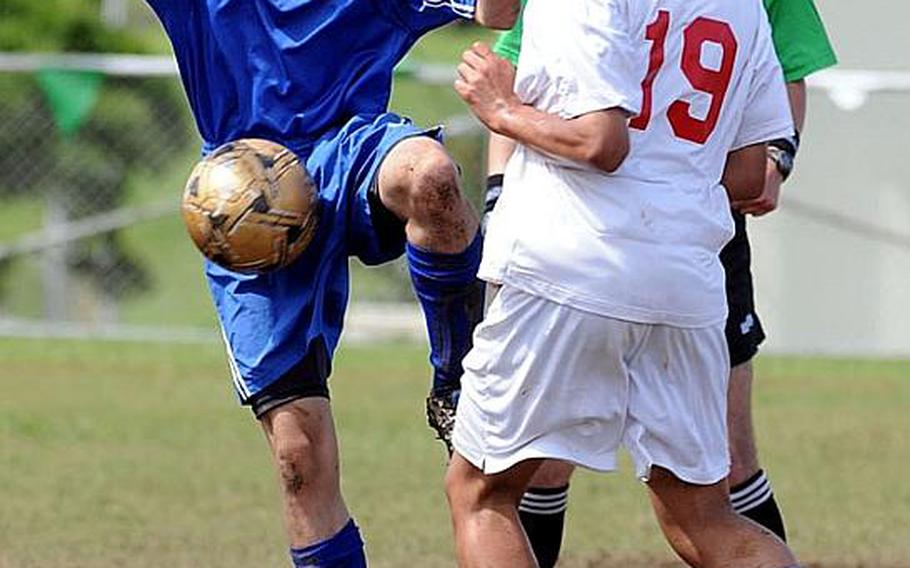 Eight weeks after appearing near collapse thanks to voluntary departures in the wake of the March 11 earthquake and tsunami, Nile C. Kinnick on Wednesday became the surprise entry into the Far East High School Girls Division I Soccer Tournament semifinals.
Mari McDonald scored twice as the Red Devils rallied from a 1-0 halftime deficit to knock off Guam High 3-1 at Kadena, booking a semifinal date with Kubasaki in Kinnick's first Final Four appearance since 2008.
"Two months ago, I'd have told you we'd be combining with Zama" American, Red Devils coach Nico Hindie said of the talk just after the evacuations, when enrollment at both schools dwindled more than 50 percent. "It's been hard on the girls. But they pulled through."
Eventually, enough players returned to allow Kinnick and Zama, which plays at the Division II level, to forge onward with their seasons. McDonald filled the shoes of departed striker Meghan Pomeroy to help the Red Devils to a 9-1-5 mark entering Thursday's semifinals.
"At the beginning of the season, we had high expectations; we thought we had a good team" with Pomeroy, Hindie said. "The team has kept its head up. Today, we trailed a good Guam High team and felt we were ready to rally."
American School In Japan will play Seoul American in the other semifinal.
In Division I boys action at Kubasaki, Christian Academy Japan earned the top seed entering Thursday's quarterfinals, but not before falling 2-1 to Kadena, only the second win of the season for a defending runner-up Panthers team that coach Tom McKinney feels is finally awakening.
"The warning shot came last night," McKinney said. "I think we have people's attention now."
History making was in vogue at the Girls Division II Tournament at Matthew C. Perry. After learning on Wednesday that they would enjoy full varsity status next season after spending this year as a club team, E.J. King scored its first victory in the program's history, 4-2 over Robert D. Edgren.
"We didn't expect to win, but this was sweet for the girls," coach Willard Clites said. E.J. King has had a history of girls playing for the boys team, but this season the girls approached Clites and asked him to form the club. "Coming to Far East has meant everything to the girls."
Host Matthew C. Perry came within one victory of reaching Thursday's final thanks to the scoring touch of senior Bre'Onna Ray, who set a school record with her 51st goal, breaking Karla Stroud's 2009 mark of 48. "Wow, I didn't know that," she said.
Reigning two-time champion Osan American gained a measure of revenge for a 2008 ouster via penalty kicks against Daegu American. The Cougars repaid the favor Wednesday, edging the Warriors 2-1.
Coach Sung Plourde credited his "backbone" defensive players Lydia Kim and Alina Hauter and goalkeeper Deanne Polaski, "our MVP," for Osan's success. "This is their senior year. I told them, 'I believe in you guys. You have to come through.' And they've come through. They have their mindset."
In Boys Division II action at Camp Humphreys, South Korea, Yongsan International-Seoul crept within a win of its fourth title, beating Matthew C. Perry 5-2 in the champions' bracket final.
But coach Brian Bennett says his upper classmen are wondering what might have been. YIS-Seoul won the title in 2008 and '09 but sat out last year.
"This year's seniors realize we made a mistake not coming last year," first-year coach Bennett said, adding that the Class of 2010 keeps in touch with his charges. "They're riding them hard, expecting a championship."
Daegu American student-journalist Erika Brun, Osan American student-journalist Taylor Mynderup, Matthew C. Perry student-journalists J.C. Chambers, Danielle Rosales and Nick Krenek, Kadena student-journalists Stephanie Mobley, Zabrina Comia, Alex Zermeno, Jeffrey Mizell, Avery Lennard and Jacob Bishop and Kubasaki student-journalists Sonora Willeford, Allani Alvarado, Kristin Heath-Wood, Cody DeVries, Amber Overton, Angelina Furusho, Tammi Ragan, Grant Loftesnes, Miasha Nakahara, Tiajha Nakahara, Thomas Cole, Brenna O'Brien and Jaysyn Brown contributed to this report.