Far East basketball
Kinnick girls, ASIJ boys take home trophies
---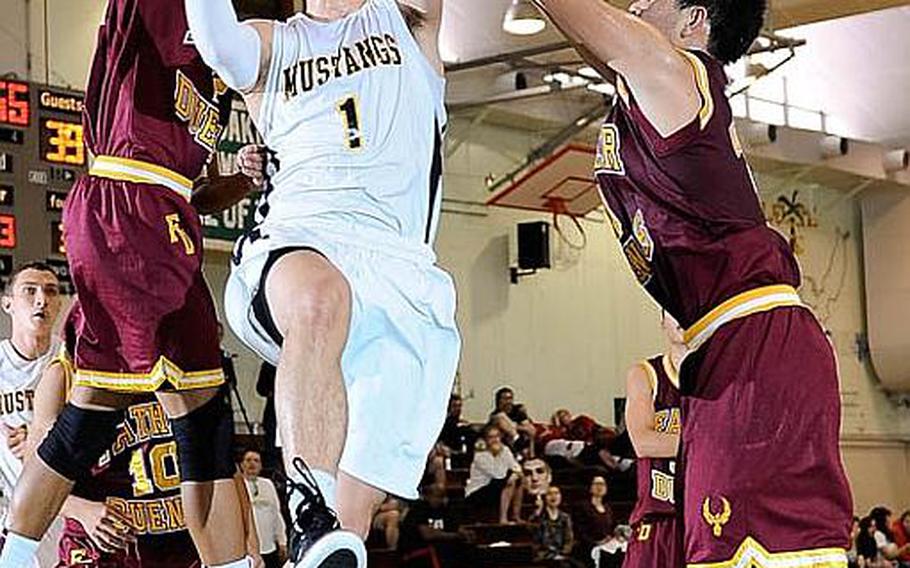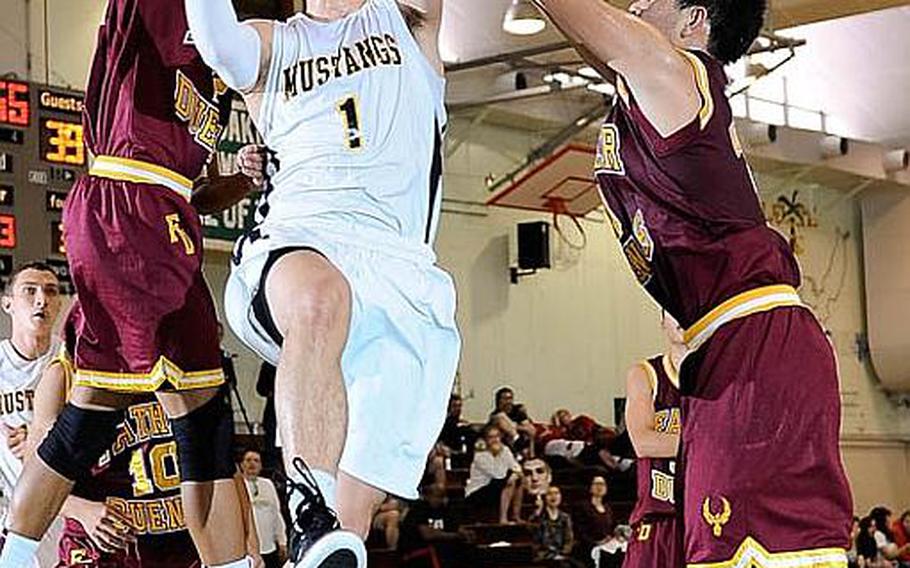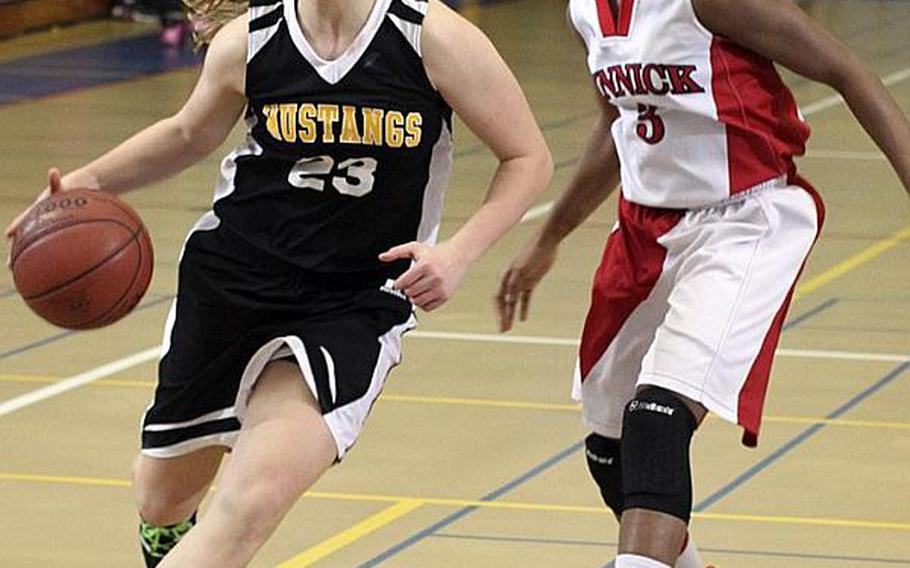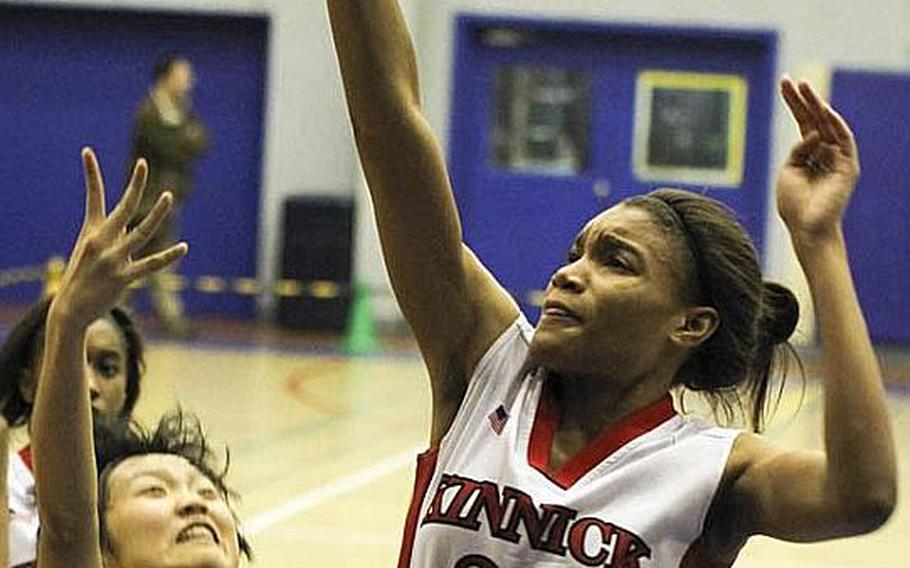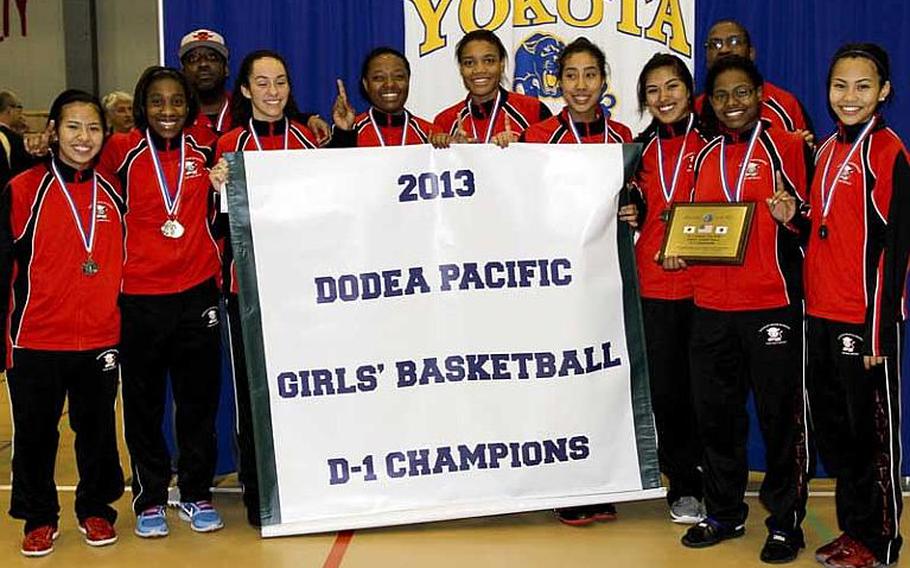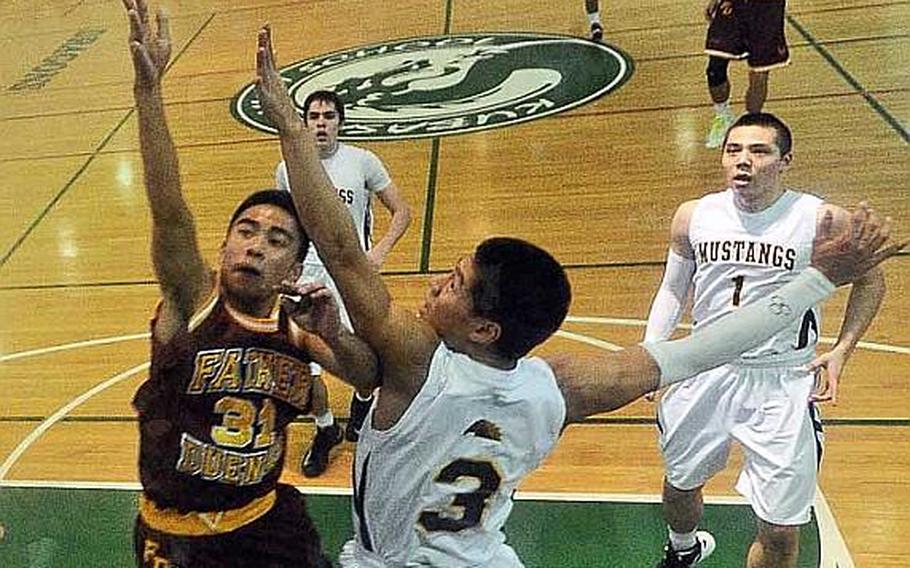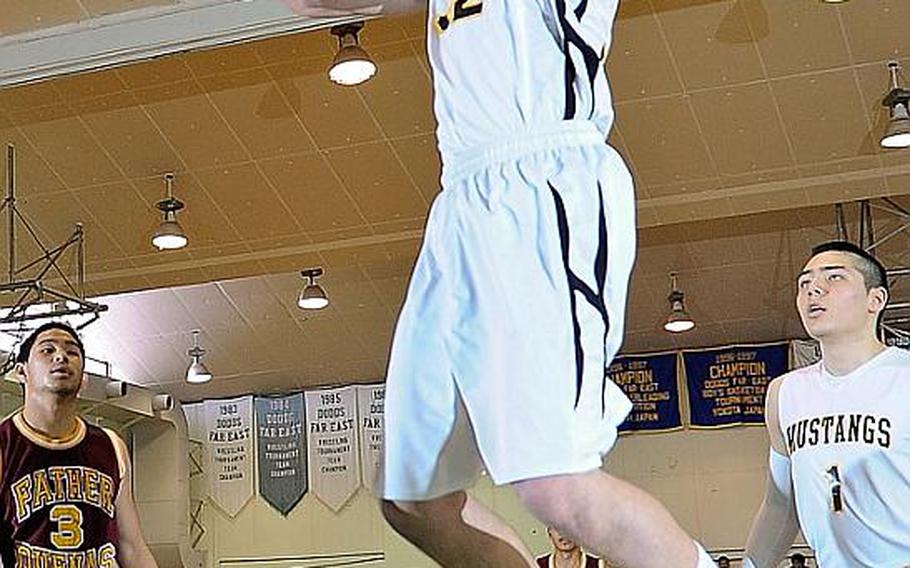 Alyshia Allison, De'Asia Brown and Mashiya McKinney picked the perfect time to quell their nemeses known as the American School In Japan Mustangs.
Allison and Brown combined for 39 points and McKinney pulled down 15 rebounds as Nile C. Kinnick capped the 2012-13 season with their first Far East Girls Division I Basketball Tournament title since 2001, downing ASIJ 45-32 in the second of two title games on Thursday at Yokota's Capps Gym.
ASIJ forced the second "if-necessary" final game in the double-elimination tournament by beating Kinnick 57-53 in overtime.
"I couldn't be more proud of the girls," Kinnick coach Samuel Williams said.
His team's only two losses this season were to ASIJ in the Kanto Plain Association of Secondary Schools regular season. Williams all along said the team possessed the ability, but just needed "confidence and the belief that they could do it."
What got the Red Devils over the hump was their 34-27 win Wednesday over ASIJ in an earlier-round game, one in which Williams decided to put the ball more in Allison's hands, in an effort to defeat the opponent's box-and-one zones aimed at Brown and create more scoring opportunities for Brown.
"So many teams that have seen De'Asia come out in a box-and-one, but they don't see her," Williams said about Allison, a transfer from California. "They (Brown and Allison) complement each other, they play their roles well."
McKinney, known more as a volleyball middle blocker, has "blossomed" as a post player, Williams said. "She's given me more than I could ever expect."
Kinnick led the second title game from the start, and ASIJ, playing its third game of the day, had its ranks thinned when star junior forward Liz Thornton collided with McKinney under the basket two minutes before halftime. Thornton left the game with a possible concussion.
"Any time you have a player go out in the middle of competition … it may have had an impact. It may have been a closer game" had Thornton not gotten hurt, Williams said.
With the victory, McKinney also avenged volleyball Far East finals losses the last two years to ASIJ, for whom Thornton plays middle blocker and is a two-time D-I MVP. It also soothed the wounds Kinnick suffered when its wrestling teams lost the Far East tournament finals to Kubasaki of Okinawa.
ASIJ entered this week's D-I tournament unbeaten at 17-0 and a prohibitive favorite to win the title.
The Mustangs didn't go home from Far East D-I empty-handed, as the ASIJ boys ended a title drought stretching back to its 53-48 overtime win at Yokota in 1983.
Liam Fukushima netted 23 points and the Mustangs outpointed Father Duenas Memorial 15-3 in the fourth quarter of a 61-49 triumph. Henry Wallrapp was named the tournament's MVP.
"I couldn't be more proud of my kids," second-year Mustangs coach Brian Kelley said. "It's been a great two-year run. I'm happy to end the drought. I'm humbled by the way we played. We peaked in this tournament. Every game was difficult. But we weathered the storm. My hat's off to Father Duenas."
ASIJ and the Friars played it tight until the Mustangs pressured FD in the fourth quarter. ASIJ led by six at halftime, but the Friars rallied to tie it 46-46 after three periods. Alan Malamud added 12 points and Ken Yajima 11 for ASIJ. Michael Sakazaki led the Friars with 13 points.
It's the second straight year a Guam team finished second in the tournament, following Okkodo's loss last year to Kubasaki. No Guam team has won the tournament since now-defunct Oceanview in 1993.
---
---
---
---