Kinnick chews up opponents with diet, teamwork
---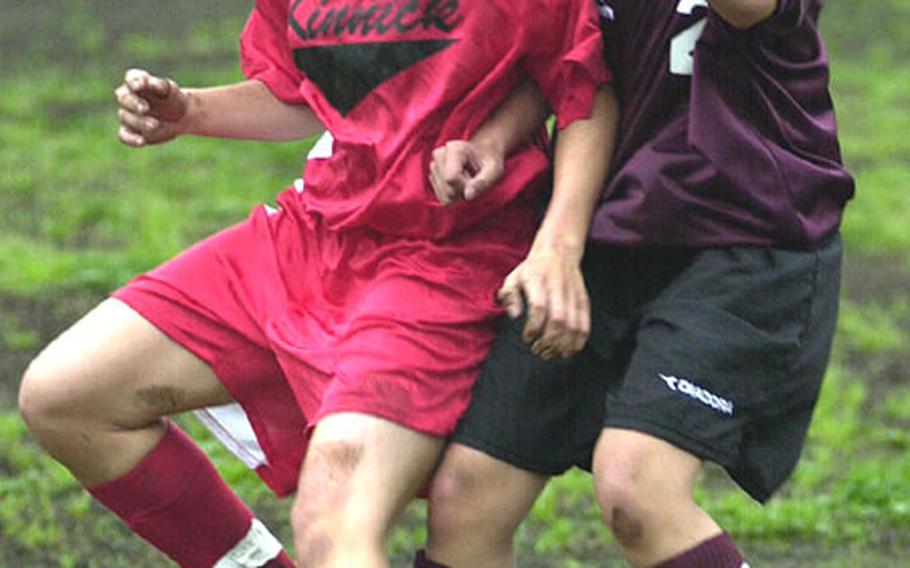 IKEGO HEIGHTS NAVAL HOUSING FACILITY, Japan — Melissa Fedyschyn's eyes lit up, as though she'd just been handed a special treat — which she had, since she and her Nile C. Kinnick teammates are barred from eating snack foods during the Japan Soccer League season.
"Coach never lets us eat this stuff," the junior midfielder said before sinking her teeth into a slice of pepperoni pizza.
The Lady Red Devils spent about 15 minutes chowing down on pizza, franks and chips Friday shortly after defeating JSL rival Matthew C. Perry 5-0.
The culinary bounty, provided by the Navy recruiting office at nearby Yokosuka Naval Base, was a rare treat allowed by Kinnick coach Nico Hindie, who has strict rules about what his players eat during the season.
"He wants us to eat healthy stuff," Fedyschyn said, adding that while they miss fast-food staples such as Burger King, Popeye's and Anthony's Pizza, which can be found on virtually any Pacific base, Hindie's rules "are good for us."
"Besides, we're winning," freshman Ashley Melin added.
Since falling 3-1 to the American School In Japan in their second match of the season, the Lady Red Devils (10-1-1) have won nine of 10, following a 3-1 victory over Robert D. Edgren on Saturday. They enter next week's Class AA Far East Tournament at Camp Zama as one of the favorites.
It's been an unassuming climb for Kinnick. Amid the hoopla of a six-match winning streak by Yokota, Guam High's perfect season and talk of Kubasaki priming for another Class AA championship, the Lady Red Devils have operated on the fringes of the Far East soccer radar.
"We like it quiet," said Hindie, the former Kinnick boys coach who took over the girls program this season after spending last year at Rota Naval Station in Spain. "It takes some of the pressure off of us."
While acknowledging he's strict on his players' diet, he credits a steady dose of teamwork and a "no star-all stars" attitude for his club's rise to first place in the JSL.
"These girls really work hard," said Hindie, whose team is fueled by juniors Alexis Zukowski (14 goals) and Robyn Hopp (11), and senior goalkeeper Shawna Melin, with six shutouts this season.
"We push the ball, work as a team. We have really good players. They believe they can win, and on any given day, they can take on any team."
"We play soccer, not kickball," Hopp said. "We learn to share. We don't have just one or two good players but 18 really great players. We keep our heads in the game. We don't argue on the field. We work together. And we have the best coach we've ever had."
Since the inception of Far East tournaments in 1998, Kinnick is the only non-Okinawa team to make the girls final, losing 1-0 to Kadena in the 2000 title game at Misawa Air Base, Japan.
Hindie believes this crop of players is better.
The main difference might be in goal, where Melin has been a stone wall. "That's the one thing the (2000) team did not have," Hindie said. "She has good hands, and the defense is confident that she's always back there to cover for them."
Melin credits that defense for her success. "They stop the ball before it gets to me," she said. "It makes my job a lot easier."
But is it enough to produce a Class AA title?
"We're better than they were," Hopp said, referring to the 2000 team. "We've learned to depend on more than just one or two players. We have a lot more confidence."
And just what kind of delights can the team expect should a Far East title fall its way?
"Coach promised he'd take us out for pizza," Fedyschyn said.
"And ice cream," freshman striker Lisa Murray added. "I want ice cream."
---
---
---
---