Kinnick and Humphreys meet for first time on football field
by
Dave Ornauer
September 13, 2018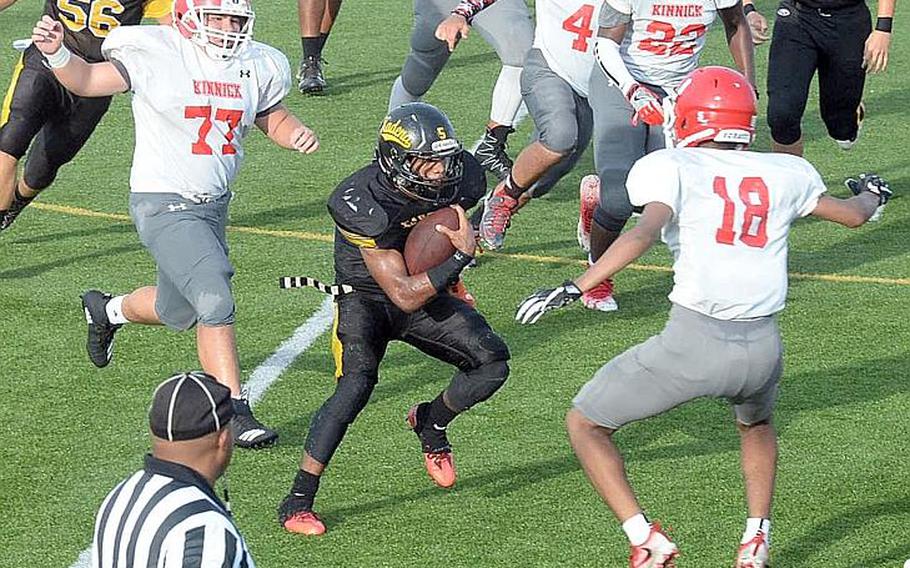 They gathered for the team's traditional Thursday pasta feed, in the school cafeteria at Humphreys, something the Blackhawks have been doing since Steven Elliott took the team's reins in the 2016 season.
That might be the only sense of normalcy about the whole weekend for the Blackhawks, as well their opponents from Nile C. Kinnick in Japan. Humphreys and the Red Devils square off at 6 p.m. Saturday in the first meeting between the schools.
It's a key battle in the chase for Far East Division I title-game space. Kinnick has one game under its belt, having rallied from 33-6 down with 7 minutes, 34 seconds left to win 34-33 last Saturday at Kadena. Humphreys, meanwhile, takes the field for the first time this season.
"We're planning to expect anything," Kinnick coach Dan Joley said.
He coached several Humphreys players during the Tomodachi Bowl, the annual friendship game played last March in Tokyo.
"I know they'll (Blackhawks) be good; they have players who are quick, big and strong."
But Kinnick hasn't seen Humphreys play as a team, and vice versa, something that's of some concern to both Joley and Elliott. "We have no assessment tool" by which to judge the Red Devils, Elliott said.
So what do the teams do to overcome that disadvantage?
"We just have to focus on our game plan; that's all we can do," Elliott said. "We still have to practice and play our game. Definitely one game at a time. Focus, discipline and stick with what we do."
Whatever the Red Devils did a week ago at Kadena, "just do the same thing," Joley said of his charges. He called that comeback win a "pivotal point" in Kinnick's young season.
"To overcome those obstacles in our first game of the season, that solidified the trust the players have in each other. It gives them the confidence to deal with whatever is put in front of them," Joley said.
Other key football matchups have American School In Japan at Kadena and Yokota vs. Zama at Naval Air Facility Atsugi on Friday, and Matthew C. Perry visiting Daegu on Saturday.
Throughout the Pacific, in other sports besides football, it's a weekend of openers and firsts.
Okinawa's volleyball and tennis seasons get underway, with Kubasaki visiting Kadena, volleyball on Thursday and tennis on Friday.
Robert D. Edgren gets its tennis and volleyball seasons going at home, with the Eagles welcoming Nile C. Kinnick. Matthew C. Perry's cross country, tennis and volleyball teams travel to Sasebo Naval Base for a third straight weekend of matches against E.J. King.
Osan tennis begins its campaign Friday against Daegu at Humphreys and Saturday at Chadwick.
What could be a key Division II matchup on the volleyball courts takes place Friday, when Seoul American hosts Daegu – which observers say could have its best team since winning the D-II title in 2013. The host Falcons are playing at Division II for the first time.
The Independent Interscholastic Athletic Association of Guam could resume its cross country, volleyball and football schedules as early as this weekend, following the visit by Typhoon Mangkhut early this week.