Kingfish rule pool in championships
by
Matt Millham
February 20, 2007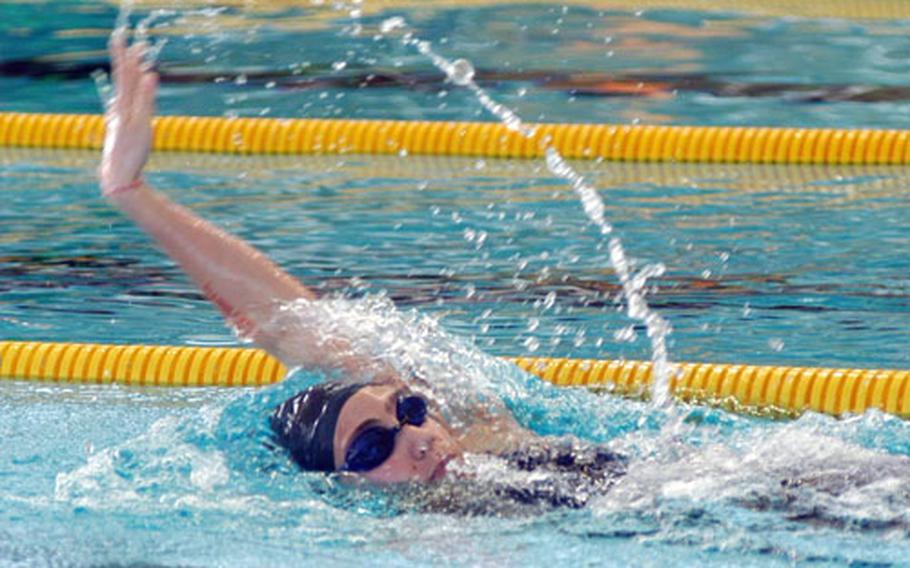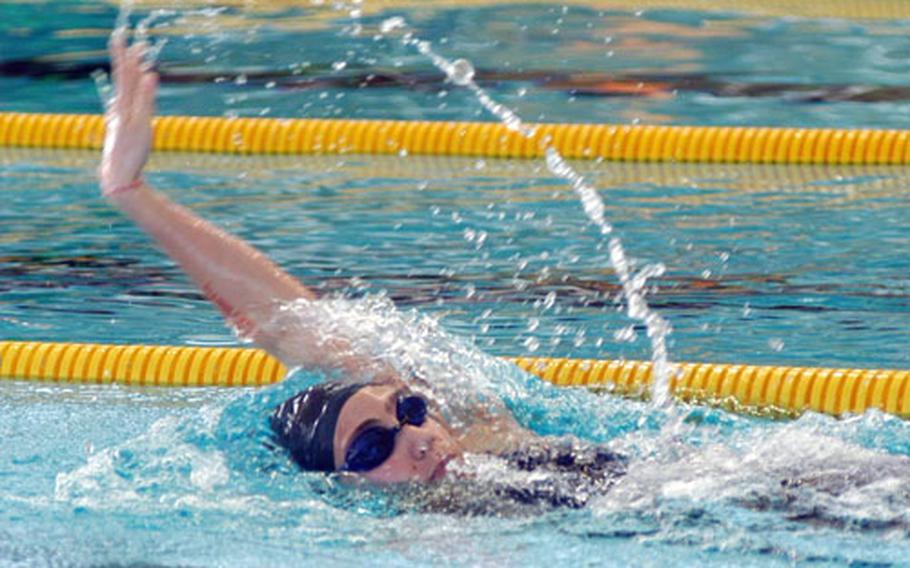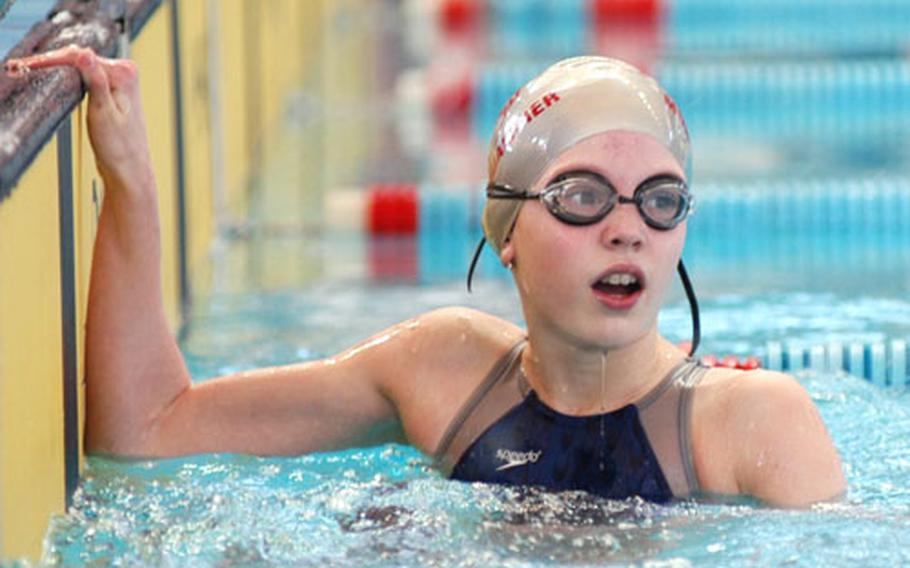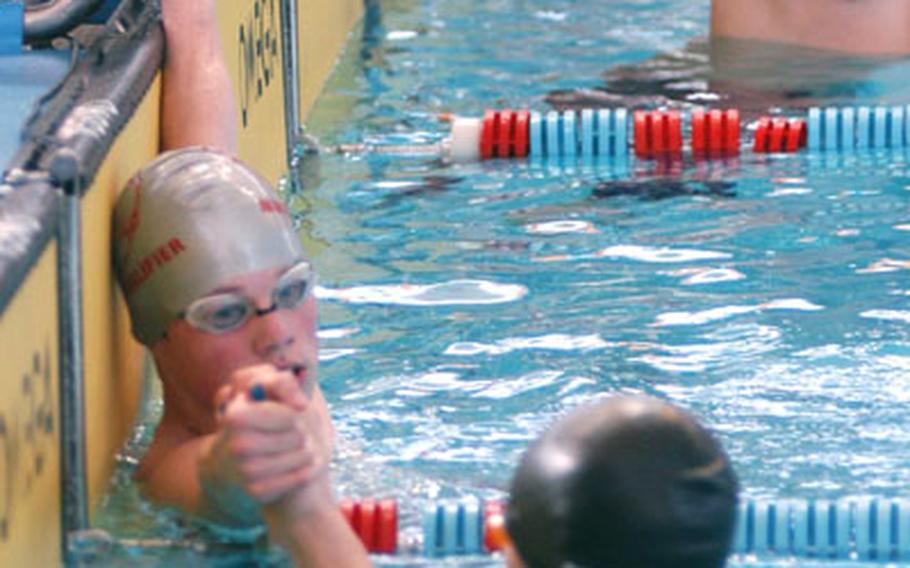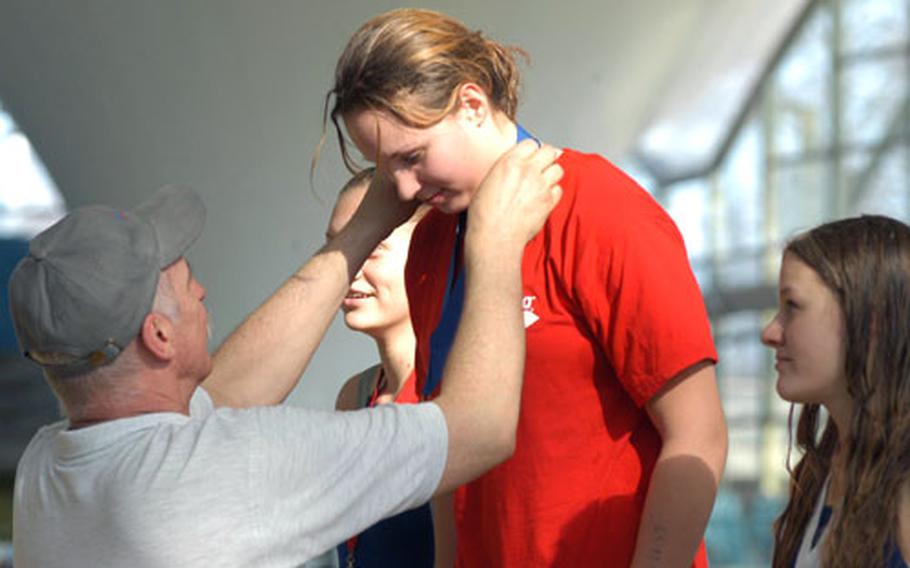 MUNICH, Germany — Kaiserslautern coach Robert Clinton went into the second day of the European Forces Swim League championships not knowing whether his team was in a position to win.
Standing by the pool before Sunday's events kicked off, Clinton admitted that not knowing was a conscious decision. If he didn't know, neither would his swimmers.
"I want them to concentrate on their races and getting a personal best, and if they do that, winning will take care of itself," he said.
The league's other 17 teams didn't just come to Munich's Olympic Schwimhalle to watch Kaiserslatern walk away with 81 medals and the title — but that's what happened.
The Kingfish grabbed 34 gold, 27 silver and 20 bronze medals in the two-day event. Their closest competitor, SHAPE's Seals, snatched 68 medals — 24 gold, 17 silver and 27 bronze.
Anchoring Kaiserslautern's success was senior Teri Plotkin, competing for the last time as a high school student.
She leaves the league with three records intact — two of which she broke on Saturday.
But Kaiserslautern wasn't without challengers. Heidelberg was an early rival for the championship with the Sea Lions' Lauren Drake dominating the girls' 15 to 16-year-old age group. And Patrick Cardillo, overlooked by the other teams as a threat, surprised nearly everyone with four gold medals and one silver.
"Lauren owns the pool," Heidelberg head coach Lisa Gurney said. "I tell the kids, 'You reap what you sow,' and she comes to practice every day and works her butt off."
Gurney said Drake's records — she owns seven — are unlikely to fall anytime soon because her times are just too fast for any of the league's current swimmers to catch. This year's winner of the girls' 13-14 400-meter was more than 53 seconds off the pace Drake set last February when she was 14.
Cardillo's dark horse performance, while less dominant, earned him the high-points trophy for boys ages 13-14. He wasn't seeded first in any event, and was seeded fifth in two of them — the 200-meter freestyle and the 50-meter freestyle. He won both races, setting a record in the 50 with a time of 27.07 seconds.
"I just wanted to get first," he said.
"All of the other coaches are coming to me and saying, 'Where did he come from?' " Gurney said. "He's very nonchalant about it."
What wasn't surprising were the performances given by SHAPE's 9-year-old Paul Hentschel; Lakenheath's 11-year-old Kilian Korth and 10-year-old Cody McWilliams; Kaiserslautern's 12-year-old Lily Thomas and Sigonella's 12-year-old Garrett McKeown, who won all five of their events and earned the high-points awards in their divisions.
---
---
---
---