DII boys final
King breaks long drought with championship
---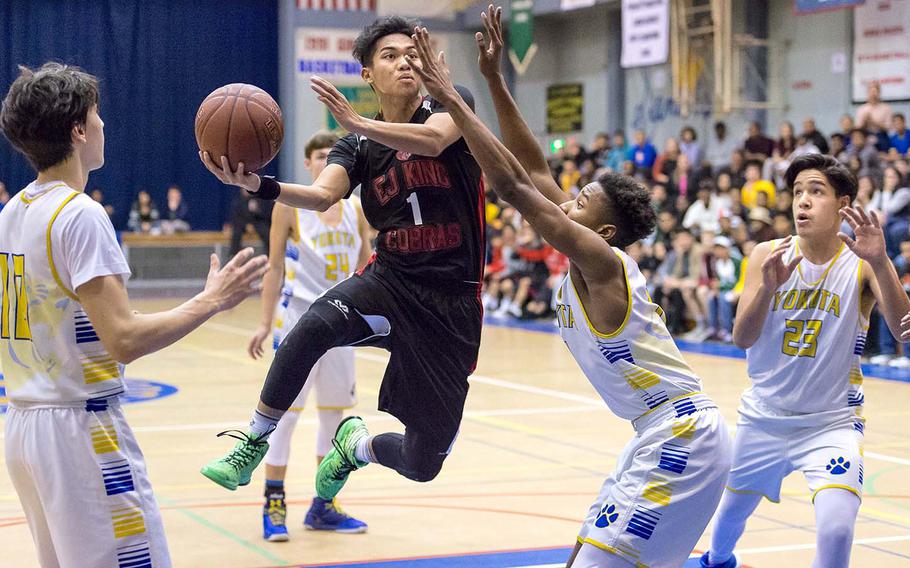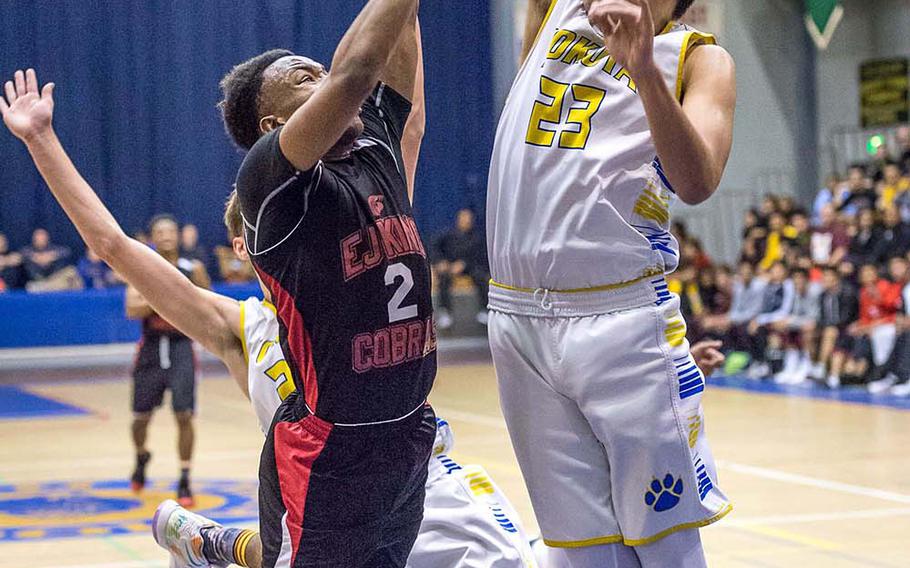 YOKOTA AIR BASE, Japan – Just call them the "one-point Cobras."
On a nerve-wracking day for E.J. King players, coaches and followers, the Cobras eked out one-point wins in the semifinals and final to end a 17-year Far East Boys Division II Tournament title drought.
"It got really dicey there," coach Laird Small said after his Cobras edged 2016 runner-up Humphreys 52-51 in the morning, then had to rally from seven points down to nip Yokota 67-66 in the final. MVP Devin Robinson's basket in the final minute proved to be the game-winner.
"Semifinal, we were down by five with a dollar and change (1:30) left on the clock," Small said, adding that in the final, "we dug a pretty good hole for ourselves. But the kids never gave up, they kept chipping away at it. They made it very interesting."
They also gave the school of 143 students at tiny Sasebo Naval Base in southwestern Japan the first D-II title since the 1999-2000 season in the Cobras' first D-II finals appearance since 2004.
The host Panthers, meanwhile, were shooting for their third straight title, all on their home court, and the school's 20th since becoming a D-II school in November 2014. Yokota had won the Kanto Plain and DODEA-Japan regular season and the Kanto Classic in going 34-3 on the season.
"All three losses by one point," coach Tim Pujol said of a Jan. 13 regular-season game at Sasebo to King, and the DODEA-Japan tournament final to Nile C. Kinnick. "We had a lot of feathers in our caps. It just wasn't meant to be at Far East this year."
King raced to a 19-9 first-quarter lead and increased it to 13 early in the second period before Yokota charged back, outscoring the Cobras 57-31 in the middle two periods.
"We had a nice lead at first, but Yokota's a good team," Small said. "You can never think you have it in the bag."
Turning it up defensively, and getting timely shooting, King clawed its way back, finally going ahead to stay on Robinson's basket following a trade of turnovers by each team.
Yokota senior center Hunter Cort fouled out with 30 seconds left with 26 points. The Panthers had one more chance, but Yokota's Marquis Smith-Brown missed a three-pointer at the buzzer.
"We were thinking, if we don't turn it over" we have a chance, Small said. "The crowd was energized, but we stuck with it. Devin is the guy you want with the ball in the end. Hunter, he's a great ballplayer."
"A really exciting, super high school basketball game," Pujol said. "It could have gone either way."
Robinson finished with 18 points and Cameron Rozzell 17 to lead four players in double figures for the Cobras, who finished 27-1 on the season, their only loss to Yokota on Jan. 14. Renyck Robertson tossed in 12 second-half points and Kishaun Kimble-Brooks 11 for Yokota.
---
---
---
---