Boys Cross Country Athlete of the Year
Kilkenny goes out as individual, team champ
by
Dave Ornauer
November 14, 2013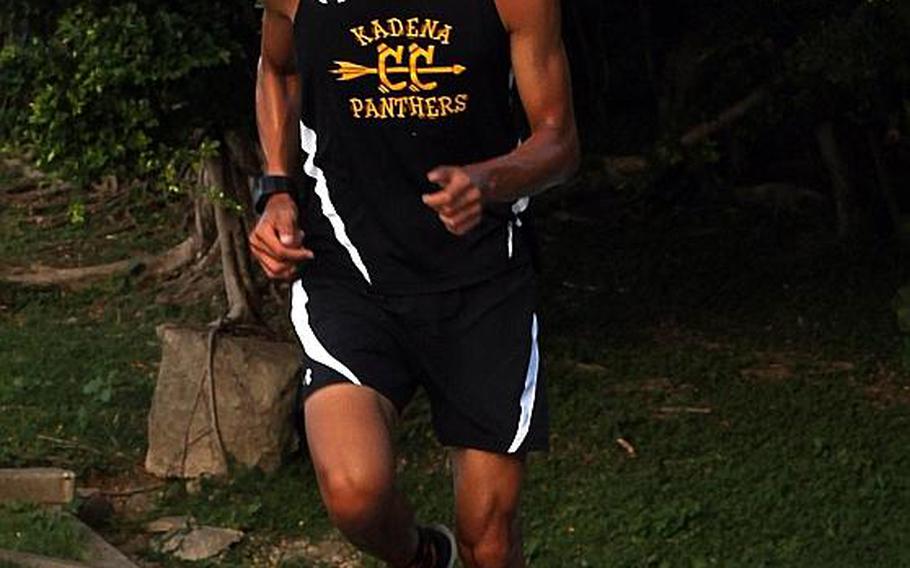 KADENA AIR BASE, Okinawa – Andrew Kilkenny wasn't favored to win at Far East a season ago.
That was the province of then-Kubasaki sophomore Erik Armes, the heavy favorite who came up short in his bid for a Far East High School Cross-Country Meet repeat. Kilkenny, his training partner and Kadena rival, passed him to win the championship at Camp Fuji, Japan.
All Kilkenny did for a follow-up this year was go unbeaten in seven regular-season meets, win the Okinawa title, post the fastest DODDS Pacific time this season, recapture the Far East title and help Kadena to unprecedented success as a team in the Far East meet.
And for all that, Kilkenny capped his season by being named Stars and Stripes Pacific high school boys cross-country Athlete of the Year.
Placing team chemistry above individual goals contributed much to Kadena's success, Kilkenny said, something preached by coach Tom McKinney, with the idea that if the runners put the team first, the individual goals will follow.
"Coming together as a team makes us who we are," Kilkenny said, adding that runners all aiming for a single goal push each other to get better, run faster and continually exceed personal-best times.
"It's a team sport brought together by individual effort; everyone's individual effort makes us a team," Kilkenny said. "Everyone working hard makes us who we are."
Always leading that pack was Kilkenny, who helped Kadena's boys go unbeaten in the regular season and recapture the championship in the All-Island meet on Oct. 23 at Jack's Place course on Kadena Air Base.
Kilkenny's time of 16 minutes, 8 seconds, run on Oct. 16 at Camp Foster's Kishaba Housing Area, was the fastest posted by a DODDS Pacific runner and second-fastest in the region overall behind John Aquino of John F. Kennedy on Guam (15:57).
Next came the island championship, where Kilkenny's 16:49 was 26 seconds faster than teammate Javier Michael and led a sweep of the top six places by Panthers runners.
Rain and soggy conditions greeted the runners come the dawn of Nov. 4 at Camp Fuji, where Kilkenny didn't approach those fast times, but did finish nearly 24 seconds ahead of DODDS Japan and Kanto champion Daniel Galvin of Yokota, 17:21.6 to 17:45.5, in the Far East individual race.
The next day at Whispering Pines Golf Course on Naval Air Facility Atsugi, Kadena's team did something no other had ever done – place its relay pairs 1-2-3-4 in the team relay portion of Far East.
"Our team chemistry got us there and we were able to push it out," Kilkenny said. "I could not have asked for a better ending for my season."
Stars and Stripes Pacific All-Far East boys cross-country team
Andrew Kilkenny, Kadena (Okinawa and Far East meet champion); Daniel Galvin, Yokota (DODDS Japan and Kanto Plain champion, Far East runner-up); John Aquino, John F. Kennedy (Guam and Asia-Pacific Invitational champion, fastest time in Pacific this season 15:57); George Dornbach, Henry Valentine-Ramsden, Seoul Foreign (1-2 in API and Korea finals); Ethan Russ, Nile C. Kinnick (Far East bronze medalist); Jarrell Hibler, Zama American (Far East Division II champion).