Home Team
Key football matchups have varied implications
by
Gregory Broome
October 19, 2017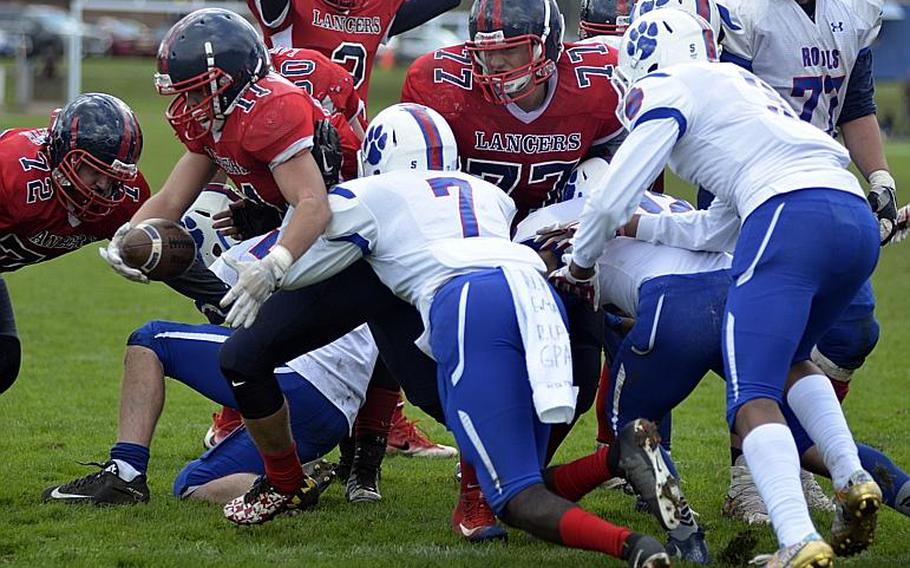 In DODEA-Europe, only football is capable of creating moments like this.
Every other team sport in DODEA-Europe holds a postseason championship tournament that includes every school in the organization. There are no playoff qualifying scenarios in volleyball, basketball, soccer, baseball or softball; teams maximize their tournament seed in the regular season, then go as far as they can in the postseason.
But football is a different animal. Only eight of DODEA-Europe's 16 football teams advance to the semifinals the weekend of Oct. 28. Entering the final weekend of the regular season, some of those spots have yet to be claimed. The teams involved in those games must either win or...suffer the consequences.
Win or go home: Kaiserslautern at Lakenheath
The purest of all playoff scenarios will play out Saturday in the United Kingdom. The winner of the game between the visiting Kaiserslautern Raiders and host Lakenheath Lancers will advance to the semifinals. The loser's season will end.
Neither team has enjoyed much success this fall. They'll enter the game with matching records of 1-4 overall and 1-3 in the division. Both Kaiserslautern and Lakenheath claimed their lone victories against winless Vilseck. Though one will join them in the playoffs, the Raiders and Lancers are clearly a tier below the triumvirate of Stuttgart, Wiesbaden and Ramstein; both have absorbed multiple-touchdown losses to all three this fall.
Saturday's survivor faces a foreboding road ahead. The winner will travel to first-place Stuttgart, which enters its own finale against Vilseck undefeated, for what on paper is a serious semifinal mismatch.
However long the odds of an upset in that semifinal, the Raiders and Lancers want nothing more than to earn the opportunity.
"We have definitely had our ups and downs this season but I feel we are peaking at the right time," Lakenheath coach Gabe Feletar said. "It would obviously be great to end the regular season on a high note with a win."
Win or try again: Wiesbaden at Ramstein
The latest entry in DODEA-Europe's premier gridiron rivalry exists in a weird limbo between moot and meaningful.
The Saturday regular-season finale is moot in the sense that both teams come into it with their playoff berths mathematically secured. They even know who they'll be playing in the semifinal the following weekend: each other. But it's meaningful in the sense that the winner of Saturday's game will host the rematch.
That unusual set of circumstances has crafted a strange brew of motivations for this weekend's matchup, which is also a rematch of last year's 13-8 Ramstein win in the Division I European championship game.
"You never go into a game planning to lose," Wiesbaden coach Steve Jewell said. "But ultimately we both understand the most important game is game number two."
It's even reasonable to question just how appetizing this weekend's carrot - a home-field semifinal game - really is.
"Home-field advantage is important but it is not absolute," Jewell said. "I believe both teams are capable of beating each other no matter the field."
Eventually, these mental gymnastics should give way to straightforward football.
"I don't think there is an easy answer for this," Jewell said. "Except that I am sure both teams will be trying to win both games."
Win or regroup: SHAPE at Rota
The Admirals don't seem to belong here.
They are the defending Division II European champions. Their only regional loss was nearly a month ago, to undefeated Spangdahlem. Their Saturday opponent, SHAPE, won its first game of the season last weekend against a winless opponent.
But this is the situation Rota is in. If International School of Brussels beats AFNORTH/Brussels on Friday and SHAPE beats the Admirals on Saturday, the division's second playoff spot would come down to a complex three-way tiebreaker between ISB, SHAPE and Rota. If ISB loses and SHAPE wins, SHAPE would win a head-to-head tiebreaker and the Admirals would miss the playoffs. Rota can preclude all of this math by beating SHAPE and clinching the second seed outright.
The Admirals have spent the past few seasons rising from the winless depths of the Division II cellar to its championship pinnacle, momentum that is now threatening to stall. The 2017 Admirals are a "young and inexperienced" group, head coach Ken Walter said, and an ill-timed string of injuries to key players has only compounded those issues.
But Walter is taking a broader view, keeping the program's former struggles and recent successes in perspective.
"In just two years they became used to winning," Walter said. "It would be disappointing to miss the playoffs, but we are here to build young men and win what games we can."
To be clear, Walter includes the SHAPE game among that category.
"We expect to make the playoffs and to be competitive in the next game as well," Walter said.
Win or go far from home: Naples at Aviano
There are two starkly different outcomes available to the Naples Wildcats and Aviano Saints in their regular-season finale Saturday.
The winner will become the champion of the South region, will be at home for its semifinal game the following weekend and will enjoy a favorable draw against the North's second seed, which will travel to Italy via an exhausting long-haul journey.
The loser will settle for second place in the South, will suffer a very unfavorable draw against the powerhouse Spangdahlem Sentinels and will face that juggernaut after enduring its own marathon trip over the Alps.
Naples knows full well the effect that kind of travel can have on a team. The Wildcats spent 42 hours on the road to reach Rota for a 2016 semifinal, which they lost 38-20. While a regional title would be great, Naples coach Jim Davis said that's just a "bonus" compared to the real prize - avoiding that schlep across the continent.
"You can never underestimate sleeping in your own bed versus a gym floor," Davis said.
Twitter: @broomestripes