Far East Soccer - Day 4
Keepers shine as Osan, YIS-Seoul win titles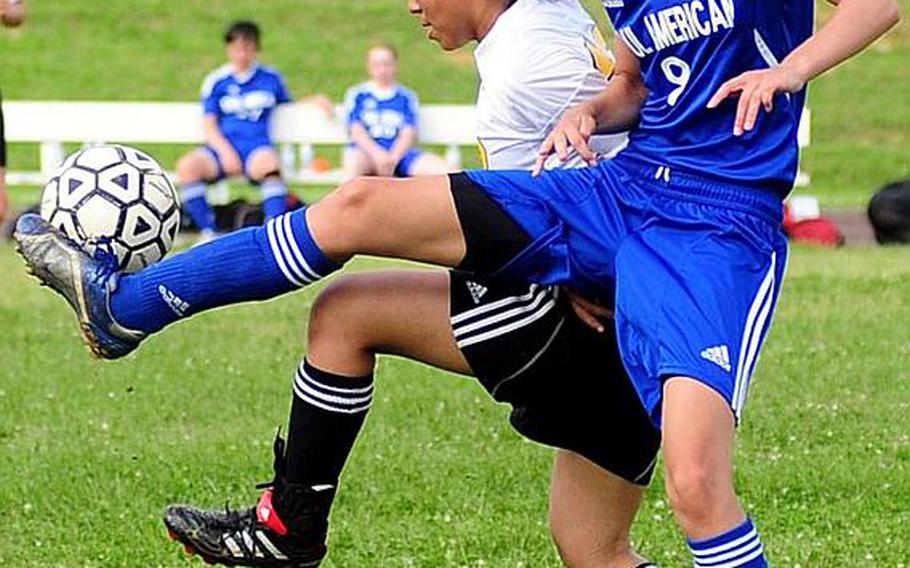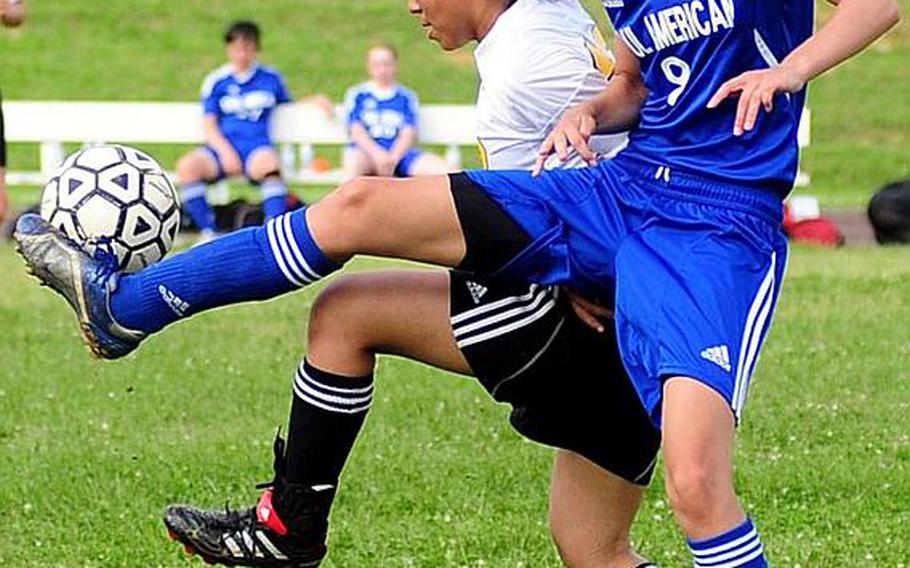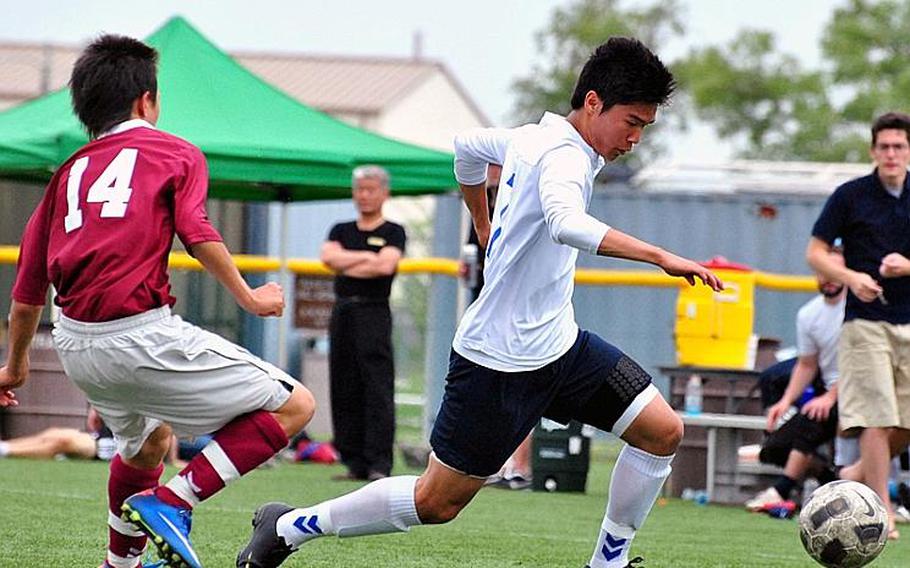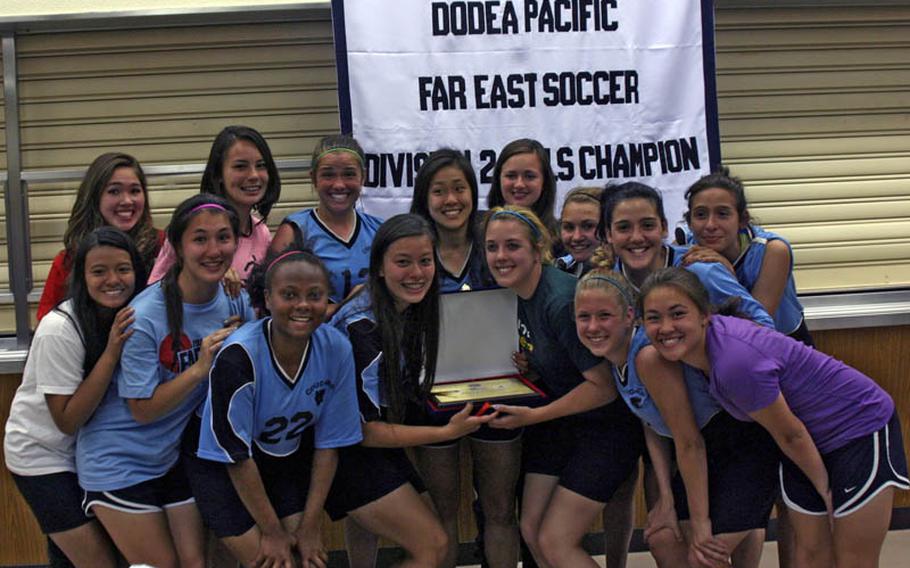 Goalkeepers Deanne Polaski, Shu Ikeda and last-second substitute Mitchell Lee enjoyed a field day Thursday, and their teams benefited greatly as a result.
One member apiece of the trio paced Osan American's girls to a Far East Division II Soccer Tournament title three-peat, Yongsan International-Seoul's boys to their third D-II title in four years and Seoul American's boys to its first D-I final berth.
Meanwhile, two defending Far East champions were dethroned: Matthew C. Perry's boys in Division II and Seoul American's girls in Division I.
Polaski two years ago backstopped Zama American's girls to their first D-I crown in a penalty-kick shootout against Kubasaki. On Thursday, she did the same to Perry, giving the Cougars their third straight title. Transferring to Osan from Zama after her sophomore year, she's helped the Cougars to consecutive titles and became the first goalkeeper in Far East history to win title games decided by penalty kicks in two divisions for two different teams.
Osan came out of the knockout bracket for the second time in three years and edged Perry, 2-1, in a penalty-kick shootout. The Cougars forced the deciding match by beating Perry 2-0 in regulation earlier Thursday.
"They just like to put me in that situation," Polaski said jokingly. "I'm proud of everyone. They all came through. I'm very excited."
With its offense limited due to a passel of injuries, the Cougars built their success around Polaski, tournament MVP Alina Hauter, Lydia Kim and defense. After a pedestrian 8-6-3 regular season the Cougars went 8-1-2 in the D-II Tournament at Perry.
"The injuries hurt us, but the rest of the team stood up," assistant coach George Gluzinski said. "And some of our rookie players came through with goals that were sorely needed. Defense has been the foundation of the team. And Deanne was a solid rock. She stopped everything that came through."
Polaski was named Best Goalkeeper, as was Ikeda, who backstopped YIS-Seoul (17-2-3) to its fifth overall D-II Tournament title, beating Perry 4-0 in the championship match at Camp Humphreys, South Korea.
The win was especially sweet, coach Brian Bennett said, for the seniors who didn't travel to D-II last season. "It's very special for them," he said, adding that the Guardians could be back in the hunt again next year. "We have good balance heading into next season. We're looking forward to it."
In the Boys D-I semifinals at Kubasaki, Seoul American (12-7-5) led pre-tournament favorite Christian Academy Japan 3-2 in the closing seconds when Falcons goalkeeper Kenneth Botts was cautioned for a reckless foul and a penalty kick awarded to the Knights.
Forced to leave the field, he gave his jersey over to Lee, an All-Far East goalkeeper in 2009 who played upfield this season. Facing sure-shooting Ryo Fuseya (nine goals), Lee leaped high to deflect the kick over the crossbar.
"He still has it," coach Steve Boyd said.
Seoul American is to face host Kubasaki, which beat Nile C. Kinnick, 6-0, in the other semifinal, in Friday's boys championship at Kubasaki's Mike Petty Stadium, following the girls title match in which Kubasaki meets American School In Japan.
It's the first time the two finals are played in the same location on the same day, and the first time Okinawa teams reached the boys and girls final since Kubasaki's boys won and the girls lost in 2008.
Senior Birke Duerloo, who helped ASIJ (9-1) to the 2008 championship, scored Thursday's lone goal and the Mustangs defense made it stand up as ASIJ toppled defending champion Seoul American, 1-0
"It's a great feeling," Mustangs coach Carlos Aranda said. "The ladies deserve it. They worked really hard."
The Mustangs also ended an unprecedented streak of four consecutive D-I Tournament titles won by Seoul American in three sports dating back to the 2010 basketball tournament.
ASIJ booked a championship date with Kubasaki, making its fourth finals appearance in five years. The Dragons blanked Nile C. Kinnick, 3-0, in the other semifinal.
Daegu American student-journalist Erika Brun, Osan American student-journalist Taylor Mynderup, Matthew C. Perry student-journalists J.C. Chambers, Danielle Rosales and Nick Krenek, Kadena student-journalists Stephanie Mobley, Zabrina Comia and Avery Lennard and Kubasaki student-journalists Sonora Willeford, Cody DeVries, Angelina Furusho, Tammi Ragan, Miasha Nakahara, Tiajha Nakahara, Allani Alvarado, Devonte Smith, Dominique Lopez, Monea Goodman, Grant Loftesnes, Haleigh Hussey and Jaysyn Brown contributed to this report.