Wrestling athlete of year
Kawashima inspired St. Mary's to record-setting season
---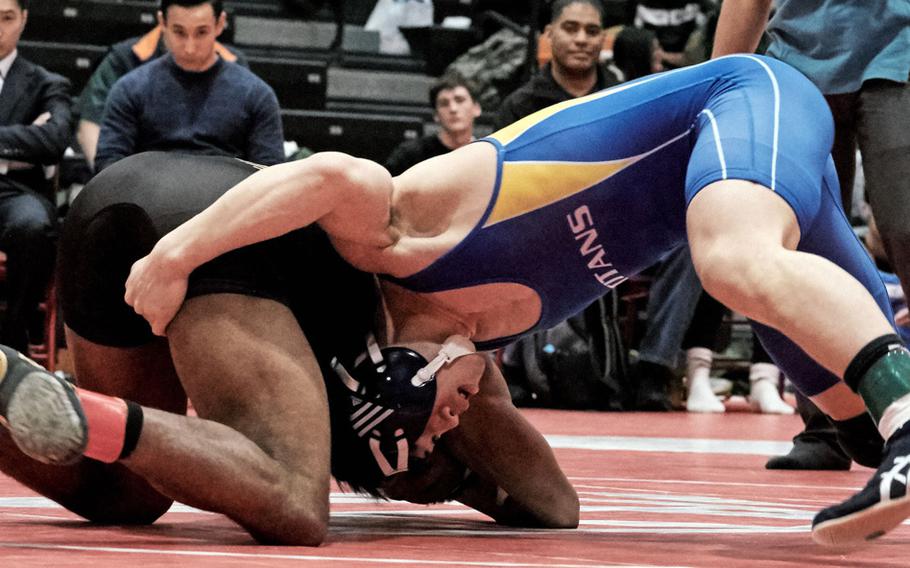 Kazuho Kawashima says he didn't feel pressure from trying to keep his record unblemished and continue to chase individual honors in his final season as a St. Mary's wrestler.
The pressure, the senior 148-pounder said, came from responsibilities as team captain, one of two seniors on the team whom the rest of their Titans teammates looked up to as the example on the mat.
"I was the captain, I needed to win, I felt the pressure of that rather than the winning streak," said Kawashima on Thursday, just over two weeks after St. Mary's completed the most successful season in school history and he earned Far East Tournament Outstanding Wrestler honors.
"I also knew the team was counting on the two seniors to win," Kawashima said of him and 135-pounder Ryan Vasconcellos, also a multiple-time Far East champion. "That was the pressure, I guess."
Putting the finishing touches on a 34-0 record the last two seasons and being that example on the map was one of the reasons why the Titans enjoyed the success they did. A good season in 2014-15 was followed this season by honors no St. Mary's team ever garnered before.
The Titans won five major titles, the "Beast of the East" tournament, the Kanto Plain regular-season and tournament titles, plus a school-first sweep of the Far East Division I individual freestyle and dual-meet tournament crowns.
Kawashima crowned that by capturing his second straight Far East title plus Outstanding Wrestler honors. For that, he has been named Stars and Stripes' Pacific high school wrestling Athlete of the Year.
"He leads by example," said Titans coach Shu Yabui, himself a former three-time Far East champion in the 2000s.
"If he tells the other guys to work hard, he works harder than anybody. He's very concerned, serious and worried about his team on and off the mat. He wants to be critical (of himself), he wants to get better, he often seeks me for advice; that's good leadership and attitude."
Kawashima is as solid in the classroom as he is on the mat, Yabui said, involved in many different activities in and out of school. "He's a very busy person, yet he finds time to train solidly and still work hard and support the team. That's what makes him a good leader."
He also wrestled in what Yabui termed the toughest weight class this season, featuring Far East runner-up Hunter Lane of Daegu and former Far East 141-pound champion Jason Bland of Kadena, whom Kawashima beat twice this season.
Kawashima fended off that opposition with a variety of moves such as a double leg, that were "powerful and hard to stop," Yabui said, "and he has a good counter fireman's carry. On the ground, he has a quick, nasty leg lace. Everybody knows it's coming, but it's hard to get out of."
It took time, Kawashima said, for the Titans' success to sink in. "It didn't really hit me until after the season that we'd won everything," he said. After beating Nile C. Kinnick for the dual-meet title, "I was overwhelmed and emotional. All the hard work the team put in, especially the seniors. I was really happy about that."
Twitter: @ornauer_stripes
---
---
---
---