Kaiserslautern's Antonik takes 9-shot lead in DODDS-Europe golf tourney
by
Rusty Bryan
October 13, 2006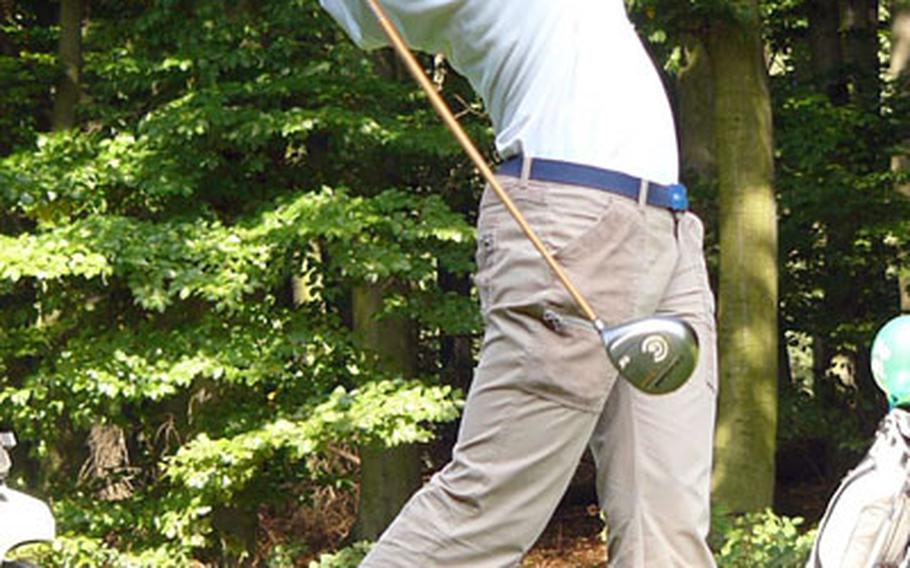 WIESBADEN-FRAUENSTEIN, Germany — The German word "blick" translates as "glimpse," but after Thursday's first round of the DODDS-Europe high school golf championships, most of the competitors here might think "blick," when used in the phrase Rheinblick Golf Course, means "trouble."
Of the 31 boys Thursday who took on Rheinblick, just three — Ben Antonik of Kaiserslautern, Josiah Almosara of Lakenheath and Hank Mol of Ramstein — were able to break 100 on the challenging 6,239-yard, par-72 hilltop layout, generally recognized as Germany's toughest.
And Almosara and Mol didn't escape triple digits by all that much. Almosara shot a 93 and Mol a 98.
Even Antonik, whose 43-41-84 gave him a nine-stroke lead going into Friday's final round, found the going difficult. He posted triple-bogeys on Nos. 2 and 5.
"I got mixed up in the fog the first few holes," Antonik said of the morning mist, which pushed opening tee times back 30 minutes and didn't burn off until late in the morning. "But I came back OK."
The comeback included three birdies, despite playing on a handful of greens that had been aerated for the winter. Still, Antonik said, the course was in the best shape he had experienced in his three title tournaments here.
"Except for three or four greens, the course played perfectly," Antonik said. "The last three years, they aerated most of the greens."
Antonik credited his short game and driver for his first-round lead and said he was looking forward to defending it during the final round.
"I love stroke play," Antonik said of the scoring system used by DODDS in only this event. "You have to play well the whole round."
Ordinarily, the high schools use the more forgiving Stableford scoring, which the girls employed on Day 1.
Ramstein's Allysen Vance grabbed the girls' lead by amassing 21 points, four of them earned with a birdie on No. 11. Second was Kayla Esmond of Lakenheath with 12 points.
All but the top nine boys will join the girls in using Stableford scoring for the final round.
For his part, Antonik will be trying to avoid a repeat of last year's nightmare on the 16th hole on the final day — an 11 that landed him in fourth place.
"I graduate this year," he said. "I've gotta make a run for it."
European golf championships
WIESBADEN-FRAUENSTEIN, Germany — First-day results Thursday from the DODDS-Europe high school golf championships on Rheinblick Golf Course. Boys layout, stroke-play only, was par 36-36-72, 6,239 yards. Girls, who used Stableford scoring awarding 1 point for double-bogey, 2 for bogey, 3 for par, 4 for birdie and six for eagle or ace, played a par 36-36-72, 5,631-yard course. Top nine boys advance to today's championship flight and continue stroke play. Others revert to Stableford scoring:
Boys
Ben Antonik (Kaiserslautern) 43-41 — 84
Josiah Almosara (Lakenheath) 50-43 — 93
Hank Mol (Ramstein) 55-43 — 98
Marshall Webb (Lake) 48-52 — 100
Johnny Russell (Heidelberg) 50-51 — 101
Andrew Tribble (Patch) 51-50 — 101
Kyle Tyree (Ram) 47-54 — 101
Michael Haas (Ram) 46-56 — 102
Craig Herron (Ram) 51-51 — 102
Alex Athney (Patch) 51-52 — 103
Gavon Byrd (Ram) 52-51 — 103
Stewart Dines (Ram) 49-54 — 103
Nikolas Ripperda (Rota) 51-52 — 103
Alex Crist (Rota) 54-51 — 105
Ben Myer (Ram) 55-49 — 104
Adrian Conrad (Ram) 56-49 — 105
Jake Niemyer (Ram) 49-56 — 105
Kai Pope (Ram) 54-52 — 106
Matt Wiederholt (Ram) 52-55 — 107
Nick Delgado (Rota) 53-55 — 108
Eric Hernandez (Lake) 50-59 — 109
Zach Carroll (Lake) 56-55 — 111
Stephan Braden (Ram) 62-52 — 114
Eric Mosley (Ram) 61-56 — 117
Mike Davidson (Ram) 57-63 — 120
Kyle Bookout (Kais) 57-64 — 121
Chris Halbritter (Ram) 66-62 — 128
Tyler Woodrow (Lake) 56-74 — 130
Michael Semon (Ram) 72-60 — 132
Noah Fortunato (Ram) 77-74 — 151
Tyson Campbell (Lake) 76-77 — 153
Girls
Allysen Vance (Ram) 11-10 — 21
Kayla Esmond (Lake) 5-7 — 12
Brittany Morris (Patch) 3-8 — 11
Barbara Burriss (Kais) 5-4 —9
Molly Henage (Lake) 2-7 —9
Connie Kwan (Heid) 4-4 —8
Becca Groff (Kais) 4-2 —6
Marissa Engelbaum (Ram) 4-1 —5
Sarah Fowler (Heid) 1-4 —5
Courtney Baer (Vilseck) 1-2 —3
Lara Habel (Patch) 1-2 —3
Stevi Hood (Vil) 2-1 —3
Mercedes Prand (Lajes) 1-0 —1