Kaiserslautern opens with two sweeps
by
David Hodge
March 26, 2011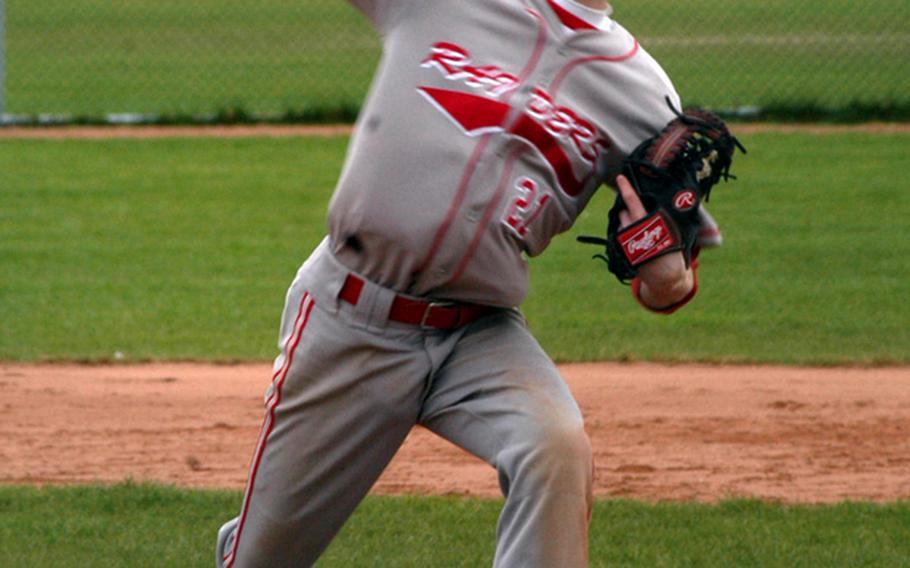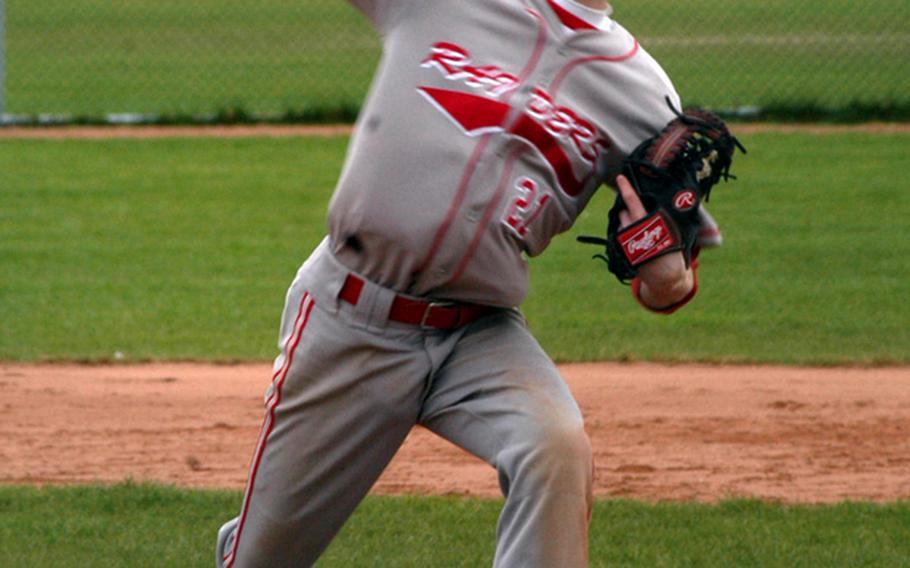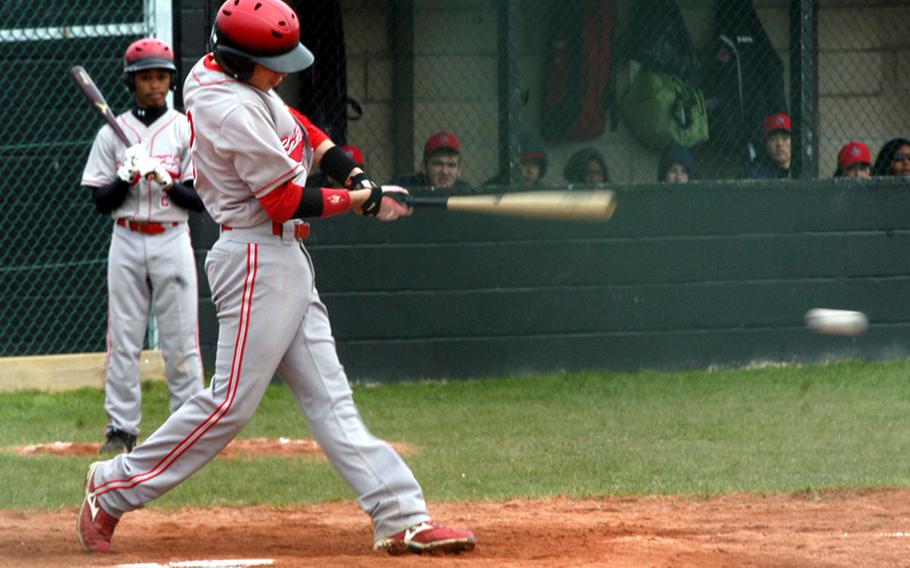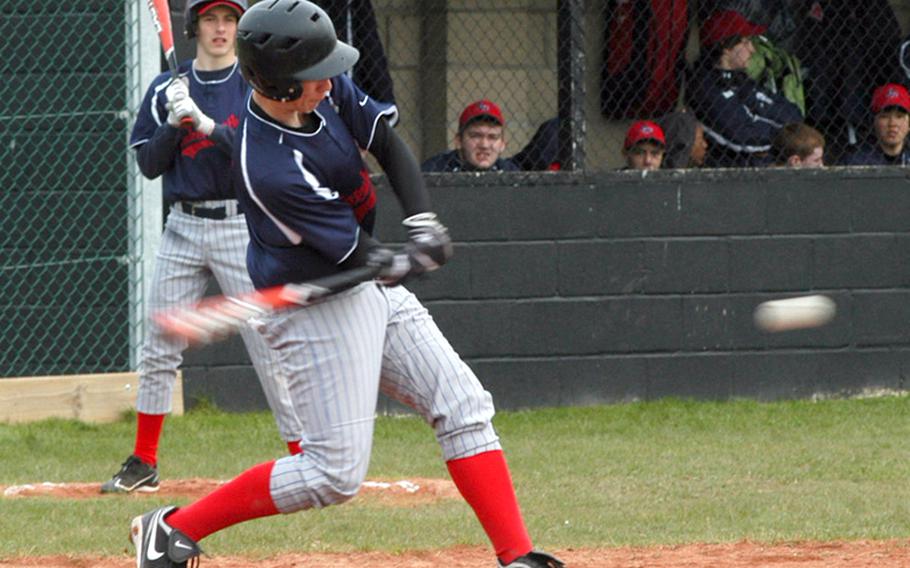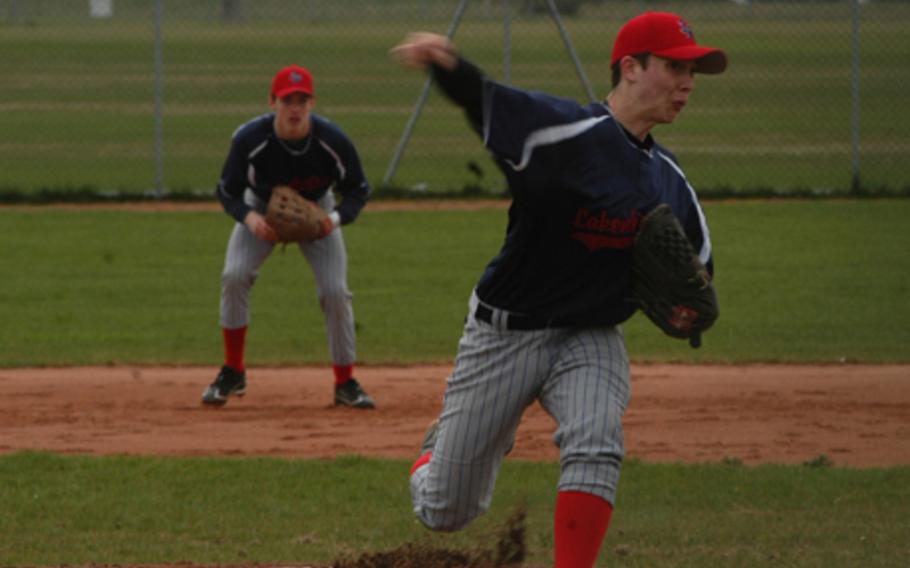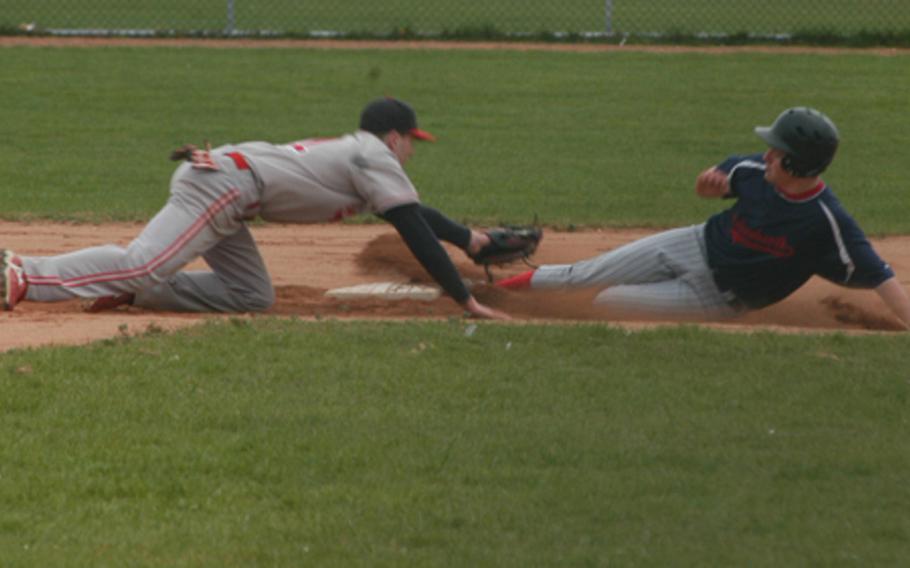 RAF MILDENHALL, England — Kaiserslautern opened the 2011 DODDS-Europe baseball season with a pair of doubleheaders and came away 4-0.
The Red Raiders swept Lakenheath, 8-1 and 5-1, on Saturday to finish off the perfect trip, which started with two wins Friday over the Alconbury Dragons, who are playing baseball for the first time this season.
Kaiserslautern coach Tom Burriss said his team is using the opening games to work on basic skills like base running, throwing, pitching and hitting.
"We're a young team with only two seniors," he said, adding later, "The kids are learning the game."
Several pitchers took advantage of the lopsided wins against Alconbury, 24-0 and 12-3, to get in some time on the mound. Caleb Hayes and Chris Jastrab recorded wins and relievers Aaren Blossom and Kenen Bryant also saw some action.
Against Lakenheath, it was more of the same with Blossom and Jastrab recording wins. Blossom threw a one-hitter in the first Lakenheath game by tossing about 50 pitches, said Burriss, who has coached at K-town since 2003.
"We've done OK," Burriss said. "We've been lucky with results. We've got a good bunch of boys with great attitudes."
Lakenheath coach John Gilmore is also focused on building a baseball program. After 14 years of coaching the school's softball team, Gilmore said the change in scenery is a good move and he's looking forward to the season.
"Our outlook is to build as the season progresses," he said. "We're working to be ready for the Europeans, and we need the experience."
On a cold and very windy Saturday, the Lancers were no match for the Red Raiders. There were several throwing and fielding errors, which Gilmore said were not unexpected because many of his players are young and have no prior experience. There are five seniors on the squad, but Gilmore said only one or two of them have any experience. He started four freshmen in the first game.
"It's all part of building this program," he said.
Caleb Maftei and Justin Henderson were the losing pitchers for Lakenheath.
Kaiserslautern 24-12, Alconbury 0-3: Friday at Alconbury, Justin Thibodeau collected the first hit and scored the first run in Alconbury baseball history, but aside from his milestones the Dragons will cherish few memories of their first baseball outing in school history.
Alconbury, which enrolls around 140 high-school students, is participating in DODDS-Europe baseball for the first time this season. For their inaugural opener, the schedule had the Dragons playing Kaiserslautern, enrollment 650 or so, and the Red Raiders rode their enrollment size and experience to the lopsided victories.
All-Europeans Aaren Blossom and Ian Acosta led the way for Kaiserslautern.
Acosta doubled twice in Game 1 and went a combined 5-for-7 on the day. Blossom was 2-for-3 in the nightcap.
Next up for Alconbury is a trip to Bitburg on Saturday. K-town moved on to a Saturday doubleheader at Lakenheath. The Red Raiders are to play again this Saturday at Ramstein.
---
---
---
---