Kaiserslautern falls to Russia in Junior Softball semifinals
---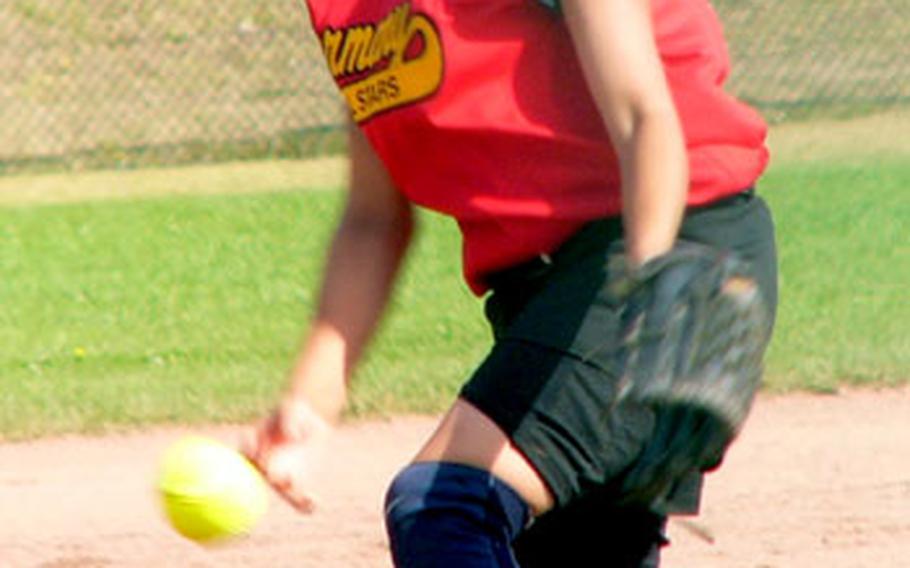 RAMSTEIN AIR BASE, Germany — Some 24 hours after a victory over Poland lifted the Kaiserslautern Military Community All-Stars' hopes of winning Little League Baseball's Europe, Middle East and Africa Junior League Softball Regional tournament, they came crashing down as Russia buried the Americans 24-2 in Saturday's semifinals.
"We had played them before," said Autumn Diaz, a freshman at Bitburg High School who started for KMC's 13-14-year-olds on Saturday. "We were even with them for four innings before they won (16-6 on Tuesday). We thought we could beat them this time."
KMC's defense made that goal a pretty tall order from the outset.
The KMC All-Stars handed the unbeaten Russians a run in their first at-bat when they threw the ball down the right field line on leadoff hitter Vera Levich's weak grounder.
Levich circled the bases to make it 1-0.
KMC answered in its half. Paige Bossart drew a one-out walk, advanced to second on a balk and to third on a passed ball. She scored when Russian starter Alexandra Ilyukhina balked again.
Irina Ilyashenko came on to relieve her confused teammate and struck out the next two KMC batters. She retired the side in order in the second, gave up a two-out single to Lauren Hawkins in the third and a two-out walk in the fourth to Diaz. Polina Ilyukhina finished up, giving up a one-out single to Kayla Pahls, who homered in Friday's 10-0 victory over Poland. KMC scored when catcher Crystal Pletzer, who forced Pahls at second, rounded the bases on an errant pickoff try down the right-field line by Russian catcher Levich.
By that time Russia had put together a three-run second, a 13-run third and a seven-run fourth.
All three runs in the second scored without a hit as the Russians exploited three KMC errors. The roof fell in in the third. Seventeen Russians came to the plate, collecting seven hits, six walks and benefiting from three more KMC errors. They came up 11 times in their seven-run fourth, stroking eight more hits — six of them bunt singles.
Diaz pitched the first two innings and to the first nine batters in the third. Kelsey Freeman and Pahls, who combined to shut our Poland on Friday, followed Diaz, and Jordan Shepard closed out with two innings of work.
"This was a good experience," Diaz said. "You get a chance to meet people from all over the world. I had fun."
Russia will face the Netherlands, 9-7 victor over Italy in Saturday's other semifinal, in Sunday's 10 a.m. championship game at Ramstein High School. The winner advances to the Junior League Softball World Series Aug. 10-16 in Kirkland, Wash.
---
---
---
---