Kaiserslautern-Erfenbach: Indoor track offers the exhilaration of racing
by
Joshua L. DeMotts and Marcus Klöckner
August 23, 2011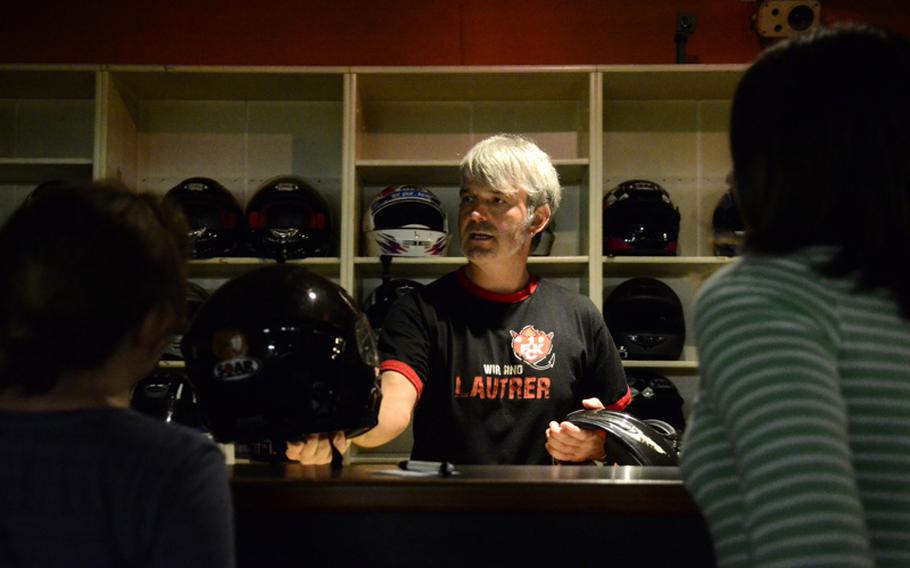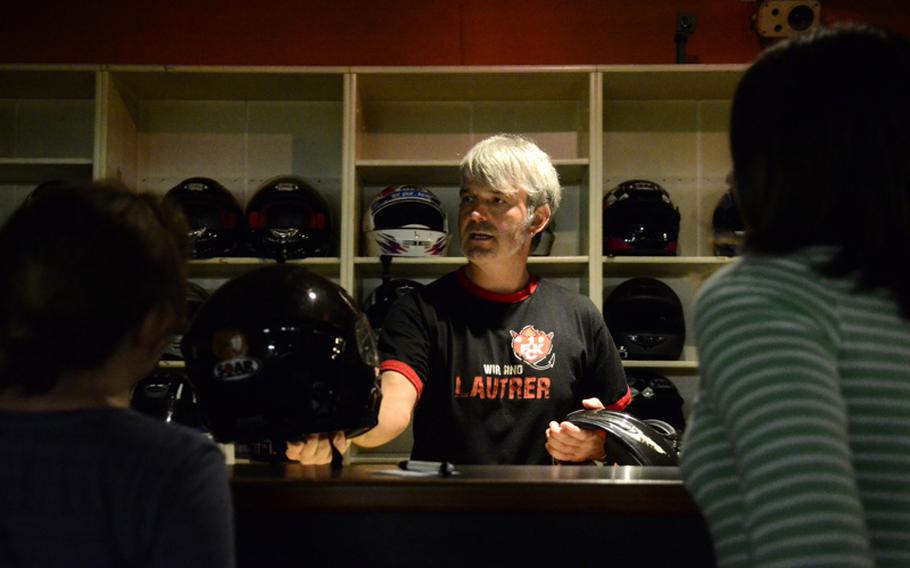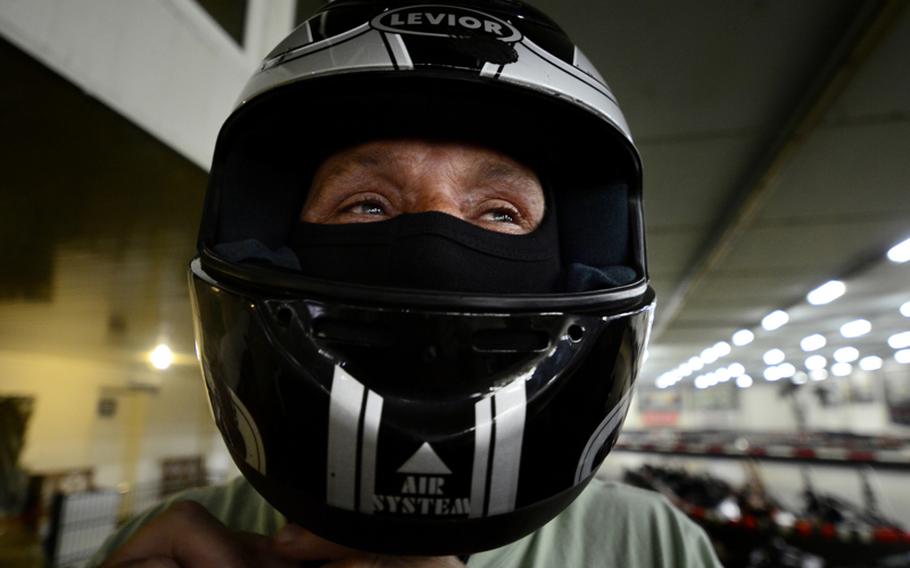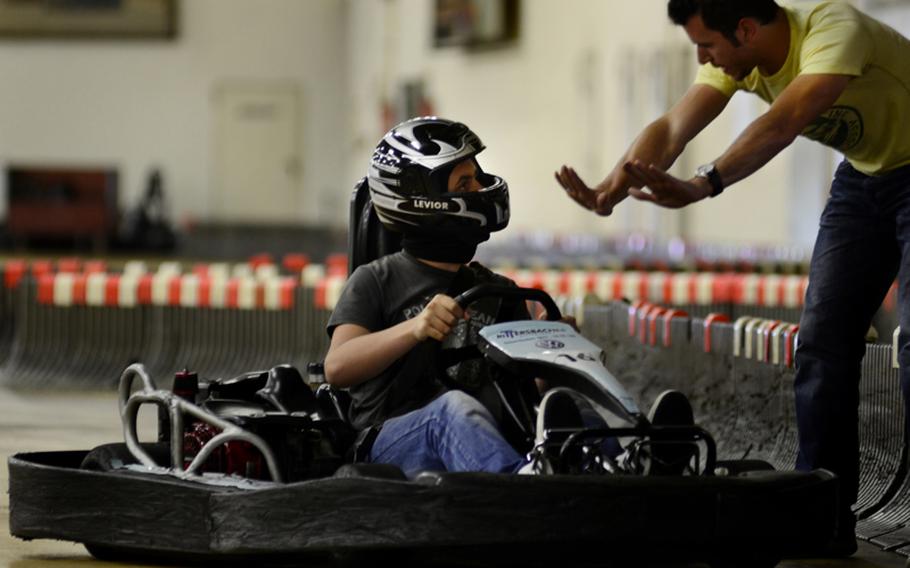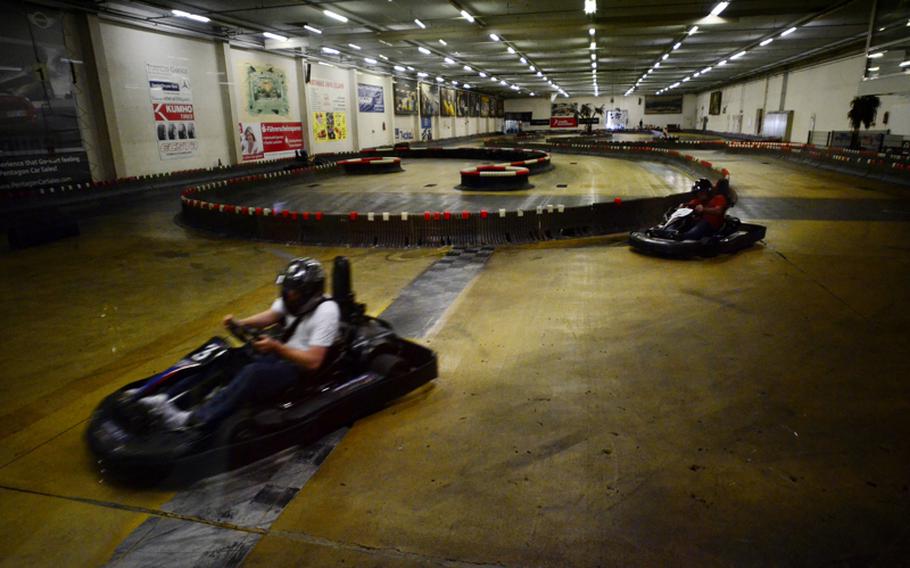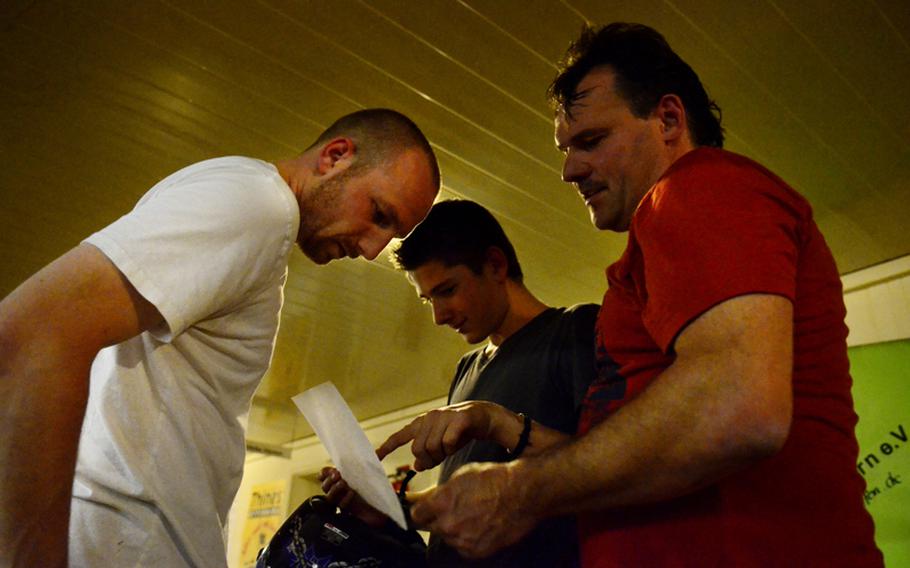 In the land of super-fast highways and super-fast cars, it only makes sense that Germany's kart tracks would also be fast.
At Go! Indoor-Kart track in Kaiserslautern-Erfenbach, as many as 10 6.5-horsepower karts reach speeds of 40 miles per hour on an 800-meter track punctuated by tight turns.
Andreas Amoroso, a track employee, said drivers feel as though they are floating around the track because they're sitting inches from the floor.
Located in a former factory, the track uses the same concrete floor the factory used. The fluorescent-lit walls are filled with large car-racing posters and murals. The smell of burning rubber and gasoline trigger thoughts of Florida's famed Daytona Speedway, but without the noise.
And what goes for race-car drivers also seems to go for kart drivers: They have to gain an understanding of the track, learning the curves as well as the karts, Amoroso said.
"You need to learn how to speed, brake and steer the right way," he said. "But no one needs to be afraid."
Co-owner Gerald Conrad and his staff speak English and are more than accommodating, providing instructions so everybody can enjoy the karts.
Safety is also an issue at the kart track. Drivers must wear helmets — one provided by the track, or they can bring their own. Drivers also must purchase a hygienic ski-mask-like hood.
Kid karts and fun karts that operate at slower speeds are available as well. Children ages 7 and older are allowed to drive, while children ages 3 to 6 can ride as passengers.
Reno Buchmann, from Pirmasens, is a repeat customer. On a recent day he slid around the snaking track with just the right amount of finesse and aggressiveness to post the fastest laps of the day at just under 50 seconds.
"The driving as such is not difficult," Amoroso said as he watched the track from a control booth in the center. "But to do the rounds in a decent time is the challenge."
The track holds championships every third Monday of the month. Participants can choose to race against the clock or other racers for a traveling trophy and medals. A qualifying time of 49.99 seconds is required to participate, and the races have anywhere from five to 20 participants.
Friday and Saturday nights can get fairly crowded, but the crowds can be avoided on the weekdays.
Sliding around the track is fun, especially after a day of work, Conrad said.
Anyone looking for a good time with friends and family, or has "the need for speed," will not be disappointed.
On the QTDirectionsGo! Indoor-Kart is about 10 minutes from downtown Kaiserslautern. From the A6 take the Opel exit — Kaiserslautern-West — toward Lauterecken/Weilerbach and continue north on B270. Turn right toward KL-Erfenbach, a quick left onto Siegelbacher Strasse, and drive straight through town until you see signs for the indoor kart track. The track is located next to the yarn factory Spinnerei Lampertsmühle.
TimesGo! Indoor-Kart is open daily: 4-11 p.m. Monday-Thursday; 4 p.m.-1 a.m. Friday; 1 p.m.-1 a.m. Saturday; 11 a.m. - 11 p.m. Sunday and legal holidays.
CostsChildren (7-13), can drive 10 minutes for around 10 euros, and adults (14 and older) can drive 10 minutes for 12 euros. Driving costs improve a bit the longer you drive. Helmets are required and provided, but a ski masklike hood must be purchased for 3 euros and may be kept after use. It costs extra to participate in the monthly championship races. A price list is available in English from the website.
FoodGo! Indoor-Kart has a bistro that serves sandwiches, hot dogs, pizza, and drinks and can accommodate parties and business functions up to 150 people, with catering upon request. The bistro has glass windows looking out onto the track, if you want to watch the action while enjoying a drink or snack.
InformationThe website is www.go-indoorkart.de. It provides a price list in English, but the site is in German. Phone number: 063 01-300250 and mobile 0176/207075 96 or 0176/20709961.