Kaiserslautern earns berth in Senior Softball Series
---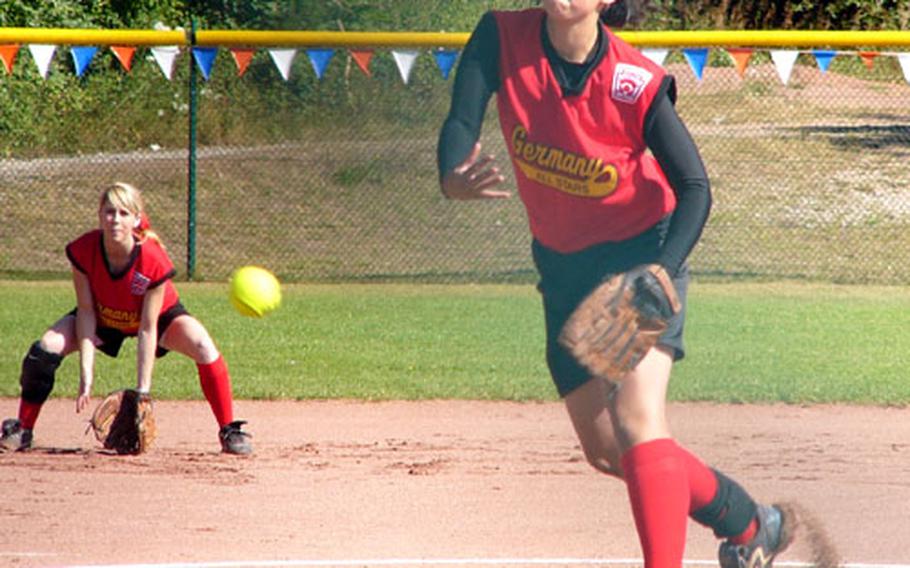 RAMSTEIN AIR BASE, Germany — Ramstein High School All-Europe players Maddie Byrd and Lindsey Jones combined on a five-hitter Wednesday as the Kaiserslautern Military Community All-Stars beat Poland 7-3 in the championship of Little League Baseball's Europe, Middle East and Africa Senior League Softball Regional.
The victory put the 15-16-year-old champions of Germany into Little League's Senior League Softball World Series Aug. 3-9 in Lower Sussex, Del.
"I'm glad the team was able to put it together," said first baseman Kaitlyn Martin, also a Ramstein High student, after the KMC stars won their third game without a loss in the three-team event. "Last year, we were in the same situation, but we lost."
Martin lined a first-inning single to center off Polish starter Maya Socal to drive in Kaiserslautern All-Europe player Kaylin Hesler from second for KMC's third run. Hesler (3-for-4), doubled home the first two.
"They're a pretty tough team," Hesler said of the Polish champions from Brzeg, "but we beat them before (9-4 last Sunday). I wasn't nervous."
Martin singled home another run in the third, and Bianca Lopez, another member of the Ramstein Lady Royals' 2008 Division I European high school champions, drove in two more with a fourth-inning single to stake Byrd to a 6-0 lead.
The way Byrd's fastball was working, it looked like plenty. She struck out two of the first three batters she faced, pitched out of a two-on, no-out jam in the second and struck out the side in the fourth before encountering a stretch of wildness in the fifth.
"I got a little shaken up batting in the previous inning," Byrd said of walking three of the four batters, one of whom eventually scored on a fielder's choice, she faced in the fifth. "Lindsey came in and got them out."
After the Poles got to Jones for two runs in the sixth, Byrd returned the favor by relieving Jones and striking out Natalia Litnin for the third out of the inning. Byrd then set the Poles down in order in the seventh to end the game.
---
---
---
---