Kaiserslautern early season routs continue
by
Rusty Bryan
March 30, 2012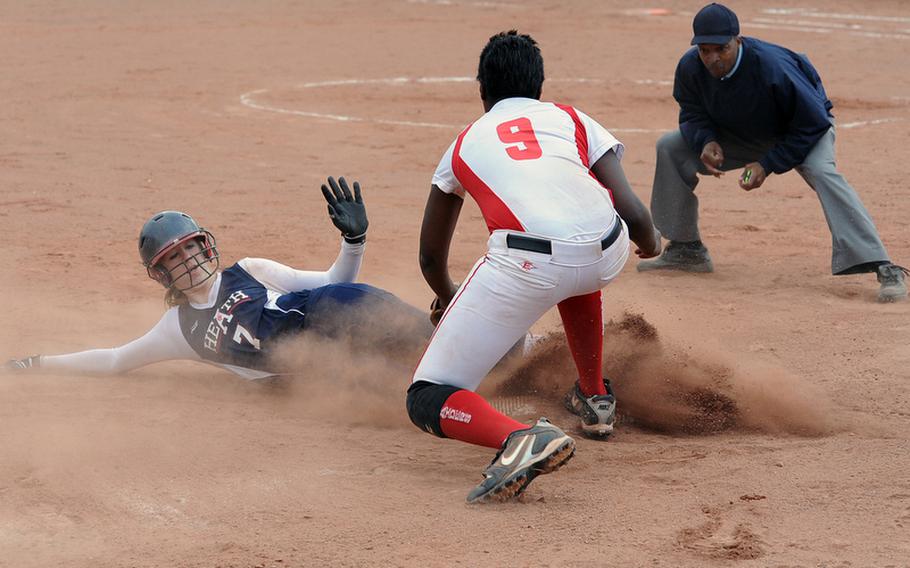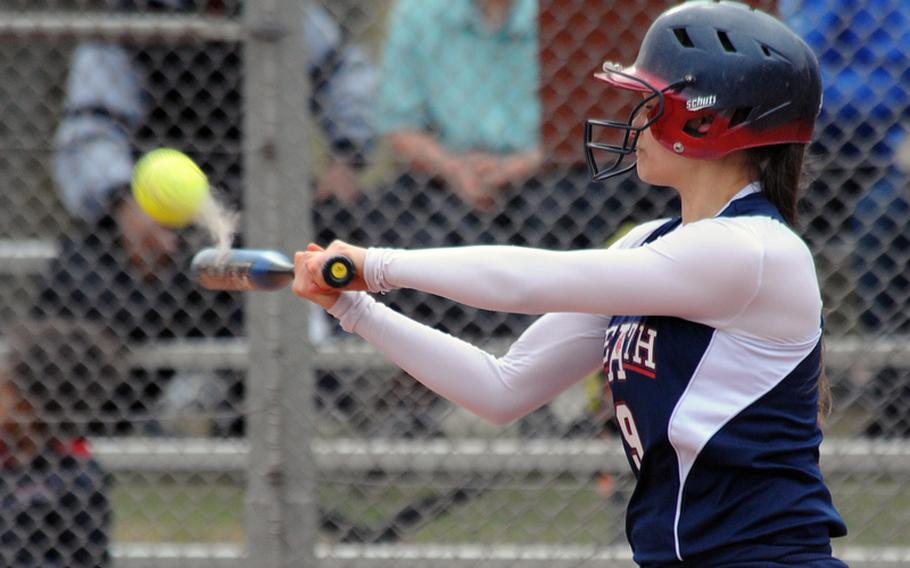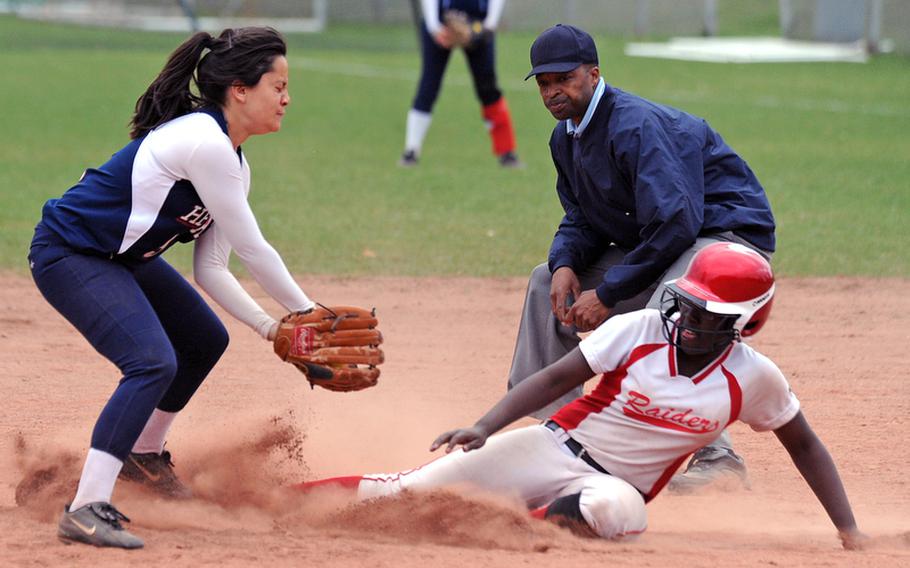 KAISERSLAUTERN, Germany – A few things changed Friday for the Kaiserslautern Lady Raiders' softball team: they were playing at home, on a weekday and against a fellow Division I team.
But that was all that was different for K-town, which swept a doubleheader by big margins for the third time in three outings this season. The Lady Raiders downed visiting Lakenheath 20-0 and 24-6 Friday on a chilly but dry afternoon.
"I had my team to back me up," said K-town pitcher Lauren Hawkins, who pitched all five innings of the opener and all three of the nightcap. "We have a strong defense and we're pretty strong around the plate."
The Lady Raiders flexed their offensive muscle from the beginning Friday. In Game 1, in which scoring officially ended when Melissa Bonano's two-run double down the left-field line in the bottom of the fifth inning made the score 11-0 and invoked the school system's 10-run rule, Hawkins allowed just four hits while striking out 11 and walking none.
"Mostly fastballs," she said of her pitch selection, "and a screwball on the outside corner. It depended on how they set up."
Although Hawkins officially was an 11-0 victor in her team's fifth official shutout in five tries this season, K-town continued to bat in the fifth until Lakenheath coach Greg Thomas indicated "no mas," after nine more runs had scored and just one Lady Raider had been retired. K-town hit two home runs, a two-run shot by center fielder Reagan McCurn and a three-run drive by Michelle Bonano, in the fifth.
K-town sent 10 batters to the plate in the first inning of Game 1, and pushed five runs across the plate. Melissa Bonano's run-scoring triple was the loudest shot of the frame, and Saige Isla, maintained her 1.000 season batting average with a two-for-two effort in the opener.
In Game 2, K-town batted first and again batted around, this time in all three frames played. The Lady Raiders sent 11 batters to the plate in a six-run first, 12 to the plate in the seven-run second, and 18 to the dish in a 13-run third.
Lakenheath pitchers walked 14 K-town batters and hit two more, with 12 of those who walked and one of the hit batsmen coming around to score. Isla was one-for-three in the nightcap, but still has yet to be retired on 2012. She reached base on errors twice.
Lakenheath did manage to dent the official scoring column against K-town, which came into Friday's doubleheader with a team earned-run average of 0.00, with two runs in the bottom of the first in Game 2.
Lead-off batter Justinia Sutherland singled, stole second and came home on Mariya Rivera's single to center. Rivera scored when the Lady Raiders committed three errors on Lexi Knupp's grounder to second.
Hawkins said finally playing at home after season-opening road trips to SHAPE and Baumholder made a nice change.
"It was kind of cool," she said about playing on a weekday. "Some of the teachers brought their classes by to cheer us. It was pretty awesome."