Kaiserslautern: A climbing gym to rock your world
---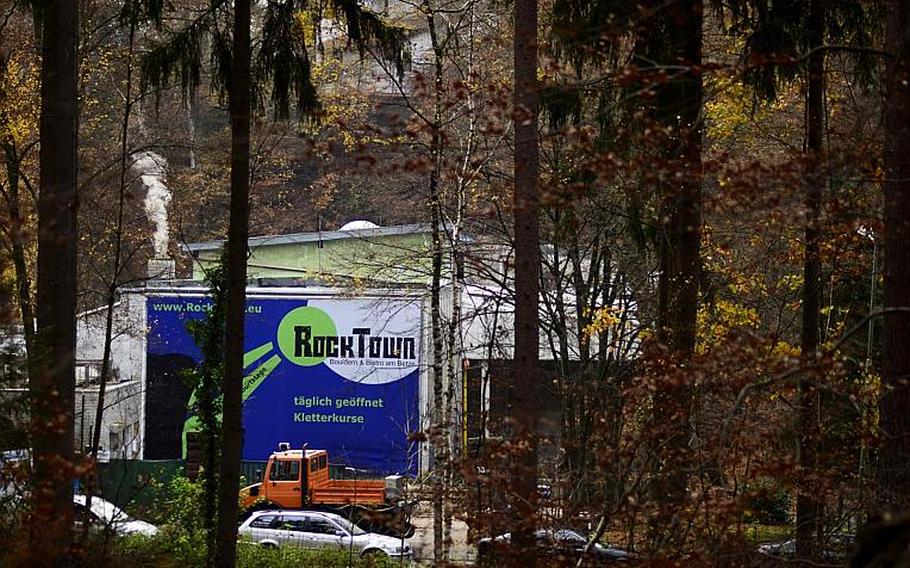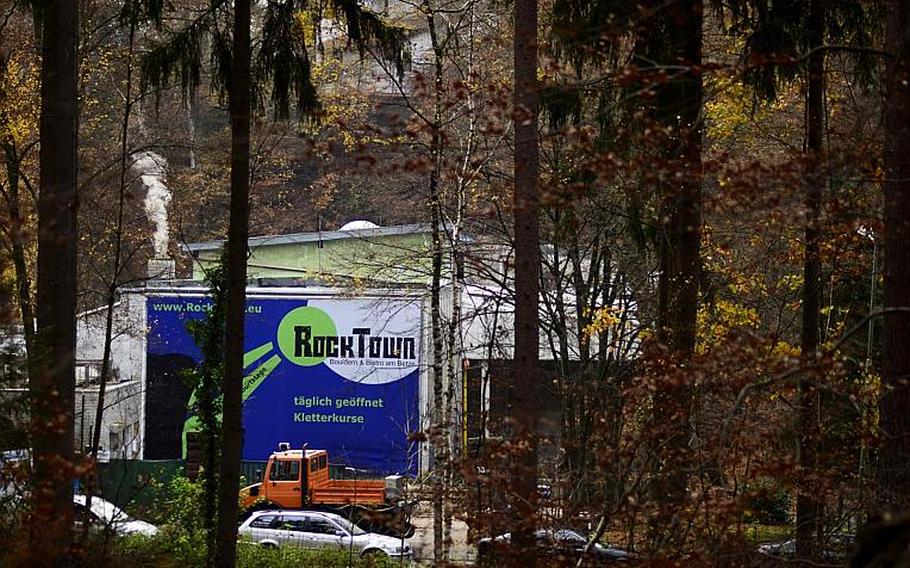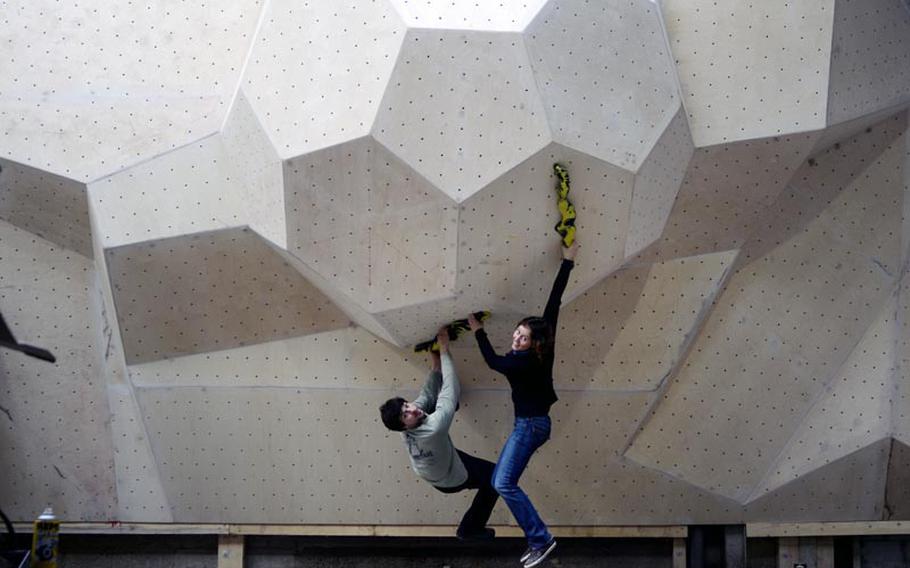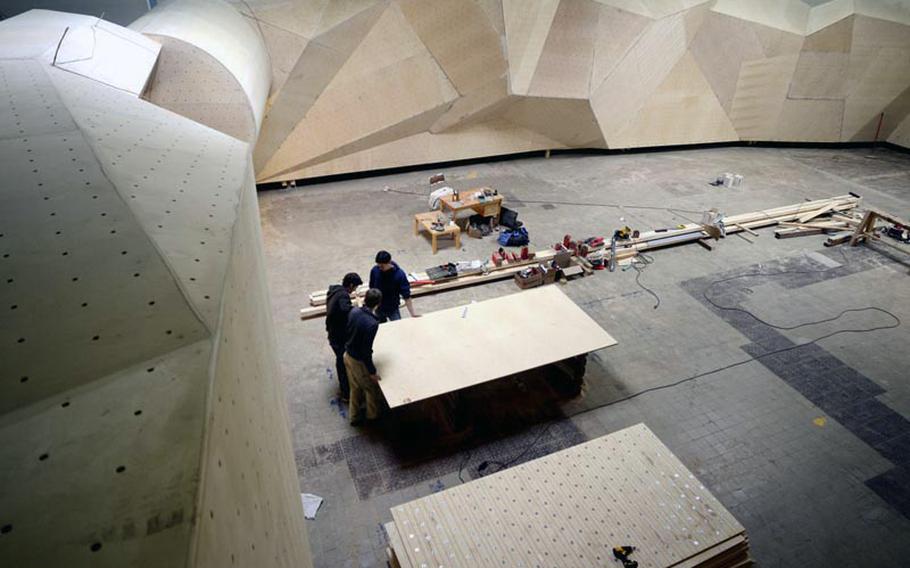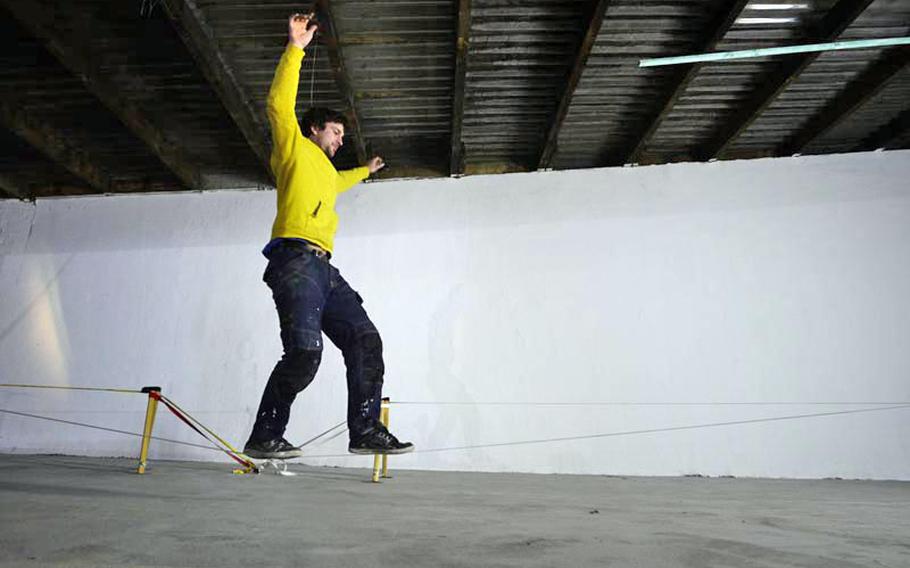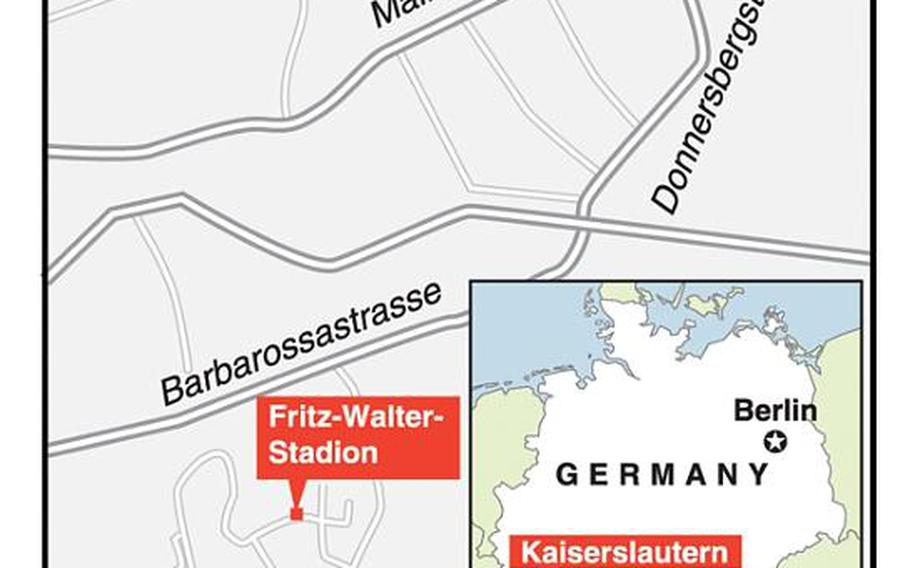 Luke Brady, a 24-year-old North Carolina native, quite possibly has designed the world's best bouldering gym, according to longtime climber and carpenter Nick Papa.
"I think that, by design, this could be the best gym in the world," Papa said.
RockTown Bouldern & Bistro am Betze, a dedicated bouldering gym, is co-owned and created by Brady; his girlfriend, Katrin Lau; and her father, Norbert, in Kaiserslautern, Germany. According to John Long, a pioneering free climber and prolific writer on the subject, "bouldering is essentially climbing a sequence of moves (a 'problem') where a rope is unnecessary."
Brady, Papa and a small team of construction workers, including volunteers, worked hard to complete the ropeless gym before its grand opening last Saturday. The event was to include free climbing and an appearance by Betzi, the Kaiserslautern soccer team's devil mascot.
Lau, who is from the Kaiserslautern area, is one of Germany's top boulderers, placing second at the 2010 German Nationals. Brady is a certified trainer as well as a national route setter, meaning he is qualified to lay out climbing routes at sanctioned bouldering competitions. Both Lau and Brady know a lot of local climbers.
"The local climbers are super excited and they've been coming in on the weekends to help with construction just to speed it up so we can get it done faster," Brady said a week before the opening.
The climbing walls are works of art. The first thing a person sees upon entering RockTown is the form of a giant half soccer ball protruding from the wall. The soccer ball is a nod to the gym's close proximity to the Fritz-Walter soccer stadium on Betzenberg Hill, or "Betze," as local residents call it. Johannes Lau, Katrin Lau's brother and former world champion speed climber, was the mastermind behind the soccer ball.
The challenging soccer ball-shaped feature is only the tip of the iceberg. As you continue deeper into the spacious bouldering gym, the walls continue to unfold with beautiful angles and an unbelievable collection of unique features of all shapes and sizes. The origamilike walls are inviting for the novice and experienced climber alike.
RockTown also has a bistro, a yoga room, a wall for children and an area for slack-lining. Slack-lining involves a tightrope made of webbing that can be used to improve balance and has become a pastime for climbers when not climbing.
"We're really laid-back people, and it's super important to us to have a really good atmosphere so people can come here and really enjoy themselves," Brady said.
The bistro serves handmade pizza, hamburgers, baked goods, coffee and beer on tap.
"We want to have good music and a cool atmosphere with all ages of people coming in to climb or just to watch while drinking coffee or a beer," Brady said.
The grand opening of RockTown was expected to be an early Christmas present for climbing enthusiasts.
For the novice climber or those interested in giving it a go, RockTown will be a great place to hone skills and meet local climbers.
DIRECTIONSRockTown Bouldern & Bistro am Betze is about five minutes from downtown Kaiserslautern. From the A6, take exit 16a toward Kaiserslautern-Centrum. Turn left onto Donnersbergstrasse for about 1.2 miles, then turn right onto Entersweilerstrasse continuing on to Barbarossastrasse, then turn left onto Kanstrasse for about a half mile until you see RockTown Bouldern & Bistro am Betze on the right. RockTown is just a half mile from the Fritz-Walter soccer stadium.
TIMESRockTown is open daily. Hours are 1-11 p.m. Monday and Tuesday; 9 a.m.-11 p.m. Wednesday and Thursday; 9 a.m.-midnight Friday and Saturday; and 9 a.m.-9 p.m. Sunday.
COSTSClimbing for a day will cost is 8 euros for adults, 7 euros for students and seniors and 4 euros for children (5 and younger). Multiday options and membership prices can be found on its website.
FOODRockTown's bistro serves handmade pizza, hamburgers, baked goods, coffee and beer.
INFORMATIONRockTown's website is: rocktown.eu.Currently, the site is in German only, but there are plans to offer an English option.
- Joshua L. DeMotts
---
---
---
---