Far East D-I softball
Kadena wins third straight title
---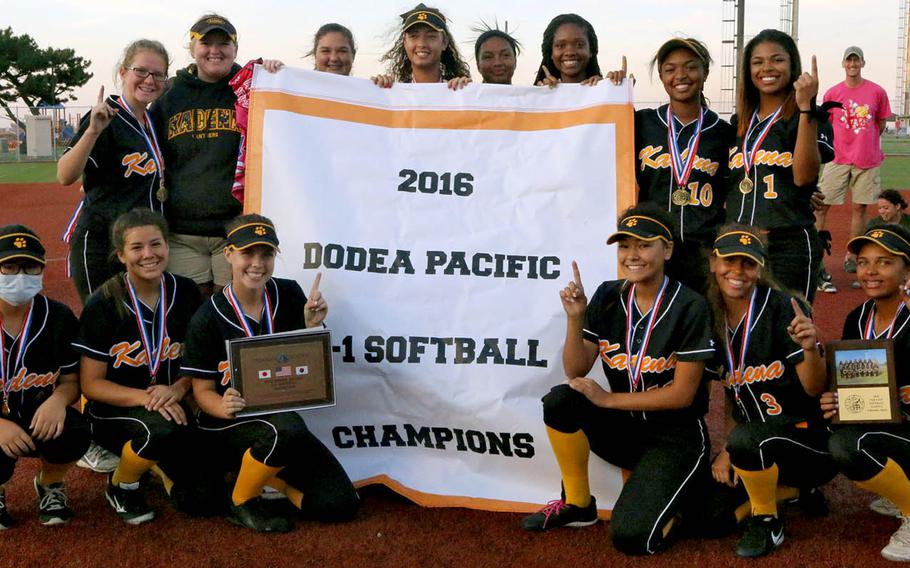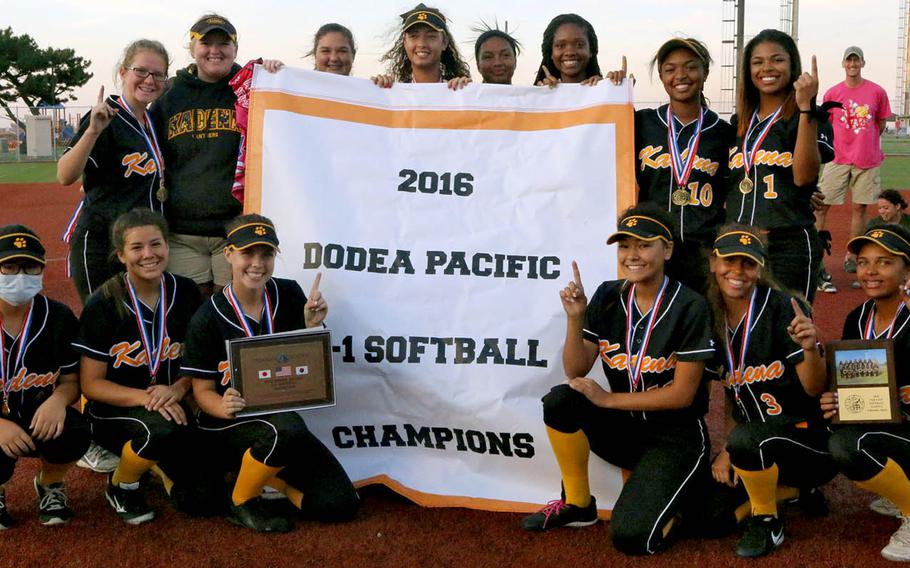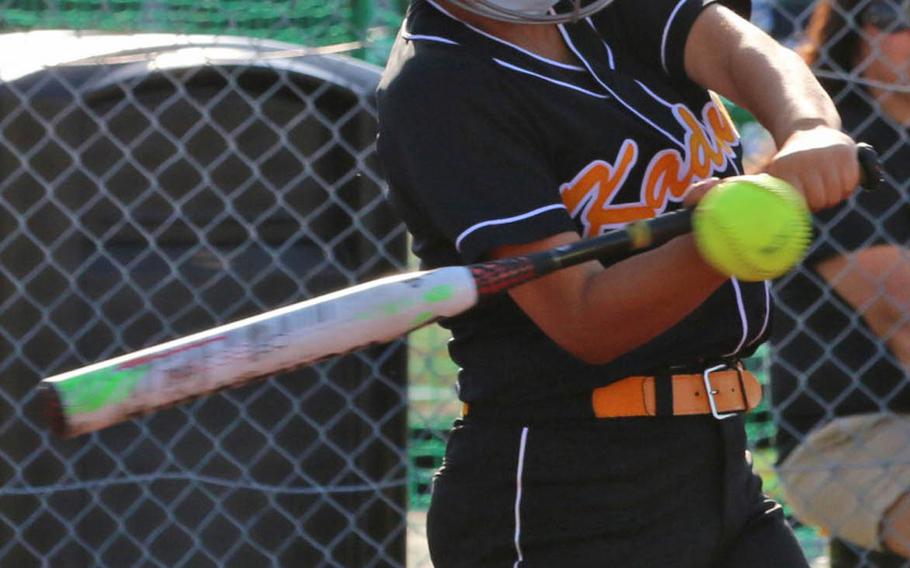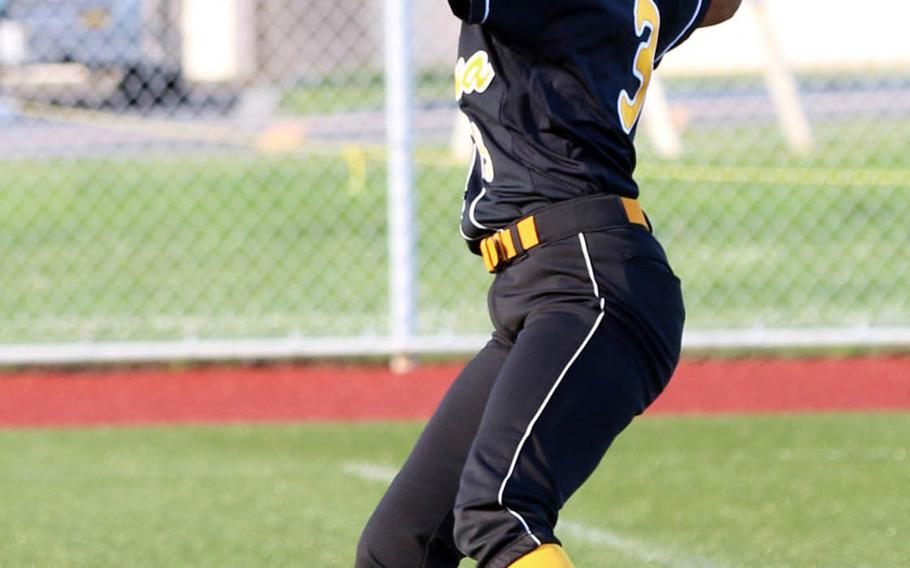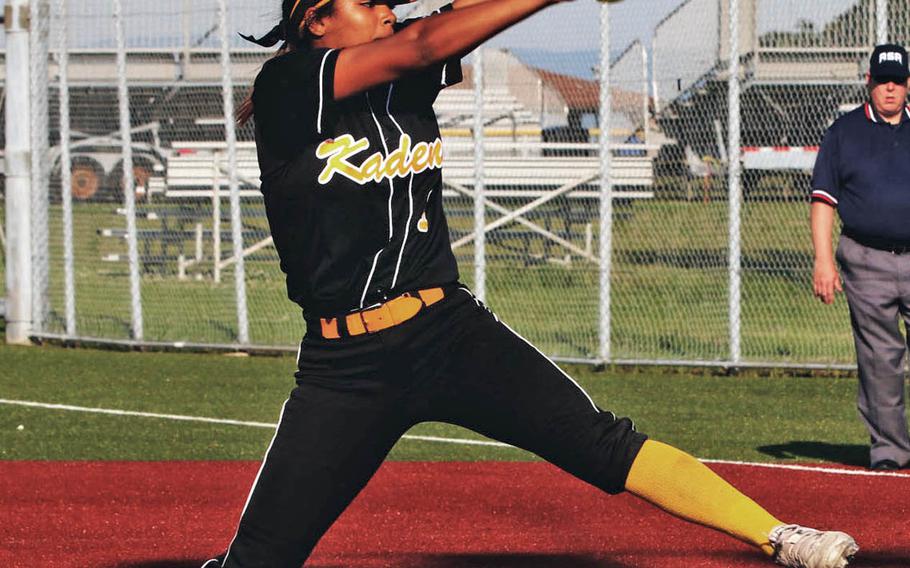 YOKOSUKA NAVAL BASE, Japan – Once, twice, three times a champion. That can be said for Kadena's softball team and its third baseman Rheagan Wyche.
The senior batted 3-for-4 with a home run and four RBIs, leading the Panthers to a 14-5 romp over American School In Japan in Wednesday's final, giving Kadena its third straight Far East Division I Tournament title.
It was also Wyche's third Far East championship, the last two coming with Kadena on the heels of her helping Daegu capture the Division II Tournament crown in 2013 as a freshman.
"Bringing my championship from Daegu to Kadena and helping them get two more, it feels great," said Wyche, confessing to "bittersweet" feelings since this was her last appearance in Panthers black and yellow.
"She played well," Panthers coach Kelli Wilson said. "Her hitting came alive. And for her to have two D-I titles and one D-II, that's pretty special."
It was also a mixed moment for Wilson, who has been with Kadena's program the last five seasons, winning four D-I titles. A Kadena High School substitute teacher, Wilson transfers to Arizona following this school year.
"I've been with these kids for so long, I've watched them grow; it's going to be hard to leave them behind and say goodbye," Wilson said.
Wednesday's was the third straight one-sided victory in a D-I final for Kadena, on the heels of their 8-1 win two Mays ago over Guam High and 19-3 last May over Kubasaki.
Winning pitcher Savannah Sparrow tripled in her sister Alexis, then scored on Wyche's single. Wyche stole home to put the Panthers in front to stay 3-0 in the first inning.
Kadena broke it open with four runs each in the second and fourth innings, then Wyche capped the scoring with a two-run inside-the-park homer in the sixth.
Though Sparrow was touched for 12 Mustangs hits, the Panthers were never in serious trouble.
Savannah Sparrow also had three hits and two RBIs and Bryana "Pep" Alexander went 3-for-4 with an RBI. Four other Panthers had two hits each.
"It feels good," Wilson said. "The kids worked hard, they put so much into the program, working toward a common goal; it's good to see it pay off."
Sammie Hoskins helped keep ASIJ in the hunt by batting 2-for-3 with a double and two RBIs. Allie Rogers, who took the loss, went 2-for-3, as did Julia Sasanuma for the Mustangs.
---
---
---
---