Kadena wins cross country relay, team titles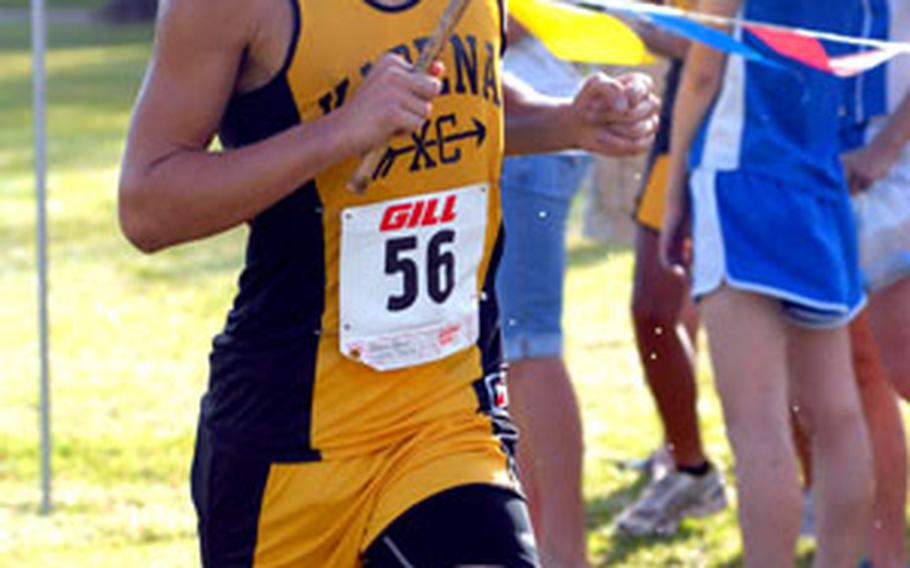 KADENA AIR BASE, Okinawa — What Brant Casteel and Chasity Cordova failed to do Monday in their individual races, they accomplished as a relay pair on Tuesday — and paced Kadena to its fourth Far East High School Cross Country Meet team title since 2002.
Casteel and Cordova buddied up to win the 6.2-mile team relay portion of the two-day Far East meet. They ran the Banyan Tree Golf Links course in 25 minutes, 53 seconds, outpacing second-place Andrew Quallio and Mallarie Ashliman of Zama American by 36 seconds.
"They showed they are capable of coming in first," coach Tom McKinney said of his two top runners.
Casteel lost Monday's 3.1-mile individual race to Quallio by a minute, while Cordova lost to Gee Mi Jorde of Nile C. Kinnick when she missed a course boundary flag and had to retrace her steps.
"Andrew is his own animal. Chasity just made a mental mistake," McKinney said. "We talked before today's race. We said this is how you have to run the course. She [Cordova] got a big lead, and he [Casteel] kept it."
Asked if he felt better after Tuesday's race, Casteel replied, "Oh, yeah, definitely."
The junior and two-time Okinawa Activities Council champion credited Cordova, a sophomore who won the OAC title for the first time, with the victory. She built a 35-second lead on her second leg of the relay, and Casteel held it the rest of the way.
"She just blew everybody away, even this madman here," Casteel remarked, with Quallio standing beside him right after the race. "That was pretty incredible."
That the two rebounded to take the relay, and pace Kadena to its second straight team title and DODDS-Pacific-record fifth overall, was "far more important," Casteel said, than individual honors.
"She was my motivation," Casteel said of Cordova. "I didn't want to waste all of her hard work. That's what team's about."
"They were definitely very strong," Quallio said. "They did an awesome job. Dominant."
Behind Quallio and Ashliman, Guam High's Robert Fry and Susan Smith took third (26:50), followed by Jorde and her Kinnick teammate Kenny Korcal (27:08) and Kadena's No. 2 team of Patrick Edwards and Cassie McDonald (27:13). Kadena's five relay teams all placed in the top 20.
Thought to be rebuilding entering the 2007 season, Kadena instead continued work on its budding dynasty. And McKinney is confident that will continue. He loses only two runners, senior Jacob Bloom and freshman RioShaune Harris, who transfers to Ramstein Air Base in Germany.
"When you win, it naturally keeps kids motivated," McKinney said. "Which isn't hard to do. Kadena is the powerhouse. They don't want to see it drop."