Kadena sweeps cross country relay
by
Dave Ornauer
November 5, 2013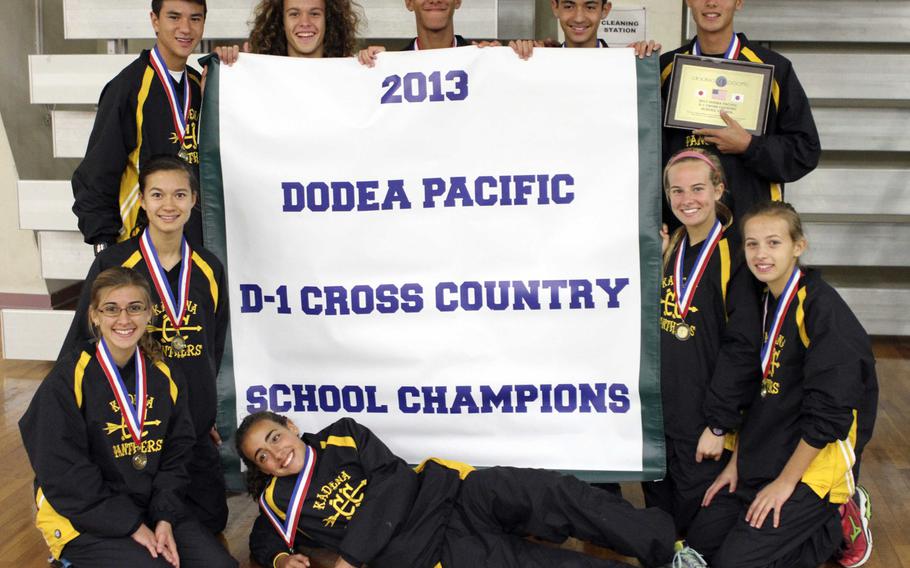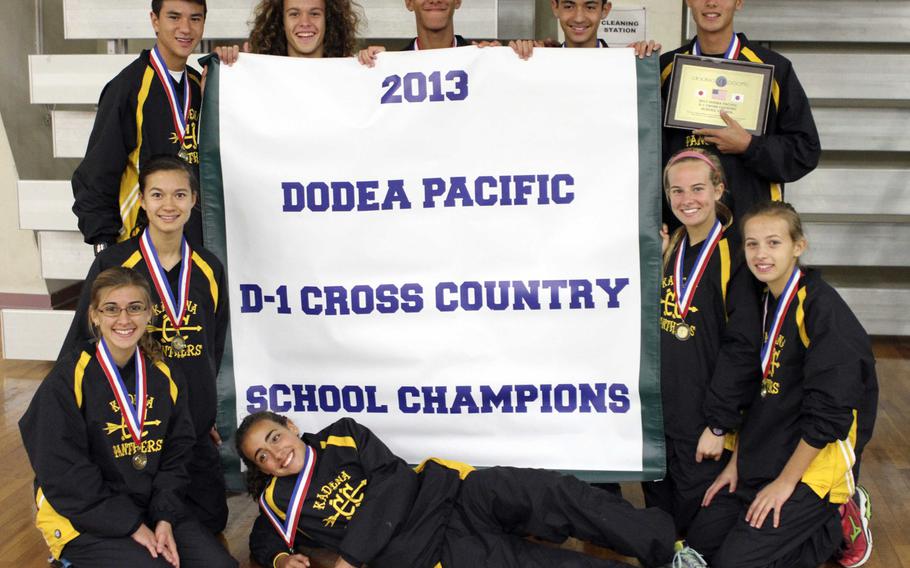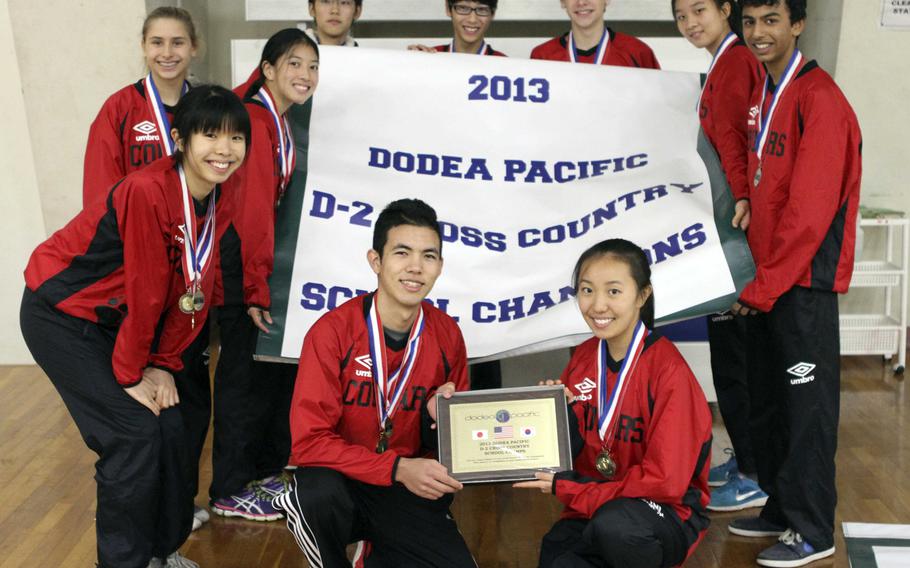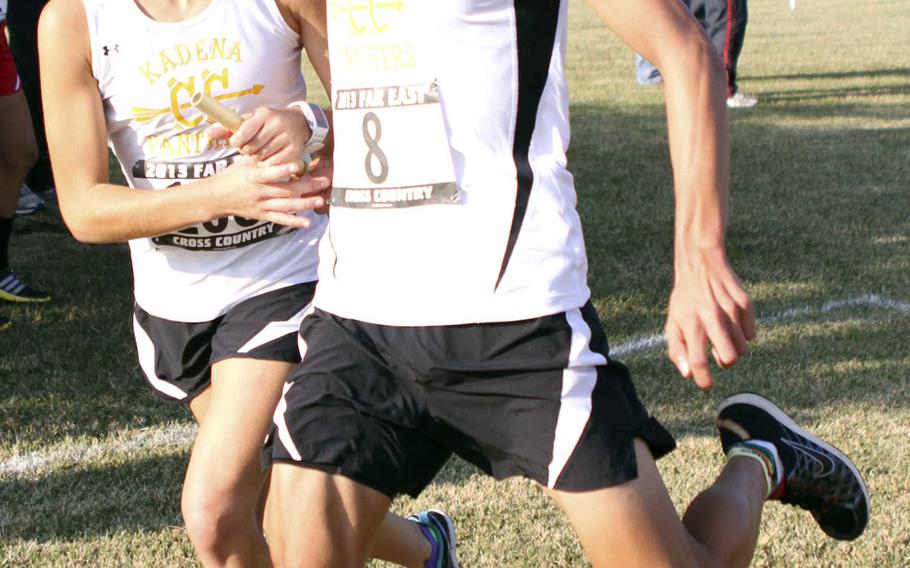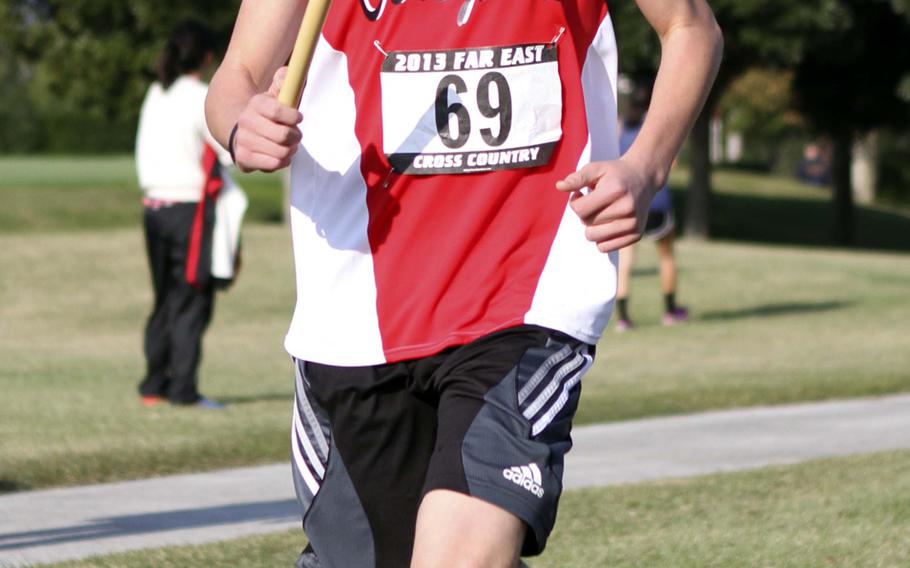 Kadena's cross country team won everything there was to win at last year's Far East meet. The Panthers were even more dominant this year, including Tuesday's team relay.
Kadena's four relay pairs placed 1-2-3-4 - something never done before in Far East history - at Naval Air Facility Atsugi's Whispering Pines golf course. The Panthers won all three of the two-day meet's events, easily capturing the Division I title; St. Maur International won its second straight Division II title as well.
While seniors and two-time Far East champions Andrew Kilkenny and Ana Hernandez led the way for Kadena, four of the eight runners who placed in that top four were underclassmen, freshmen Natalie Fontenot, Wren Renquist and Javier Michael and sophomore Kai Heckerman.
Is it time to start talking dynasty in Panther Nation?
"No, I've never liked that word," insists the program's architect, Tom McKinney, who has six school banners and seven individual champions in his 11-season reign.
He cited what he calls the "growing aspect" that happens with teams every year. He spends time online seeking new training methods and some observers call his recruiting methods "relentless," pulling athletes cut from other sports or those who normally take the fall season off to fill out his teams.
"The kids are excited about the program, they work out all summer, they go to camps, they listen to what the coaches say and the results bear that out," McKinney said. "If you win, and kids see a friend on the team, they might go and come out with us."
Is this his best team ever?
"So far," he said. "To have individual champions repeat and then to have all four (relay) groups place at the top, it doesn't get any better than that."
Kadena outdistanced second-place Nile C. Kinnick 10-31, while island rival Kubasaki came in third with 43 points.
On the D-II side, St. Maur might also lay claim to the beginnings of a dynasty. Under former Cougars star Anna Novick, the first to breach the 13-minute mark on the Tama Hills Recreation Center course back in 2007, St. Maur has two D-II banners and counting, led by two-time D-II race champion Lucille Nunnely.
D-I volleyball Final Four set Kanto Plain teams, as they have the past few years, grabbed most of the spots in the Far East Division I Girls Volleyball Tournament at Naval Station Guam.
Two-time champion American School In Japan, two-time runner-up Nile C. Kinnick and Seisen International occupy three spots, while Academy of Our Lady of Guam took the other. Semifinal matches are scheduled for 12:30 p.m. Wednesday at the Charles King Fitness Center.
Division II double-elimination playoffs begin Wednesday at Camp Zama's Yano Fitness Center, with host Zama American, seeking its first Far East tournament title in 16 years, holding the top seed and first-round playoff bye. Daegu got the second seed and Matthew C. Perry the third.
Just two DODDS players remain in the singles draws in the Far East Tennis Tournament at Kadena Air Base, Okinawa. Two-time defending champion Chloe Gadsden is in the top half and Kadena's Kristin Howard in the bottom half of the girls singles draw. All four boys in the semifinals are from two international schools: American School in Japan and St. Mary's.