Kadena standout Awana adds wrestling to résumé
by
Dave Ornauer
November 24, 2005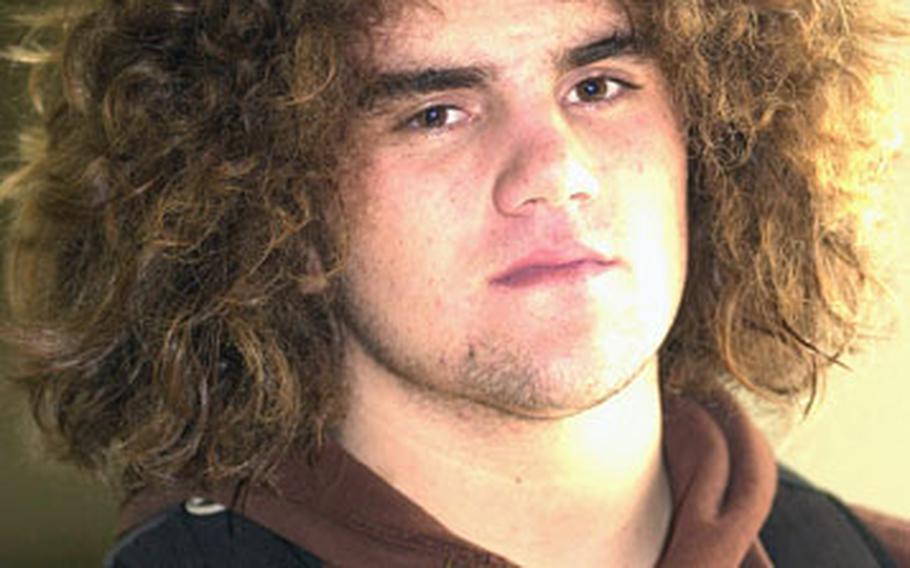 KADENA AIR BASE, Okinawa — Ted Awana has already made his mark in two sports. A muscular senior, Awana has been a stalwart on the football team for two years, and has backstopped the Panthers soccer team to two gold medals and one silver the past three seasons.
So what is he doing attempting a go at a sport he's never done before, donning a singlet and headgear and going to the mat as a member of Kadena High School's wrestling team?
Call it his admiration for a particular coach. Perhaps the desire to stay in shape and steeling his mental approach in preparation for his senior soccer season. Following in the footsteps of predecessors. Or just wanting a new challenge. Awana says it's all those rolled into one.
"Coach Schrock has always been one of my favorites," Awana said of Steve Schrock, who's coached the Panthers wrestlers on and off since 1997 and served as offensive coordinator of a Kadena Islanders football team that won the Okinawa Activities Conference title in 2004 and lost the Rising Sun Bowl 50-6 to Yokota.
"When he asked me to wrestle, I couldn't tell him no," Awana said, adding that two of his old football teammates, Grady Pennell and Cole Maxey, now at Trinity International in Illinois, "used to talk about how much fun wrestling was.
"And I'm always up for something," Awana said of taking on a new sport — one involving rigorous conditioning, with which he's familiar, but also the difficulty of learning technique, moves, concepts and intricacies totally foreign to him.
"I knew wrestling wouldn't be easy," he said after just his fourth practice a week ago. "It doesn't come naturally. It's not something that can just be handed to you. Conditioning is not a problem. It's learning the proper skills to get the job done. Strength alone won't do it. If you don't have the technique, you won't win a match."
Learning enough moves to make him successful in relatively short order will involve "a lot of discipline, in all factors," Awana said. "This is one of the easiest sports to capitalize in and be capitalized on. I'll have to work hard this season to be the best at my weight class."
Despite his being a novice, already Schrock and his longtime assistant Jordan Collins see the potential for Awana to succeed.
"He's the kind of athlete Cole Maxey was," Schrock said of the first Department of Defense Dependents Schools wrestler to win gold medals in Europe and the Pacific, for Kadena in 2004 and Ramstein High in Germany last year, en route to earning DODDS-Europe Athlete of the Year honors.
As a football linebacker and fullback, Awana "has the natural ability," said Collins, who wrestled and played football for Seoul American in the early 1990s and now flies KC-135 Stratotankers at Kadena.
"A linebacker's stance is not too different from wrestling," Collins said. "He's naturally strong and muscular. He has the tools. When he learns to employ those tools, he'll become a very dangerous wrestler. He has the discipline, strength and drive. He can go pretty far."
But to do that, "he needs to perfect the fundamentals," which takes time, Collins said. "He's an athlete who wants to do things 100 mph. He has to go through the adaptive training phase. He has to realize he can't do everything right away. You have to walk before you can run. You have to be disciplined enough to stick with the basics and not get down on yourself."
Schrock calls Awana coming out for wrestling a "win-win" situation, for himself and the team.
"He's an athlete. This sport fills a niche for him. He's already learned a lot. And he's going to fill a big hole in our lineup," Schrock said of a spot vacated by the graduated Pennell, who succeeded Maxey at 215 pounds.
With enough practice and hard work, Schrock feels Awana can enjoy the same success as Maxey.
"He has a long way to go, [but] that's the kind of impact we can expect from Ted," he said. "He can rise to that challenge. He can bring the same game-day intensity to the mat that he brings in football and soccer."
While continuing to learn and grow under Schrock's and Collins' tutelage, Awana says he gains more discipline and fire-testing for the soccer season, when he hopes his Panthers will avenge their double-overtime loss to Christian Academy In Japan in the Class AA title match.
"This is a tuneup for me," he said. "It will make me work harder."
Collins only wishes that Awana had done this a year ago.
"If he had another year under us, there's no doubt he would take Far East," Collins said.
"It would have given me more experience," Awana said. "I kind of wish I did, but I'm glad I've taken on this new challenge. You couldn't ask for better coaching. The coaching staff is awesome. I'm starting to love it."