Home Team
Kadena showing signs of baseball turnaround
by
Dave Ornauer
April 6, 2011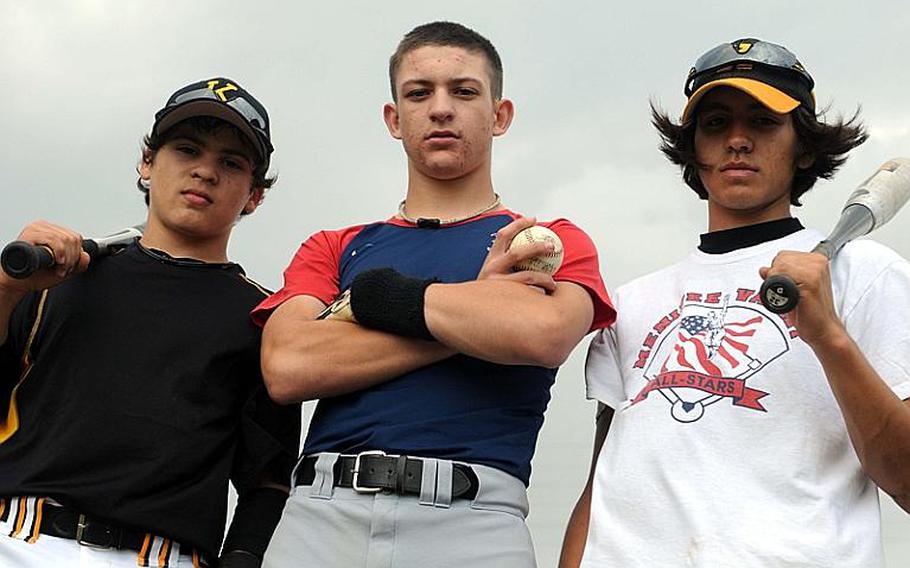 KADENA AIR BASE, Okinawa – Dissension and turmoil that marred the 2010 season has given way to a season of hope for Kadena baseball, thanks to new coaching, better team chemistry and a freshman threesome providing a cornerstone for the Panthers' future.
They're 2-5 overall, but the Panthers have won twice in the same season against Kubasaki for the first time since 2005. Kubasaki, the defending Far East Tournament champion, has owned Kadena the last five years, but the Panthers have led all five games they've played against the Dragons thus far.
Coach David Compton, moving up from the junior varsity last year, has blended a handful of holdovers from last year with freshmen Dom Shea, Cody Prince and Josh Arvizu, each starters and each contributing to Kadena's turning the corner.
"We have a lot of new players, and some holdovers from last year with good attitudes," Compton said. "We have good chemistry. The players are practicing, trying hard and getting along. And I have good help from assistant parent coaches" Ed Prince, Cody's father, and Michael Shea, Dom's dad.
So far, "it seems to be working," Compton said.
Shea, a catcher-pitcher, is batting .700 with three home runs – and has been hit eight times by pitches. Infielder-pitcher Arvizu is batting .650 and Prince, who went to the Little League World Series in 2009 out of Ramstein, Germany, plays outfield and pitcher and is batting .320.
Each of the freshmen played ball elsewhere before arriving at Kadena; all but Arvizu are expected to graduate at Kadena.
Among the holdovers, team captain and ace right-hander Jayce Moore has both Kadena victories. The first was a seven-inning complete game against Kubasaki, a 9-3 win on March 19 in which he threw 135 pitches and struck out 10.
Moore has played off base for Okinawa Try, a Japanese club that plays against Kadena and Kubasaki regularly. Outfielder Jared Paul and shortstop Luke Carey each played last summer for the Oki Boys, a year-round club formed by Kubasaki coach Randy Toor.
"We have experience, a lot of these guys have experience playing ball, which helps a lot," Compton said. "And we have good leadership" in captains Moore and Mike Correa.
"They (freshmen) know where they fall on the team. They know their place. They're great teammates. The superstars don't have a big head. They want to contribute. And the captains don't have a problem with them. They listen to the captains."
"Everybody's friendly with each other," Correa said. "Everybody's close. They have the will to win and to compete at the highest level."
Such a turnaround is a far cry from where Kadena baseball has been in the last five years. From the Okinawa baseball program's inception in 2003 to 2005, Kadena dominated Kubasaki.
But the coaching post then became a revolving door, with four men taking the helm in a five-year span. Last season was marked by a brawl between two Kadena players after a tough loss. Soon after, the coach departed as well. That thrust Compton up from JV late in the season.
The Panthers showed signs of life during the inaugural Far East Tournament last May. They went 2-2 in pool play, then beat Robert D. Edgren, 10-9, and Yokota, 14-7, before losing, 8-4, to Kubasaki in the title game.
"The younger players know about the history and they want to turn it around," Dom Shea said. "They want to win more than anything else."
The younger Shea says building chemistry has been easier than any team he played with before.
"We know we have players with talent and we have players who will listen and strive to improve," Shea said.
What needs to stop, Compton said, is blowing leads against Kubasaki; the Dragons' three victories over Kadena this season have all been comebacks.
Even in the teams' last game, a 20-10 six-inning win by the Panthers, "they came back" from deficits of 8-1 and 10-6. "Kubasaki is good. You see it in the players, the bench, there's a lot of spirit on that team."
Toor says he sees much good in Kadena, from the Panthers' play on the field to their behavior off it.
"They hit the ball well, they put it in play and they make all the routine plays," said Toor, in his sixth year as Dragons coach. "They look like much more of a team. Their demeanor on the field is different. And they have one goal in mind."
Actually, a few goals – to keep winning, recapture the island championship they last won in 2005 and perhaps dream of taking the next step toward a Far East Tournament title.
"We will," Shea said.